Other Resources

News Archive
Clarinet Workshop Jan 07

Glenn Sutherland -Totnes Road

Glenn Sutherland's piece included an interesting use of harmonics. Stuart assumed from what was written that the next harmonic above the written note was what was intended, and if that is correct, Stuart says this is his prefered notation for such harmonics.

The instruction to bend down the final low E was not really possible.



( Download Totnes Road - 1024Kb )



What do you think? Add your comments below.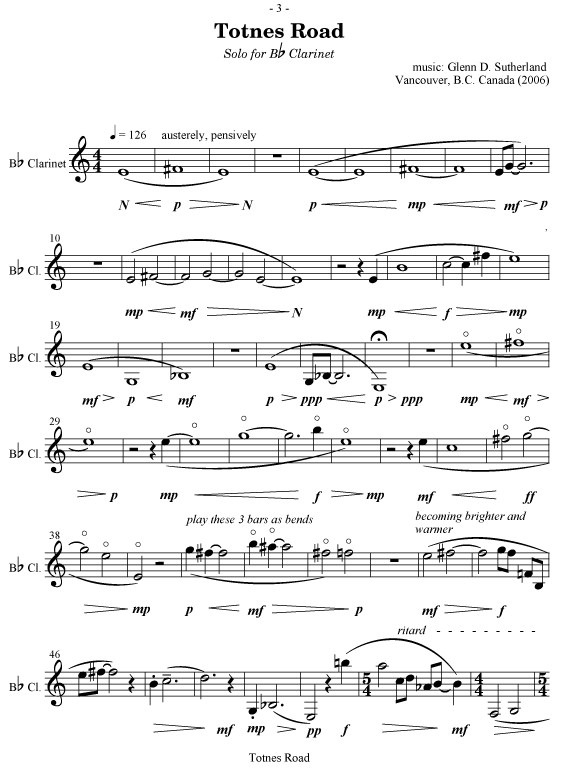 What do you think? Add your comments below.






Comments by other Members
Posted by :

gsutherland at 19:55 on 30 January 2007
Thanks to Stuart for performing and providing feedback on this piece, (and CompositionToday for hosting this workshop). In response to Stuart's question about the intended harmonics - yes, I had intended those to be the first harmonic above the note. I will add a note to that effect to the score. I was unsure whether any bend is possible (e.g. via embouchure)on the lowest note - and it isn't! The ending works well without the bend.
I deliberately kept the piece short, as per the "call for compositions". I may revise it, developing some of the ideas a little further. In so doing I could also make a little more use of the wonderful colour possibilities of this instrument (and its great fluidity) to add touches of colour and movement to the opening section (currently very sombre).
To post comments you need to become a member. If you are already a member, please log in .