C:T talks to Stuart King, clarinetist and artistic director of the highly acclaimed UK ensemble Chroma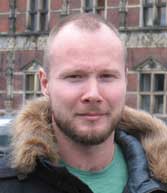 Stuart King

Tell us something about your background.



I studied clarinet at the Guildhall School of Music and Drama with Joy Farrall, Dame Thea King and Andrew Webster. It was during my time at the Guildhall that I developed a keen interest in contemporary music, taking part in as many new music and electro-acoustic concerts as possible. Towards the end of my degree I was invited to be Principal Clarinet with the Brunel Ensemble based in Bristol, which was beginning to blaze a trail on the new music scene. The ensemble was a hotbed of talent and it was an exciting time for all involved. Since then I have played with new music ensembles of all shapes and sizes across Europe, the Far East and North America and given countless premieres.


In recent years I have become increasingly involved in education and outreach work, which is something I am really passionate about. Thereís something truly amazing and rewarding about making music with complete strangers whether it be a class of primary school children, clients in a homeless shelter or young professionals studying at a university or conservatoire.




Tell us about Chroma, how it was formed, it's raison d'etre.



I formed CHROMA with two friends in my last year at college. Iíve never wanted to be a full-time orchestral player and it seemed quite clear to me that if I wanted to perform chamber music then I was going to have to make it happen. Our first concert was a clarinet, viola & piano concert performed in a small converted chapel on the Isle of Dogs in London. We hired the space and, so long as we got 30 or so friends and family in, we would break even. From the outset I was adamant that contemporary music should be included in every concert alongside standard repertoire.

Over the years the ensemble has grown in size enabling us to programme a huge range of works and also be flexible enough to work around our very busy artistsí schedules. We gave our proper debut as part of the Park Lane Group New Year Series and the press immediately drew comparison with the Nash Ensemble, which was of course tremendously flattering and I suppose there are similarities between us. We have a large core of members and an even larger phalanx of wonderful regular guest artists. Generally we like to work without a conductor wherever possible even with quite large ensemble sizes, although we are currently collaborating with a contemporary opera company, Tete-ŗ-TÍte, so our wonderful musical director is indispensable.

In addition to our concert schedule, CHROMA has a growing reputation for Education and Outreach work. We have always sought to bring our music-making to the widest possible audience. Now more than ever this is a vital element of our artistic programming. Our projects are wide ranging and regularly include school children of all ages, university and music college students, hospitals and homeless shelters. We have strong links with schools as far a-field as Norwich, the Outer Hebrides and Norway.

We are passionate about all types of music and our programming is pretty diverse.

2007 is our 10th anniversary and we enter our second decade with many exciting ventures in the pipeline. We continue to be Ensemble-in-Residence at Royal Holloway University of London which enables us to work with the next generation of composers. In recognition of our commitment to Education and Outreach work, the Spitalfields Festival has invited CHROMA to become Ensemble-in-Residence for Education throughout 2007. We hope to continue our exciting collaboration with innovative opera company TÍte-ŗ-TÍte and we are planning an exciting multi-media commission celebrating the twin European Capitals of Culture for 2008, Liverpool and Stavanger, Norway.






Does the group focus on playing specific types of music?



We do have a reputation as a contemporary music ensemble and Iím always quick to point out that we do perform standard repertoire too. I have always tried to present really interesting, stimulating programmes to our audiences. I think itís important that people have their musical horizons broadened, but I believe it is a mistake to alienate your audience by presenting them with music that confirms their worst suspicions about contemporary music. I like to surprise audiences rather than browbeat them. Itís far more rewarding to hear an audience member extol the virtues of a piece of new music when it is sensitively presented alongside something more familiar. Itís also very important to guide your audience through what they are about to hear. Having the composer present to talk about the inspiration and intention of their work is invaluable. Context is everything.

I guess itís all about understanding your target audience and presenting them with something that combines the familiar with the unfamiliar. Itís would be very easy as Artistic Director to fill our schedule with my personal wishlist but I like to think that we are always mindful of our audiences.

That said I think we also have a duty to support composers. We have created close relationships with many composers, whose works may feature prominently in a season. Where possible we try to give works a number of performances rather than just a premiere and in many cases works become staples of our repertoire.





How do you go about programming your concerts?



This varies from project to project. Sometimes a promoter presents us with a specific brief and sometimes we are lucky enough to have carte blanche. Ideas are forever presenting themselves to me. Our manager Claire is frequently bombarded with messages from me suggesting a project that we simply must try and programme at the earliest possible time. There are always more ideas than events to fill. Often I will get bitten by a particular bug, which I think will make for a stimulating concert. For example, two summers ago we worked with the brilliant accordionist Ian Watson for the first time on a thrilling community cantata by Jonathan Dove, ĎOn Spital Fieldsí to celebrate the renovation of Christ Church, Spitalfields. I was struck by the amazing sonorities this instrument brought to the chamber ensemble. Since then we have performed a number of concerts with Ian discovering some fantastic chamber works along the way. A similar thing happened on discovering the music of the amazing Argentine composer Osvaldo Golijov. He writes the most exhilarating music and is relatively unknown in this country. Having performed two of his pieces this year we are planning to programme several more soon.





How do you respond to unsolicited work- do you give feedback? Do you ever commission new work yourself?



We do get sent a huge amount of unsolicited work and I am afraid that it is simply impossible to respond to it all. I do keep everything though and plans to knock through to the house next door to accommodate our music library are moving a-pace! Seriously, I would urge composers to send CDís rather than scores, which are so costly to mail. From my point of view I would rather have a listen to a selection of work by a composer than receive a raft of scores, which I simply havenít got time to pore over. If a particular composerís music grabs me on hearing it I am much more likely to get in touch and request a score.

As far as commissioning goes, we have never previously been in a position to have an active commissioning policy. The process of commissioning is hugely time-consuming. Until two years ago, CHROMA was run by myself and a few other members, making it almost impossible for us to put in the necessary administrative hours. Now that we have a brilliant manager we are able to start commissioning, so watch this space! Nonetheless we have given a huge number of premieres thanks to opportunities presented to us by festivals, concert series and composerís wanting to write for us.




Is it a good time to be running a new music ensemble?



I can only really talk from our perspective and therefore I would say yes, absolutely. We are involved in lots of very exciting projects covering a wide range of activities. We are pushing our own boundaries as an ensemble; expanding and growing all the time. Whilst I donít think we are necessarily doing anything Ďunchartedí, it is tremendously exciting to be able to explore and evolve, to avoid being pigeon-holed whilst maintaining the highest artistic standards. I think if you look at the number of top-flight ensembles and dedicated festivals presenting new music in this country you canít help but be struck by the amazing richness and diversity.



Tell us about Chroma's current projects



Weíre just coming to the end of a brilliant project collaborating with TÍte-ŗ-TÍte on a new opera by Julian Grant, Odysseus Unwound, which fuses the ancient crafts of knitting and spinning with opera in a contemporary version of the Odyssey epic. Itís a brilliant work involving five artisans from the Shetland Isles as part of the company. In addition to the tour dates, CHROMA has been responsible for curating the associated Education and Outreach package; more than thirty workshops working with twenty different schools in London, Basingstoke, Shetland and Norway, Nottingham University, the Royal Northern College of Music, students from the Unity Theatre and European Opera Centre, Liverpool.


In January 2007 we begin our residency at the Spitalfields Festival with a composition project with GCSE students at two comprehensive schools in Tower Hamlets, London, which will culminate in two concerts in the Summer Festival in June.




What are Chroma's plans for the future?



We are busy planning a multi-media collaboration bringing CHROMA together with electronica composer Dominic Shovelton and video artists YEAST in a project celebrating the twin Capitals of Culture in 2008 Liverpool and Stavanger. In addition we are planning to extend our Ďrural networkí of concerts bringing new music to remote communities through 2007/8.



How can people find out more about Chroma?



Our main website can be found at:

http://www.chromaensemble.co.uk


Thereís also a dedicated site chronicling the education programme for Odysseus Unwound:

http://www.nocommentary.co.uk/odyssey




Interview by Composition:Today © Copyright 2004-2020



Comments by other Members
Posted by :

letiqi at 10:24 on 24 April 2020
An interview of Stuart king has been planned and encouraged for the individuals. Importance of the interview and <a href="https://www.resumehelpservices.com/">professional resume services reviews</a> for the prospects for the game. The suggestion is marked for the role of the modeled items for the interview for Stuart king.
To post comments you need to become a member. If you are already a member, please log in .