C:T talks to new-music record label NMC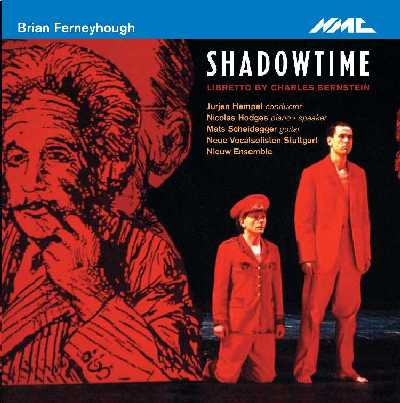 Ferneyhough's Shadowtime,
one of NMCs recent releases

Tell us a bit about NMC and how it got started



NMC was started 17 years ago by the composer Colin Matthews to address the lack of recordings of contemporary British music. It is a registered charity which receives core financial support from the Holst Foundation and Arts Council England; all profits from the sale of CDs are used to make more recordings. With a full time staff of only two, NMC now boasts a catalogue of over 100 titles, which are available internationally. NMC has always striven to record the best of British contemporary music to the best technical and artistic standards possible; it also has a policy of keeping all its recordings available, fulfilling its aim of acting as an archive.



How many new releases to you make each year? How you do choose which composers you feature in your catalogue?



We release around a dozen discs a year, of which perhaps 3 will be reissues of important recordings which have been deleted by other labels and which we make available again (at mid price) on our reissues label Ancora. Recording projects are decided upon by our Artistic Panel which meets quarterly to consider proposals submitted to NMC along with our own artistic planning. We try to cover as wide a range of composers as possible, and see our remit as being particularly concerned with making the work of composers who are not featured in other catalogues available to a wider audience.





Do you only produce recordings by well-known composers, or do you ever consider unknown composers?



We try to cover as wide a range as possible, from the young composers featured on Live from State of the Nation 2001 and The Hoxton Thirteen to the six new pieces for violin on Darragh Morgan's recital disc Opera; we're actively looking to increase the representation of our younger composers on disc. That said, the majority of composers we work with have established themselves to the point of being represented by a publisher or an organisation such as the British Music Information Centre ( http://www.bmic.co.uk ): this is an important factor in helping us to promote both the composer and the recording.



How has technology changed the way you work over the last 17 years since NMC was founded?



Obviously, technology has changed the mechanics of recording over the years; we have also enjoyed increased exposure through the internet since the launch of our new website and online shop, at http://www.nmcrec.co.uk, to mark our 15th birthday in 2004. Although we haven't yet moved into SACD or DVD, it is something we will be looking at in the future.



Are you considering offering online downloads of new music?



This is an area which we definitely plan to move into: we feel very strongly that it will enhance the potential audience for today's composers. We've recently commissioned a report on potential partners for building our own download facility, as well as distributing our recordings via the established digital music stores (iTunes, HMV Digital, e-music and others), and we are currently reviewing the recommendations. We certainly hope to be digitally distributed by the end of the year – hopefully sooner!








Tell us something about the process of making a new recording.



We decide on the repertoire and artists to record at our quarterly Artistic Panel meetings. We consider all proposals sent into us, and try to assess their artistic and technical merits both independently and within the context of our catalogue; clearly, there's not much point in our taking on a project if we think we can't do it justice. Although NMC is a registered charity, and doesn't have the same commercial agenda as other labels, we do have to run a very tight financial ship, so sponsorship and the funding of recordings has to be weighed up too. Some proposals come to us with a finished master; so, if they're accepted, scheduling them for release is relatively straightforward. Other projects, of course, involve going into the studio, so have to be planned over a longer time-scale – which helps to give us more time to raise the necessary funding.





Is it a good time for contemporary music? How would you characterise the current musical scene in the UK?



We have to answer this positively, if only because of the immensely exciting work being produced by an enormous range of British composers! But it is a difficult economic landscape, in which we've seen reductions in the funding available to make recordings, the marketing opportunities and the retail market. Clearly there IS an audience out there – if there weren't, NMC wouldn't still be here 17 years on – and our challenge remains how to increase our contact with them: for this reason, we're particularly excited about the opportunities which the internet can offer. We must also pay tribute to the classical music press which, while under pressure itself in some areas, has consistently given NMC's work generous column inches (and, we're pleased to say, often very good reviews too).


As a step towards putting NMC on a sustainable long-term financial footing, we've launched NMC Friends for those who want to support our work: in return, Friends are invited to special events, including selected recording sessions. Full details can be found at http://www.nmcrec.co.uk/friends .






Where can I get hold of NMC CDs?



CDs are available directly from us at http://www.nmcrec.co.uk [editor note: or here at CT in relevant composers database pages]; our website also gives full details of our international distributors.



What are your plans for the future?



Highlights of our 2006 release schedule so far have included Brian Ferneyhough's major operatic sequence Shadowtime (NMC D123), Edwin Roxburgh's orchestral showpiece – and tribute to Gustav Holst – Saturn (NMC D119), and Stephen Montague's witty and dramatic piano music (NMC D118).

In the Ancora line we've reissued Robert Simpson's powerful Symphony No.3 (NMC D109), and Nicholas Maw's scintillating Life Studies (NMC D085); later in the year we'll be adding Simon Bainbridge's Fantasia for Double Orchestra (NMC D126) and David Blake's Violin Concerto (NMC D129).

Coming up later in the summer and autumn will be recordings of the exciting and emerging talents of Richard Barrett, Stuart MacRae and Julian Anderson – along with a special release to mark the centenary of Elisabeth Lutyens, rightly included in the NMC catalogue because of her pervasive and continuing influence on so many of today's composers.


Interview by Composition:Today © Copyright 2004-2021



Comments by other Members
Posted by :

KonnorRhett at 15:51 on 13 November 2020
Have always appreciated such noble initiatives. Similarly, I have started an initiative regarding the top essay services and it would really help if people could get behind that. Again, support such noble causes!

Posted by :

jamseales0 at 08:43 on 22 December 2020
Thanks for the blog loaded with so many information. Stopping by your blog helped me to get what I was looking for. 먹튀검증커뮤니티
Posted by :

jamseales0 at 11:16 on 05 January 2021
Wonderful article. Fascinating to read. I love to read such an excellent article. Thanks! It has made my task more and extra easy. Keep rocking. custom patches
Posted by :

jamseales0 at 07:41 on 06 January 2021
Thank you because you have been willing to share information with us. we will always appreciate all you have done here because I know you are very concerned with our. [url=https://www.denverlocksmiths.me/]Locksmith Denver[/url]
To post comments you need to become a member. If you are already a member, please log in .