Lior Navok is a young Israeli composer whose music has been performed by the likes of Radio Philharmonie Hannover NDR, Israel Philharmonic Orchestra. Commissions include the Koussevitzky Music Foundation (a new string quartet for the Borromeo String Quartet)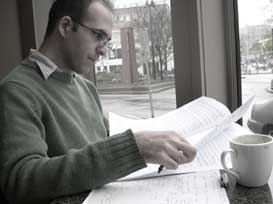 Lior Vavok

Tell us something about your background.



I was born in Tel Aviv, Israel in 1971. In spite of the country's daily existence problems, it is incredibly rich in culture: excellent musicians arrive to perform in Israel frequently and a lot of Israeli musicians have their mark in the worldwide music scene, to mention just Daniel Barenboim as an example.
At the age of three, I remember stopping regularly at a nearby music store, just to stare at the instruments. It was the most fascinating thing for me. It seems like already then I understood that playing instruments is something I would like to do in my life. My "official" music studies started at the age of 7-8.

I started by playing pop music, then Jazz (around 16) and only around twenty one I started enjoying, playing and creating classical music.
At 18 years old, around 1989-90, I started my mandatory army service of three years. I was lucky to be chosen as one of the army musicians. During this time, I performed five concerts a week and still had time for my own practicing. It was an important period, where I learnt about stage presence and performance a lot, as well as arranging vocal music. After three years, I joined the Rubin academy in Jerusalem, studying composing and conducting. One needs to be in Jerusalem in order to sense how music speaks differently there. In Jerusalem there is a perfume of holiness in the air, where one can suddenly comprehend what the music of Bach is all about. In summer 1996 I left for studies in Boston and started a new chapter in my life. At the New England Conservatory, I got familiar with some new musical directions and techniques. It was a very prolific period as well. There, I believe, my composing career really started. In 2001, after Master's and Doctorate degrees, I left for Paris and Berlin.





How did you start composing?



Through Jazz, I found myself looking for new forms and abstract / free improvisation. At a certain stage, it felt right to notate the improvisations, as if documenting - and so composing begun. First, it was Jazz tunes, songs, small exercises, and later it became full symphonic works in a contemporary classical medium.



What was your first success as a composer?



My first final double bar line.



Where do your ideas come from?



Mostly from observing. A lot of ideas come from nature: sounds, light, densities . . . the sea is a major source for musical ideas. Many of my compositions deal with description of nature, like the "Nocturne" and "Mysterious Pond." People and people's behavior is also a major source of ideas for me. I find that many people are true "characters" - very individual with a particular mannerism, gestures and patterns. In many cases I translate these characteristics into music. My "Six Pieces for Horn Solo" as well as the "Ten Bagatelles for Solo Piano" are basically character's portraits.





What do you see as the role (intended and actual) of new music in the modern world?



I believe that art reflects society. It reflects thoughts, ideas, habits, tendencies, technological advancements, intimate relationships, sociological relationships, political relationships, and so on. Many people view classical music as a source of relaxation from life's tensions and can not relate to modern music which might be hard for them to listen to. In a way, modern music is a mirror of society and for many people it is still hard to look at the mirror. As always it is a matter of time before the ideas composers write today will be fully dissimulated.



What are you working on at the moment



I am gathering ideas for my upcoming projects: a work for actor and chamber ensemble, a trio for clarinet, cello and piano and another trio for recorder, cello and harpsichord. I rarely talk about future composition before they are done.



Do you have a routine? A place that's special



I compose in the mornings. Sometimes in two sessions - morning and late afternoon. In the morning, the brain is fresh and full of ideas formed while dreaming, thus composing in the morning means to "drain" these thoughts into the music paper. Speaking of which, I never compose using a computer. Everything should be clear and audible in the head, before letting the pencil do its job. When the composition is completed I call the copyist. . .



Do you have particular techniques - ones you come back to again and again? Tell us a bit about them.



I do not compose with a certain theory, set, cell or row in mind. The ears and intuition decide. When establishing a certain motive or fragment, I keep introducing it again and again, constantly in a different light: different harmonization, texture, orchestration and so on.
My harmony tends to be rich and complex yet not alienating. I use the harmony to create colors and pay a lot of attention to orchestration, timbre, clarity and richness of texture. I do not restrict myself to specific techniques, but try to find new ones all the time, according to what the musical material asks for.



What are your plans for the future?



The plans for the future include few symphonic works as well as chamber music - all commissions coming from USA, Europe and Israel. Also, I am forming ideas with many film directors and choreographers in regard to future collaborations. On a larger scale, along with many colleagues, we try to change the way most people view modern music. To do this, one needs to find ways to expose the same composition more than once. I try to convince conservative concert programmers (who have their own fears and calculations) that their audience deserves to hear also the music of their day. I found that in most of the cases the audience is welcoming modern music much more that concert promoters -who keep using the same winning horses for narrow financial considerations. Also so, I work hard on forming a quality "club" of devoted performers and artists who care about making a change and can put their ego aside for the sake of the goal.



How can people find out more about you?



If not through a live concert or radio broadcast, one can listen to my music and find more information through my website. http://www.liornavok.com

I would like to encourage musicians / artists who want to make a difference to contact me and see how together we can make a stronger impact.



Interview by Composition:Today © Copyright 2004-2020



Comments by other Members
Posted by :

smithsera at 07:13 on 13 April 2020
Lior Navok is an excellent originator, and attending to his songs with my [url=https://www.britishessaywriting.co.uk]British Essay Writing[/url] mates was an excessive time. I confidence that more persons will attend to his music, and escalate it.
To post comments you need to become a member. If you are already a member, please log in .