C:T talks to composer Ken Ueno, whose new piece for BMOP and violist Wendy Richman will be premiered next month

Ken Ueno

Tell us something about your background.



I was born in Bronxville, NY. When I was eight months old, my family moved to Japan for three years. We then moved to Geneva, Switzerland when I was four. It was when I was seven, when we finally arrived (and stayed!) to LA. Went through high school at Palisades High, then college and graduate degrees over in the East Coast.



How did you start composing?



As far as early musical training, I played recorder in first grade and took clarinet for several years during grade school then didn't do any music until I started playing electric guitar when I was sixteen. Looking back, though, what might have been formative was playing with a portable Aiwa cassette recorder I first got when I was five. I still have some of the recordings, mostly sound effects, non-linear cuts, and weird vocalizations (kind of sounds like some of the stuff I'm still doing now, actually). The opening of my concerto for myself with BMOP starts with one of these recordings. I sang along with my six-year-old self (kind of like Krapp's Last Tape – hopefully, not as tragic).

Up until I was 18, I had a completely different life plan. My plan was to matriculate at West Point, serve my country, become a general, return to California and become a Senator. Towards the end of my first year at West Point, I suffered an injury and had to return home and rethink my life plan. I had no idea what I was going to do with the rest of my life. For almost two years, all I did was convalesce and play electric guitar (having discovered Jimi Hendrix the year before going off to college). Eventually, I decided to pursue music and went to the Berklee College of Music – by that time, I was playing in bands and writing some songs. It was while I was there that I was introduced to some gutsy visceral 20th century music, and I was inspired to try to become a composer.



What drives your work, what are you passions?



My life has been radically transformed by listening. Some of the most important listenings in my life have challenged and transformed my notion of what music is, and, by extension, what life is. Through hard work, the composer and performer can, together, showcase the potential for beatific transcendence in human endeavor. I am driven by a passion to try to give audiences something analogous to the impact music has had on my life.



Tell us something about your working method as a composer. Give us something that might be or might have been a starting point for a piece.



Starting with the practical guidelines of a commission, the musical idea for a work, which I call the poetics, is informed by phenomenological contemplations on experiences in my life. Contemplation on phenomena I have experienced has had a profound impact on my music. Here is an example:

In 1999, I spent four months living in Brussels, Belgium, on a Belgian-American Education Foundation grant to work with the composer, Frederic Rzewski. While living there, I often took walks to explore the city. Coming from California, where I grew up (and where everyone is tan and health conscious), I was struck by the number of cigarette butts I observed throughout the city. A local statistical field seemed beautiful and chaotic to me. However, as I explored a greater portion of the city, it gradually dawned on me that the larger statistical field of cigarette butts revealed a more consistent (and therefore predictable) city structure: places of waiting (cafes, bars, bus stations, train cues, park benches). This realization became a major influence on my ideas about statistical form in my music. The larger structural aspects are clearer, while the more local fields approach chaos.

While still focusing on the poetics, I research sounds, which, somehow, gives me a feeling expressive of the poetics (at least, to me). First, sounds are imagined and then "worked out" with collaborating performers to realize these sounds on their instruments. These sounds are then analyzed using software in order to derive parametric data that will inform the structure of the music. The music created in this way (which I call "person-specific" music) has depended upon long-term collaborations with some of the most remarkable younger generation of hyper-virtuosic performers, who have developed fluency in specific timbral control (e.g. overtones, multiphonics, microtones, etc.), as well as have the speed, the physical endurance, the patience, and, most of all, the determination to master techniques unique to this music.



Tell us about the new piece that BMOP will be performing.



Talus is a concerto for viola and string orchestra written for, the soloist, Wendy Richman.

In the spring of 2006, my friend Wendy Richman fell off the stage at MassMOCA during rehearsals for a David Lang opera, Anatomy Theater, and broke her ankle (the talus, tibia and fibula bones). When she sent around a jpg of her x-ray, the horizontal lines of the bolts in her ankle immediately suggested harmonic possibilities to me; some of the harmonies in this piece are, in fact, generated from analysis of the x-ray. Seeing her courage as she worked to recover from the injury reminded me of my mother's courage during her recovery after tearing three ligaments in her knee from a skiing accident (I deferred a semester of college to take care of her during that time). My mother was determined go back and ski down the same hill in Park City where she was injured and accomplished this feat in two years' time. Spectrogram analysis of Wendy's x-ray: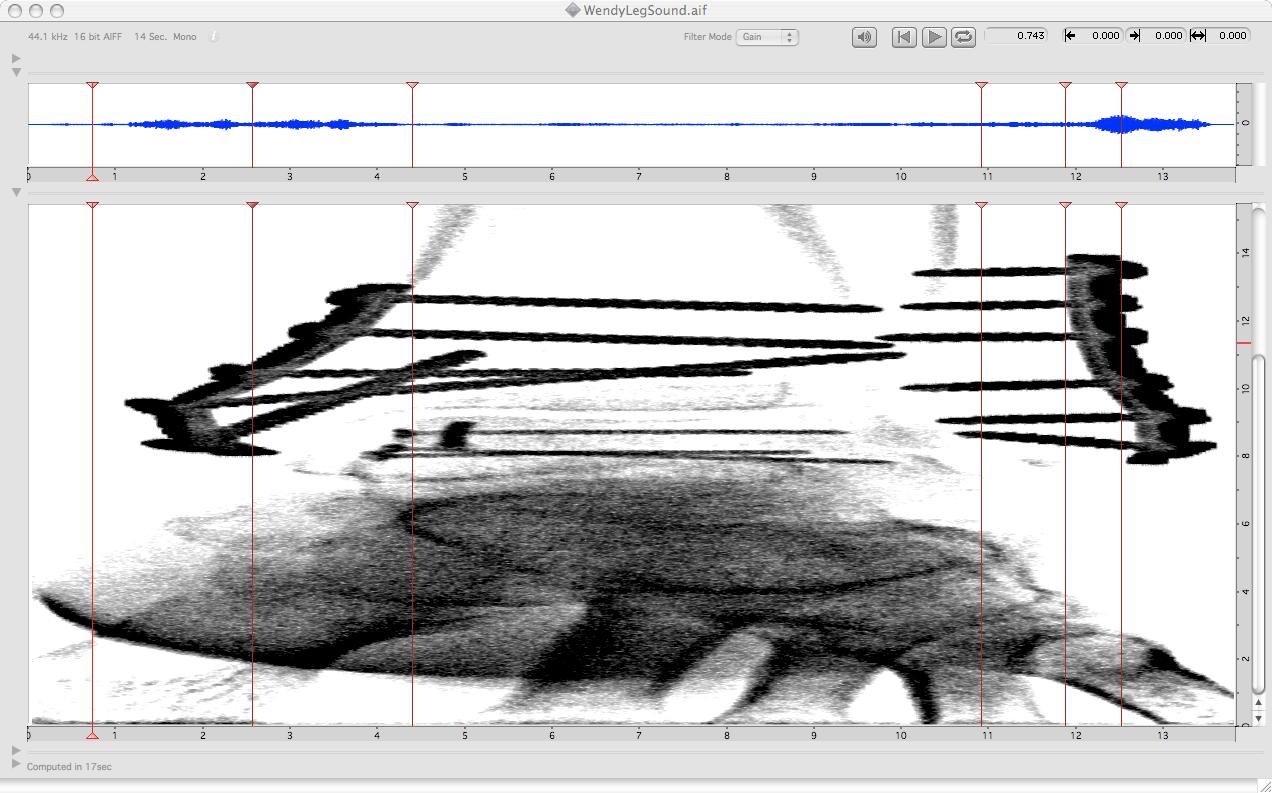 I, too, know something of physical trauma and its life-changing possibilities. It was an injury I suffered as a West Point Cadet that led to my leaving that life path and eventually becoming a composer.



Which non-musical influences have affected your music most?



Literature, cinema, contemporary visual arts, high-concept architecture, fine spirits and exotic foods.



What is your musical philosophy?



Listen to everything, but use only sounds I can commit to.



Who has been the greatest influence on your musical style to date and why?



Samuel Beckett. In the poetics of his silence, there is more beauty than the clutter that mostly fills our lives. In each work, he reveals a different aspect of what art, given the chance, might be.



What's the strangest idea for a piece you've ever had?



Geez, what makes something strange? For a while, my most performed work was my piece for six amplified Big Bird Toys. My vocal concerto for myself has a pre-recorded part that will be reassembled every thirty years. The plan is to try to live long enough to do the reassembling cycle two more times (I'll be 98 by then). I see life and composition to be completely integrated. After I die, my greatest (and strangest) plan is to have my cremated remains installed in a satellite, so that my grandchildren will be able to look up in the sky and see me on any given clear night.



Which work are you most proud of and why?



I am equally proud of many of my works. However, my largest work so far is my Harvard Ph.D. dissertation, a forty-minute work for large orchestra. It took about three years to compose, and will never be performed. Around the time I was about to submit it, I went up to the place in the library where all the other past compositional dissertations are stored. Most of these were also works that took a lot of effort to compose, but had never been performed. I realized then, that what I was really engaged in was some kind of hazing ritual, an exercise in academic masturbation (made impotent through the lack of performance actualization). I decided to call my dissertation, IKU, which means to "come" in Japanese.



What does the future hold for you?



Trying to remain faithful to the music and continuing to have the courage to be as radical as I feel I want to be. Trying to push myself so that I keep learning from and about music.

There isn't as much potential for financial rewards as in pop music. But, there is the potential satisfaction that one had lived an uncompromising life of art in having created the music that one wanted to make unencumbered artistically by the demands of consumerist tastes.



Please list anywhere online where your work can be experienced



http://www.kenueno.com/gallery.html

http://www.myspace.com/blutmark

http://www.youtube.com/watch?v=aIwbYxKSk74



Please list any useful resouces/links



http://www.newmusicbox.org/article.nmbx?id=5640

http://ls.berkeley.edu/dept/music/Ueno.html

http://www.umassd.edu/cvpa/faculty/ken_ueno/ueno-rome-intro-ba.cfm

http://www.berklee.edu/careers/interviews/kenueno.html

http://www.greathoboes.com/features/kentr07.html

http://www.greathoboes.com/art/ken1.html

http://thephoenix.com/Article.aspx?id=14804&page=2


Interview by Composition:Today © Copyright 2004-2020



Comments by other Members
Posted by :

KonnorRhett at 07:37 on 18 March 2020
Ken Ueno is an amazing person, and reading the interview shared here has confirmed that. I will tell all of my best fake diploma reviews mates to read this interview in detail. I think this interview will help out my mates.

To post comments you need to become a member. If you are already a member, please log in .