C:T talks to composer Julian Grant. Julian's operas include: The Skin Drum (winner, 1988 National Opera Association of America's biennial chamber opera competition: produced at Banff, New Mexico, Oberlin and the ENO Studio), Out of Season (ROH Garden Venture, 1991 - Olivier Award nominee), A Family Affair (Almeida 1993), Jump Into My Sack (Mecklenburgh 1996) and works for Tete a Tete.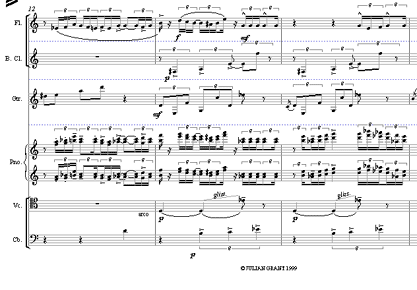 Extract from Julian Grant's Off Course

Tell us something about your background.



I studied composition with Derek Bourgeois and Robert Saxton at University, then went to the Banff Center, Alberta in 1985 - at that time the only place that put together composers, writers, directors, designers and performers to try out music theatre ideas - when the English National Opera Studio opened in 1990 to workshop opera ideas I had had a head start, and was hooked on the idea of writing dramatic music.



How did you start composing?



I heard the introduction to the Coronation Scene in 'Boris Godunov' - those terrifying oscillating tritone chords portraying the bells of the Kremlin - when I was 7 years old - that sound went through me like a thunderbolt - and I then tried to make up my own sounds - difficult, as at the time I only played the recorder, and had absolutely no theory training - I covered reams of paper with note names (no method of rhythmic notation had occurred to me yet) and set all my storybooks to music. All gibberish of course, but it was a start!



Who or what has influenced your style?



Gosh - so many things - Stravinsky, of course, the operas of Mussorgsky, Rimsky, Debussy and Janacek in particular, the directness of Italian opera from Monteverdi to Puccini, the Broadway musical, the ideas of the American 'pioneers' - Charles Ives, John Cage, Morton Feldman, Conlon Nancarrow, living in the far East and travelling extensively in Central Asia and Outer Mongolia - does all the above seem to be an indigestible mix?



How did you get your first commission?



The Rev.Walter Hussey, Dean of Chichester Cathedral (dubbed the clerical Diaghilev because he commissioned Britten and Bernstein, Chagall, John Piper and so on) offered me a bottle of wine at age 16 if I wrote something for choristers in the Cathedral....I have no recollection what happened to it!




Where do your ideas come from?



I find abstract musical ideas more difficult than ones pertaining to a dramatic or theatrical concept, though I have had a spate of writing chamber music in the past 2 years: I see composing something as akin to creating ones one particular little world, with its own geography and eco-systems and structures - it quite often starts as an indefinable mood and grows organically like a plant. It takes its own time and much patience and hope on my part. A constuctivist approach rarely works for me- I find the harder I work consciously at a piece, the more contrived, forced and pretentious it turns out to be.



Do you have particular techniques - one's you come back to again and again? Tell us a bit about them.



My music has thinned out considerably in the last few years, I used to relish a succulent harmonic palette and I find I use that much more sparingly now, I prefer a linear approach with forward propulsion caused by a seemingly accidental overlapping of disparate rhythmic units, my reseaches into Asian music caused a minor breakthrough in this respect. When I am writing opera I find that the whole musical edifice comes from the text: the melodic inflexions, the rhythms, everything.



What's the worst thing about composing?



Coming face to face with my own inadequacy time and time again.



And the best?



The ability to be transported and absorbed when things are going well - if only it happened more often!



What inspires you to write?



That's a very complicated question - I just have to, I guess - though not all the time - I alternate periods of productivity with extended fallow periods. I like a challenge, particularly of assimilating an external element into a piece, the unexpected, a new text, exploring a new sound - it depends on how I get out of bed in the morning!




What advice would you give to a young composer just starting out?



Develop a thick hide and have patience - and keep writing, whether you get recognized or not. And don't depend on the love of the crowd to influence your quality control.



Do you have a routine? A place that's special



Now I have two little girls I snatch the time to write, it's an indulgence - I have a house on an island I get to in the summers and other holidays, and that seems to be a productive place, if not always for writing, then for thinking about writing.



Do you do other work as well as composing?



I'm currently music director at St Paul's Girls' School - in my office is a little plaque informing me that one of my predecessors, Gustav Holst, wrote 'The Planets' in there - which is intimidiating, to say the least. I have been a broadcaster, conductor and I write on music and opera from time to time - I find a varied diet suits me. At one point I did nothing but compose, and I had to take on commissions I didn't care about to keep body and soul together, and I found it took the pleasure out of writing. Now I pick and choose more and the pleasure has returned.




What are you working on at the moment



A music theatre piece for the company 'Tete a Tete' - it will be quite a challenge and possibly quite unlike anything I have done up until now - it will be very savage and dark, though not, I hope, without humour.



Interview by Composition:Today © Copyright 2004-2021



Comments by other Members
Posted by :

jamseales0 at 09:00 on 04 March 2021
Remarkable article, it is particularly useful! I quietly began in this, and I'm becoming more acquainted with it better! Delights, keep doing more and extra impressive! 먹튀

Posted by :

jamseales0 at 11:08 on 10 March 2021
Thanks for the tips guys. They were all great. I have been having issues with being fat both mentally and physically. Thanks to you guys i have been showing improvements. Do post more. 먹튀검증
Posted by :

jamseales0 at 10:25 on 13 March 2021
I truly value this superb post that you have accommodated us. I guarantee this would be helpful for a large portion of the general population. Colin Farell Gentleman Tracksuits

Posted by :

jamseales0 at 12:33 on 14 March 2021
Super-Duper site! I am Loving it!! Will come back again, Im taking your feed also, Thanks. 토토
Posted by :

jamseales0 at 06:00 on 15 March 2021
Extremely helpful post. This is my first time i visit here. I discovered such a large number of intriguing stuff in your blog particularly its exchange. Truly its extraordinary article. Keep it up. https://www.signinsupport.net/
Posted by :

jamseales0 at 06:53 on 17 March 2021
Pretty good post. I just stumbled upon your blog and wanted to say that I have really enjoyed reading your blog posts. Any way I'll be subscribing to your feed and I hope you post again soon. Big thanks for the useful info. www.schedulelogin.com
Posted by :

jamseales0 at 11:04 on 18 March 2021
Wonderful blog! I found it while surfing around on Yahoo News. Do you have any suggestions on how to get listed in Yahoo News? Iíve been trying for a while but I never seem to get there! Appreciate it. [url=https://ggongnara.com]꽁머니[/url]
Posted by :

jamseales0 at 12:48 on 25 March 2021
Healing crystal bracelets | Beaded Chakra Crystals | Enhanced Energy - Soul Charms Buy crystal bracelets for chakra balancing, reiki energy healing, meditation, yoga, stress, anxiety depression Personalized to your healing needs and intentions crystal bracelets to attract abundance, luck, money, love, remove negativity, enhance psychic power, increase willpower, motivation, and more!
Posted by :

jamseales0 at 08:08 on 28 March 2021
Particular interviews furnish firsthand message on mart size, industry trends, ontogeny trends, capitalist landscape and outlook, etc. Onewheel Accessory
Posted by :

jamseales0 at 06:55 on 03 April 2021
Your post has those facts which are not accessible from anywhere else. Itís my humble request to u please keep writing such remarkable articles Onewheel Accessory
Posted by :

jamseales0 at 15:18 on 08 April 2021
How can we recognize that it is PU leather or Real Leather What is PU Leather What is the Difference bw PU Leather and Real Leather, We have all answers in details, Please visit our website to get the best & honest information for all kind of leathers. PU leather
Posted by :

jamseales0 at 19:32 on 09 April 2021
Need cheap auto insurance az Rates starting 49 month car insurance get online quote, Compare quotes multi insurance companies in AZ.
Posted by :

jamseales0 at 17:32 on 10 April 2021
Buy Pharmacy grade drugs to boost stamina and enhance performance. Buy HGH, mens sexual health products, weight loss remedy, EPO and Clenbuterol Buy Online. buy epo online
Posted by :

jamseales0 at 16:42 on 11 April 2021
Meetursugar makes dating easy and fun for everyone. With our first date tool, our members discover high-quality, frequent first dates. We ensure that all people active on our site are serious about dating. Sugar dating
To post comments you need to become a member. If you are already a member, please log in .