C:T talks to Joseph Hyde, composer and genre-busting multi-media artist.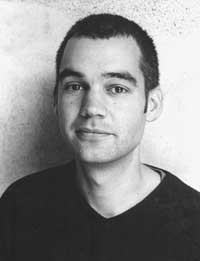 Joseph Hyde

Tell us something about your background.



There's a very strong amateur music-making tradition on both sides of my family. My parents regularly hosted impromptu musical evenings of one kind or another (which seem like something from a completely different era now), while my Great Uncle converted an old mill in Somerset into a tiny opera house, complete with balcony and orchestra pit, where he put on productions for nearly forty years. Oddly enough there were (and are) plenty of creative professionals in the family, but writers and visual artists rather than musicians.



Can you describe what first drew you towards electro-acoustic music, and then after that into multimedia work?



I actually don't think I'm particularly drawn to technology in itself, but rather by some of the things it allows you to do. I've realised over the years that the thing I'm most interested in is sound, in its purest and most sensual form. This started long before I had any access to technology – I remember as a child I used to 'collect' exotic chords on the piano and just play them for ages, subtly changing them but with no attempt at development, counterpoint, rhythm.. Must have been infuriating to listen to! After that, I've really just used technology as it's become available to me. I started in my teens with a Casio keyboard, a bunch of guitar effects pedals and a four-track – all borrowed from friends – and have worked my way up from there!

The multimedia thing also has seeds in my childhood. As I said, there's actually rather more visual art in the family than music, and my grandfather in particular encouraged me to draw, paint and make prints as a child. I actually had to make a choice of sorts in my teens – at my school you could do an 'O' level in music or an 'O' level in art, and I opted for music after considerable agonising. For a long time I thought I wanted to be a Film/TV composer, until I did a diploma in composing for picture which only really taught me one thing – that I didn't want to do it. I did however meet some interesting people which led me into various more experimental multimedia collaborations. I finally got into making my own films in the mid-nineties, largely because that was when the technology got cheap enough for me to have access to it.




What drives your work, what are you passions?



I'm currently particularly interested in the more 'lo tech' end of technology. I've gradually realised that we use the word 'technology' in a rather strange way – why do we call a synthesiser 'technology' but not a piano, which is actually a rather elaborate machine? I'm interested in mechanical music (I have a player piano, although I've mislaid it somewhere in Devon), the 'creative misuse' of simple technology (often known as 'circuit bending'), and home-made instruments (I recently wrote a piece for based on scrap-metal percussion). I'd like to combine these elements together into what I'm hypothetically calling a 'Car Crash Gamelan' - watch this space..

One of my key interests in recent years has been 'visual music'. I find this fascinating as a general concept, but it was actually a very specific idea, current in particular in the early days of cinema. Many early film-makers looked to music for ideas as to how to deal with structures in time, sometimes to quite an extreme degree – a good example being Viking Eggeling's 'Diagonal Symphony', which is a silent movie in Sonata form! Other film makers associated with the term are Norman McLaren, Len Lye and Oskar Fischinger, all of whom made great abstract films based on music.



Who or what has inspired you the most?



I was a bit of a Francophile for a while – I was very keen on Debussy as a kid and progressed from there to Messiaen, and from there to the Spectralists and eventually to Musique Concrete. Later on I was very much a minimalist, influenced first primarily by Steve Reich, and later by Morton Feldman, Alvin Lucier, David Tudor and Michael Gordon. Influences come from all over the place though, and not necessarily from especially 'highbrow' sources. When I was about seven, my dad gave me a cast-off record player, and I used to listen to his records when I was supposed to be asleep (actually turning the amplifier on would have been to have risked discovery, so I just used to stick my ear as close to the needle as possible and listen 'acoustically'). I was particularly keen on his Beatles records at the time. I realised recently that if I'm honest they were one of my biggest influences, particularly in terms of the sonic inventiveness of some of their later records.



Given an unlimited budget what kind of piece/installation would you like to create?



Other than the Car Crash Gamelan idea I just mentioned, I'd love to make a film with a really decent budget. I've been working in what's known in the industry as the 'low to no budget sector' for a good while now, and have got used to working with those limitations. But it would be great to do something really slick – I'd particularly like to do something with really high-quality 3D animation, which is really hard to do without a decent budget.



You recently had a piece done by Rambert Dance company and choregraphed by Andre Gingras. Tell us something about the process of collaboration that led to Anatomica #3



This was the scrap-metal percussion piece mentioned above. I've actually worked with Andre many times before, and we've formed a particularly strong working relationship. It's great actually – we've reached the stage where we really seem to understand each other creatively, which really helps as these big productions generally get put together in a real rush!

Everything I've done with Andre before has been electronic – this is partly because many dance companies sadly aren't keen to fund live musicians, but also partly because more abstract sounds seem to suit his quite extreme choreography. In this instance, Rambert were keen for us to use their resident ensemble London Musici, although I'm not sure that scrap-metal percussion was what they had in mind. It was a great way to achieve the kind of abstract sounds I wanted though, and I was greatly aided by the ensemble percussionist Rob Millett, who proved to be something of an expert in this area.



What are your plans for the future?



I'm doing another piece with Andre Gingras actually – he seems to be doing stratospherically well at the moment, which works out well for me too..



How can people find out more about you?



http://www.theperiphery.com – it's currently very out of date, but I'm going to revise it real soon!


Interview by Composition:Today © Copyright 2004-2020



Comments by other Members
Posted by :

RonniLBarron at 11:31 on 26 May 2020
What a great interview it was. I would have loved to read more of these interviews but first I need to find someone to do my homework for me cheap when I landed on this post. I would appreciate any help that you could give me.
Posted by :

KonnorRhett at 11:22 on 14 August 2020
This way of increasing sales is quite interesting and easy as well as only a little amount of investment is needed. I hope that this dynamic qr codes will for sure lead to boom in the sales industry of this product. Something betterful is achieved.

Posted by :

jamseales0 at 08:34 on 05 October 2020
Joseph Hyde is an amazing person, and reading an interview about him here was great. I hope to get more info on our website about Joseph. I am sure that a lot of people want to know how his daily life goes.

To post comments you need to become a member. If you are already a member, please log in .