C:T talks to Jim Aitchison, Henry Moore Fellow at the Royal Academy of Music who has developed his compositional method via a series of relationships and interactions with some of the UKs leading visual artists.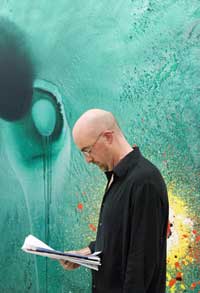 Photo © Richard Bram,
painting: Elegy for Terry Frost
by John Hoyland © the artist.

Tell us something about your background.



Well, I was born into an agricultural community in Norfolk, started the piano and then composition quite late. I studied principally at Nottingham University with Jim Fulkerson and Nicholas Sackman, but my writing has taken a very long time to mature and find its focus.



How did you start composing?



From being relatively unaware as a child, the world of music crashed into my dim 11 year old awareness in the form of Arthur Rubenstein's coruscating RCA Appassionata recording, followed a little later by the televising of Vladimir Horowitz's final London concert in 1982. I had never encountered eloquent intensity of this magnitude. In hindsight one might question the glorious and grandiose melodrama of Horowitz at this stage of his career, but the experience was electrifying and ushered in many years of preoccupation with C19th and early C20th century pianism. I began composing at around this time with various futile attempts to emulate Beethoven's piano music followed by similarly struggling essays in tributes to the great piano composers from Schubert, Schumann, Chopin, Liszt and Brahms and later on through to Rachmaninov, Scriabin, Prokofiev, Bartok and Ravel. It took many years and significant effort to escape from thinking solely in terms of piano sonority, texture and timbre.



You are Henry Moore Fellow at the Royal Academy of Music, London - tell us what the role entails.



This is a complete one off for the Henry Moore Foundation as they are an organisation that only promotes sculpture. Basically the Foundation became aware of my work with visual artists, and sculpture in particular, at the Royal Academy of Music and Tate, and I was invited to submit a proposal. The project, Forms of Resonance, entails collaborations with 4 of the UK's leading sculptors, Antony Gormley, Richard Long, Peter Randall Page, Richard Deacon, The Kreutzer Quartet, countertenor Nicholas Clapton and sound engineer and composer Milton Mermikides, exploring links between sculptural procedures and how these might be applied to processes of composition of music. My task in all of this is to produce a body of new pieces intimately derived from the work of the sculptors, and to deliver a number of research events at the RAM exploring my approaches, the issues around the endeavour and the fascinating insights I have gained from my discussions with the artists. The next research forum is on March 14th at the RAM, and we are planning further events, including the performances, for the summer.



You have said that your working process has a strong visual connection.. Could you tell us in more detail what you mean by that?



This way of working originally emerged from a commission a few years ago to respond to paintings by my friend, British abstractionist, Jeremy Annear that I was very reluctant to get down to! It was only once I finally got underway that the whole area literally hit me between the eyes and I realised that this was something that had been in the background all along: that I had always experienced music more intensely with a visual corollary present, and that aspects of visual qualities seem to relate in my mind to sounding ones. From this point all visual art objects transformed for me into potential proto-scores.

If I am responding to an artwork, 2D or 3D, I generally follow a process that involves greater or lesser degrees of the following:

1) The transfer of visual elements and dimensions into some kind of mediating point between the visual and the sounded: sometimes as a kind of sound map or notational-graphic score as a starting point.

2) Analysis of the artwork (if possible in consultation with the artist and/or curator) in terms its vital structure and any structural processes, any evocations of movement &/or terrain, and allusive resonances to objects and things, all of which I try to take account of in my response if appropriate.

3) Exploration of overall expressive elements and qualities.

4) Any specific links to musical procedures and parameters.





fragment of Quas 23.1.86 © John Hoyland,
photo Richard Bram - click to see full image

Corresponding framgent of Jim Aitchison's 'sound map'
© Jim Aitchison, photo Richard Bram - click to see full image




Tell us more about your views on the links between composition and the visual arts.



We must all know of Walter Pater's famous assertion that, 'All art constantly aspires towards the condition of music', but these days I think there is somewhat of a reversal of this! In the current climate of re-evaluation for composers trying to find a way back to their audiences, it could be argued that the work of visual artists has, for quite some time, been extensively encouraged to reside in a large swathe of the most substantial expressive and conceptual ground once occupied by composers…It has been fascinating for me to learn lessons about my own art form from another, and I think we as composers can indeed gain a great deal from looking outside our own practice. Both Antony Gormley and Richard Long make very good examples of what we might consider. Antony's work in particular proposes the kind of sweeping aesthetic and intellectual breadth and substance once the domain of composers up to the first part of the C20th but in a way that offers access at a variety of levels. His visual language has qualities surely coveted by artists from all disciplines: the simultaneous proposition of simplicity and complexity; employment of gestures that have 'universal' resonance (cultural, historic, expressive, human), but with layers leading in new directions to the unexpected and the complex, filtered as they are through real merging with contemporary existence.

Concerning the general links between music and other disciplines, there have been tendencies throughout music history towards greater or lesser integration between the arts, and indeed, the word 'music' has its origin in the Greek mousike, which was understood to mean "art of the muses" and in that sense included all the arts. Further to this, music has always sought to balance its abstract tendencies with alliances that convey or enhance its dissemination such as with visual edifice, poetry, drama or dance or with a merging of all – e.g. Wagner's Gesamtkunstwerk. In addition, examples of aspiration towards integration can be found in the Symbolist milieu (Baudelaire's Correspondences etc) right up to Cage and Fluxus. Examples of contemporary merging of art forms are becoming increasingly common and the change has been very noticeable even over the last 5 years.

Art historian Simon Shaw-Miller gives a wonderful summing-up of this renewed interest in interdisciplinary fluidity:

In a post-Cagian musical universe, all sounds and time events can be viewed through a musician's eyes and ears...[and]....within such an aesthetic the traditional boundaries among disciplines are no longer hermetic.....we should, perhaps, open our eyes to hear more clearly.

(Simon Shaw-Miller, Visible deeds of music : art and music from Wagner to Cage, Yale University Press 2002, New Haven and London. pp.242-243 passim.)

There are also many instances of composers directly and indirectly responding to visual arts from Mussorgski (Pictures at and Exhibition) and Rachmaninov (Isle of the Dead) to Debussy's love of Turner and Hokusai, Schoenberg's early work as a painter and his compositions influenced by the visual (e.g. Farben from the op.16 Orchestral Pieces), Messiaen's synaesthesia and his interest in Blanc-Gatti and Delaunay, Cage's activity as a visual artist and his explorations of extended notation that seem to me to have a strong visual element for their own sake, to the plethora of graphic scores that arose from the 1960's onwards. More recently one can call to mind Priaulx Rainier's long association with Barbara Hepworth, Ligeti's interest in Cezanne, Escher and Brancusi (witness The Devil's Staircase and Infinite Column from the piano Etudes), Gunther Schuller's Seven Studies on Themes of Paul Klee, Feldman's Rothko Chapel, or Turnage's many pieces after Francis Bacon, or Harrison Birtwistle's invocation of Albrecht Dürer's engraving Melencolia I in the Shadow of Night or the fascinating collection of his own artworks recently exhibited at the Barbican. This list is in no way comprehensive.

When considering the act of composing itself in comparison with that of creating visual art, there are so many common elements: the intention to express (or not!); control of qualities of execution (again, or not); disposition, manipulation and transformation of basic elements, and the shared phenomenon of the visual plane in the score. From a personal perspective the whole enterprise can be as practical as simply giving me a way of finding notes and patterns with which to begin.

There is also a greater cultural dimension to this: galleries can play a role in allowing us as composers to re-examine our practice through having to engage with an unfamiliar domain of artistic and presentational apparatus. In my experience, the act of deriving music from art brings great insight for me into both disciplines, and I hope this is the case for an audience. So there may be a sense of the composer fulfilling a useful role of re-contextualising the art for the gallery audience, while also facilitating routes into contemporary music for this (potentially new) audience. In addition, the gallery can provide a further (curatorial) contextualising background that can significantly inform the compositional process - this leads to the conclusions that the gallery can potentially play an important role for the composer, and that the process of responding to an artwork is not necessarily hermetic - i.e. not sealed solely within the art-object, but reaches out to the artwork's wider resonance.



Which composers have influenced you the most?



That is quite difficult to answer as, I suppose in common with many composers, I seem to take little bits from so many sources. But if I had to pin it down I can see patterns and phases that I have been through where many influences stay with me getting re-mixed from time to time as new discoveries emerge. In general I can see the early preoccupation with C19th pianism, leading to late romanticism with a pronounced and lasting interest in Mahler and Sibelius which has persisted to this day, and an alternative tributary towards the anti-romanticism of Busoni, Bartok, Shostakovich and Stravinsky. I love the early work of the Vienna School but have admired rather than loved the subsequent serial tradition right up to the recent past. It may be a misconceived but I always felt drawn through Mahler towards Shostakovich and the New Expressionists of Russia and Eastern Europe, especially Schnittke, and through Sibelius and Bartok towards the more Apollonian Lutoslawski, Britten and Tippet. Looking backwards, I suppose Bach and Beethoven remain my ideal models.


Most recently I find that I love a lot of John Adams music, some Lindberg and even Fernyhough and I find myself drawn again and again to Ligeti: I would cite the piano Etudes as one of the most significant influences upon my recent music, which kind of brings us around in a neat circle back to pianism! Aside from this I love a huge variety of music and am interested in everything, particularly in the wonderful way that the minimalists have forced us all reconsider tonality and the undeniable presence and power of folk, world and pop music. The only problem is to try to resolve the stylistic confusion that ensues from this diversity….As a composer I am greatly affected even now by the stylistic schisms still present and by the uncertainly this produces.




Which non-musical influences have affected your music most?



Obviously I will say visual art and especially those artists with whom I work: Jeremy Annear, Sir Terry Frost, Bridget Riley, John Hoyland, Antony Gormley, Richard Deacon, Peter Randall-Page, Richard Long etc etc. In addition to this, to cite landscape sounds like such a cliché, but perhaps it is better to qualify this rather as qualities of terrain, external and internal.



Do you have a routine? A place that's special



I am very lazy by nature and I need the incentive of a tight deadline to force me to get down to work. There is no substitute for persistence in overcoming compositional problems, but it has to be said that many impasses work themselves out in the shower or in the car…..



What's the strangest idea for a piece you've ever had?



Possibly my current Richard Long piece which may, if it works out, involve re-creating 4 of Richard's circular Dartmoor walks on the floor of the concert space in miniature, with string, one for each musician to travel as they play music derived from the same contours. However, though such ideas can sound possible and interesting as intellectual propositions (hopefully), it is often a different matter to make them work musically…



What are your plans for the future?



I intend to continue to extend my work with artists as this area is so rich and fruitful for me. But I also see many possibilities for further interdisciplinary merging which could transfer to other areas such as film (I am already working with film makers in this area), opera and dance, and I would like to experiment with some simultaneous creative work with visual artists. I have a number of projects in development.



How can people find out more about you?



I am launching a new website about my work in the next few weeks.



Interview by Composition:Today © Copyright 2004-2020



Comments by other Members