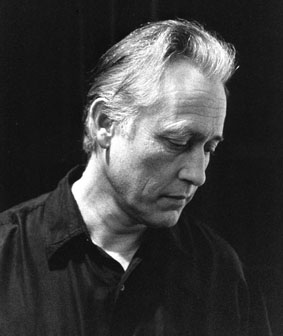 Gwyn Pritchard
C:T talks to Gwyn Pritchard, composer, founder of the Uroboros Ensemble and Artistic Director of the Reggello International Festival of Contemporary & Classical Music in Tuscany, Italy. The festival invites ensembles and soloists from many parts of the world to participate, programming music which is seldom heard in Italy. He also directs the RIF Composers' Competition which is hosted by the festival. For more details see http://www.reggellofestival.org .

Listen to an extract from Gwyn Pritchard's Janus for flute and clarinet
(MP3 594Kb)



Tell us something about your background.



I was brought up in the country near Marlborough in Wiltshire, the son of a farmer, and other than his enthusiasm for harmonizing hymns in church there was virtually no music in my childhood until the family inherited a piano from a deceased great aunt. I immediately started trying to teach myself, and at 13 I also took up the 'cello for which I demonstrated a reasonable aptitude. I quickly developed a passion for music, but I knew next to nothing of the wider musical world beyond what was typically on offer at that time in a small English country town. In 1966 I went to the Royal Scottish Academy of Music to study the 'cello with Joan Dickson as she was considered at that time to be one of the leading teachers in the country. When there I was given an award to study composition as well as the 'cello, but I only really found my compositional feet a few years later after a period working as a professional 'cellist.



How did you start composing?



Almost as soon as that piano I was referring to had arrived, when I was about twelve years old, I started trying to write music. I still have some of it – mostly attempts to imitate the 'classics' that I occasionally heard at that time, but a few pieces contain moments of charm and originality. Then in 1964 at the age of sixteen I went to the now famous Wardour Castle summer school and heard contemporary music for the first time, particularly Messiaen; I also met Tippett and the young Birtwistle, and Maxwell Davies. The whole event was a revelation to me and I immediately started trying to write music which drew on that experience. Unfortunately I gained little compositional stimulus throughout my student years, except for strong support from my composition teacher Frank Spedding, as Glasgow at that time was pretty much a musical backwater as far as contemporary music was concerned. But although I still acknowledge a few works from those early years the first pieces about which I felt really confident were composed in the mid 1970s after a period of rigorous self-teaching and analyzing a whole range of scores.



You set up the Reggello International Festival of Contemporary & Classical Music in Tuscany, Italy. Tell us something about the festival and your reasons for starting it.



I founded the festival in 2003 for three main reasons. Firstly, I have a house in Tuscany and I was encouraged by many Italian friends to organize some event that would contribute to the local cultural life; secondly, I frequently hear Italian musicians lamenting the state of contemporary music in their country; and thirdly, members of my Uroboros Ensemble, which I was forming again after an eight year hibernation, were very enthusiastic about the idea of paying a visit to the Tuscan countryside to give some concerts, eat the pizzas and drink the wine!

My programming policy for the festival is to present high quality performances of contemporary music from around the world, and also 'classical' works, avoiding the popular repertoire that gets widely performed in Italy. So far this policy has not proven to be the problem that one might justifiably expect, and although we still depend mostly on a local audience it has been rewarding to see, for example, a group of elderly nuns give Takemitsu at his most 'avant-garde' a standing ovation!

Starting in 2004 the festival also hosts the Reggello International Composers' Competition (http://www.reggellofestival.org) which aims to discover good pieces, not necessarily brand new ones, by emerging or lesser known composers from around the world. It has always seemed absurd to me that so many pieces, often commissioned, only ever get one performance; not because they are musically deficient but because the majority of competitions and calls for scores only accept new works. Musical substance, I believe, is more important than the excitement of a world premičre. With my Uroboros Ensemble we shall be performing the 2004 competition winners at St Giles, Cripplegate on April 30th.




How would you characterise the Italian contemporary music scene as compared to the one in the UK?



It's utterly different. The more cynically minded would say that an Italian contemporary music scene simply doesn't exist. This is not strictly true, but sadly Italy lacks the orchestras and ensembles with a commitment to new music, and also lacks the organisations and institutions equivalent to those in the UK that foster contemporary music by funding commissions and performances. We complain about our situation in Britain relative to some other European countries, but in Italy the situation is far worse. Even more sad is the fact that at all political levels there is an apathy about the situation – new music is not a vote winner, and in Italy everything has a political context. This is why it has been so refreshing to find that my local council in Reggello has been generous in its support for the new festival there despite, or perhaps even because of, my programming policy.

There are of course plenty of significant Italians on the global contemporary music scene, both composers and performers. But within Italy many of these characters all too often exert any influence they may have on the musical politics of a city, conservatoire or a festival so as to make it very difficult for new voices to emerge. I have even heard one Italian composers suggest that despite the benefits to Italian musical life that were derived from Berio's international status, his death may, paradoxically, make it somewhat easier for emerging Italian composers to define and present their individual voices.




Do you read unsolicited scores?



Yes, always. As a composer I know how essential it is to promote one's own work, even if you have a publisher who should be doing it for you. I always stress that I have only very limited resources to help even really good pieces to find a performance; but over the last twenty years I have conducted quite a number of works that have been posted to me by hopeful composers.



What excites you about a piece of music - what keeps you interested?



The sense that I am a witness to, even a participant in, the unfolding of a meaningfully integrated yet open ended world of sound structures; where nothing is predictable, but with the benefit of hind-sight ('hind-hearing') everything may seem to have been inevitable, but only through a logic that is impossible to discern fully, and so the mysteries remain and I have to hear it all again. More simply I like music that metaphorically takes me to places I could never have imagined and leaves me with a sense of wonder and amazement at what I have experienced.



And what turns you off ?



Predictability, banality, incompetence or pretentiousness masquerading as originality, and musical prozac presented as the post-modern answer to (evasion of) the artistic challenges of the last fifty years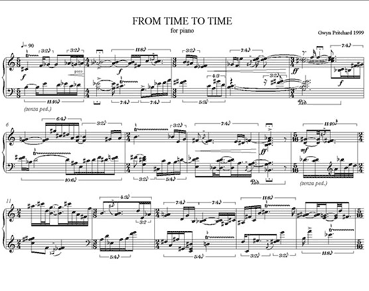 From Time To Time by Gwyn Pritchard

What do you see as the role (intended and actual) of new music in the modern world?



Potentially the same as music has always been relative to the time in which it is written: a mirror which reflects back to society not merely its image of itself but its innermost dynamics, the forces that drive it onwards, that which the society wants to celebrate but also its limitations, both its integrity and its contradictions. I am less sure about the readiness of certain influential sections of our modern world to look into that mirror and accept what it might see; much that passes for music today seems to me more like a diversion from the realities of our time. Whilst I am certainly not against the idea of music as entertainment or fun I worry about the drowning of imaginative and articulate musical ideas reflecting the deepest human sensitivities in the unstoppable tide of aggressively marketed fashionable trivia, musical or otherwise. But there are still plenty of committed composers, representing a profusion of styles, all continuing to write their music; and there always will be no doubt, however difficult the artistic environment may be. Let's hope that enough people get to hear it.



Who or what has influenced your style as a composer?



All composers get asked this question and I always find it difficult to answer. Being effectively self taught in terms of the kind of music I ultimately ended up composing I didn't have any models presented to me by a teacher; and from the many and varied works by Berio, Boulez, Xenakis, Messiaen, Carter, Birtwistle and others that I studied and in many cases analyzed in some depth in the early 1970s I tended to respond more to the kinds of sound-worlds they were exploring rather than their technical means of exploring them. I wanted to invent my own methods to integrate and develop the possibilities of those many sound objects that had made an impression on me. So it's fair to say that the direct influence of any one of these figures is fairly minimal, but collectively the music of many of the important figures of the 1960s and 70s exerted a significant influence; as did some composers from earlier periods such as Webern, Berg and even Beethoven and Dufay. Beyond musical influences I have always been fascinated by visual art, and painters such as Miro, Klee and particularly Ben Nicholson were probably just as influential as any composers. Perhaps one of the biggest influence of all has been landscape. I am anything but a latter day pastoralist, but I have written quite a number of pieces that have their genesis in seeing relationships within natural formations, such as rock strata, as tangible counterparts to more abstract musical ideas.



Do you have particular techniques - ones you come back to again and again? Tell us a bit about them.



Specific techniques, no; more general methods of approach, yes. In some earlier pieces I employed matrices and magic squares; and subsequently, in common with many other composers, I developed my own methods of controlled permutations applicable to any musical parameter, with potential for lesser or greater specificity according to the needs of the context. I have also been interested in the idea of 'sets' of both pitch and duration which are characterised not by fixed intervals but by ratios which can be expanded or compressed. But in all my more recent pieces, whilst I continue to use numerical structures simply to generate a framework of possibilities, I find myself both adapting elements of past techniques and simply inventing new ones specific to the musical context; also often working intuitively, trusting in my own repertoire of compositional skills to give the music its autonomy, remaining confident in the internal processes without needing to be particularly aware of them. Increasingly I feel that whilst my techniques enable me to start on a piece, they always become so adapted to the requirements of the evolving idea throughout the composition process that my choice as to exactly which techniques to adopt initially is far less important than I used to believe.



What are you working on at the moment



As well as some long term projects I have three immediate commitments: an ensemble piece for Nosferatu, an unaccompanied 'cello piece for the wonderful Robin Michael, and some tiny solo piano pieces that are part of an ongoing personal 'diary'. I prefer to say nothing about the pieces at this stage, but I will say that writing solo material for my own instrument, the 'cello, is particularly absorbing as, until recently, I have always deliberately steered clear of it (except in ensembles), fearing that I would produce material that is too rhetorically 'autobiographical', lacking that autonomy I referred to earlier. However I was recently commissioned to write a 'cello concerto which received its premičre at the 2004 ISCM World Music Days, and the effect of that experience has allayed all such fears leaving me free to work enthusiastically on the new solo piece.



What advice would you give to a young composer just starting out?



If you really have a burning passion to write music – keep doing it and don't even think about it being a risky a career. Always remain as open to learning as you possibly can; and I don't mean only learning about music; an active intellect and a developed sensitivity to ideas are just as important as craft or musical talent. So I would strongly recommend experiencing the musical developments and activities that are happening in other countries and cultures, beyond ones own immediate sphere. As to young composers' promotion of their music, I would recommend fearlessly trying every available avenue; and always remember that if you genuinely believe in your work you are also inviting other people to do the same.



Do you have a routine? A place that's special



I wish I could have! My life includes so many things, like running a festival and an ensemble that unexpectedly demand urgent attention, that settling into a routine is practically impossible. In consequence I often go weeks without writing a note, and even going off to my place in Italy doesn't offer much respite, what with emails to see to and so forth. In reality though all this is of my own creation – I don't have to do any of it if I don't want to, and I count myself very lucky to have a full and active musical life. Fortunately I have never yet missed a deadline for a new piece, but I do usually have to burn the midnight oil to get pieces done in time.



How can people find out more about you?



Easy, go to http://www.gwynpritchard.com. There are also scores in the British Music Information Centre, or failing these options people can contact my agent: Camerata Artists at humphreys.camerata@blueyonder.co.uk


Interview by Composition:Today © Copyright 2004-2020



Comments by other Members
Posted by :

letiqi at 10:26 on 24 April 2020
The game that is linked to this web should base on the browser because without it we cannot play this game. In particular https://www.resumehelpservices.com/ are designed to tell the world wide web issues.
To post comments you need to become a member. If you are already a member, please log in .