C:T talks to composer Graham Lynch, whose CD Undiscovered Islands was recently released on the Priory label.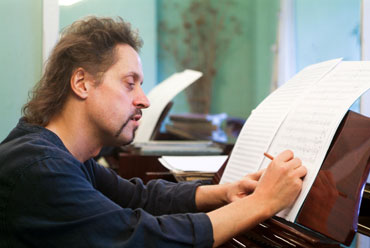 Graham Lunch

Invisible Cities for orchestra. (the second half of the piece, NOT the complete work). BBC Symphony Orchestra, Pascel Rophe.



Night Garden - for piano. Mark Tanner



Wave Break - for piano. Mark Tanner.



Milonga Azure - for tango quintet. Tango Volcano.



Tell us something about your background.



If you mean in terms of musical training, then itís been fairly diverse. Alongside having piano lessons I played keyboards in rock and jazz rock bands as a teenager, and then decided to go and study music. I spent about six years as a full time music student, finally getting a PhD in composition at Kings College in London, having studied with David Lumsdaine and Silvina Milstein. I was also at the Royal College for a year with Jeremy Dale Roberts, and for a couple of years had private lessons with Oliver Knussen. Since then Iíve also got into a lot of non classical musical styles, I think that itís good to see how people approach music in different parts of the world.



How did you start composing?



For me it was one of those ĎRoad to Damascusí moments. Iíd dropped out of school after failing most of my O Levels (didnít pay any attention at school!) and worked for a couple of years in offices, whilst continuing to play piano. I was having jazz piano lessons in London at the time and my teacher was also a composer. One day I sat down and wrote a piece for piano and immediately realised that this was what I wanted to do, it really clicked for me. After I played the piece to my teacher (Peter Sander) he suggested I attend his weekly evening class in composition at Morley College, and things went on from there.



What drives your work, what are you passions?



I think that itís the open ended nature of anything thatís creative; the fact that youíve no idea whatís coming next, what ideas will emerge. So each dayís composing is a step into the unknown. Although it feels mostly like very hard work with few notes emerging, thereís always a sense of excitement when a piece finally starts to come together after months or years of work.



You talk about having 'completely re-thought your musical language' after your studies, moving from a modernist approach to a style than incorporated modality and non-classical influences. What led you to this re-thinking? How do you view the modernist agenda today?



The composers that I was interested in as a student are still part of my life today: these would include Ligeti, Boulez, Birtwistle, Lutoslawski, Messiaen. But after finishing my studies I began to realise that I had nothing to say within these sorts of styles, and what I was hearing in my head was very different. Also, the degree of complexity that some pieces had evolved to was very much at the limit of performance possibility. I also realised that I wanted to write music that had recognisable Ďobjectsí, which would allow a listener to have a greater degree of structural orientation, a sense of formal clarity. In order to do this it was necessary to involve harmonic and melodic ideas that were self contained and seen as processes within a formal framework. And I guess for any composer there is always a Ďsound worldí at the root of things that one is drawn to and always trying to create, a sort of distant kingdom of sonic relationships that feels tangible and like a place one would want to live in. It becomes something of a personal ontology, an individual harmonic signature. A number of years later I also became interested in tango nuevo, and this again changed the way I write to some extent.



Tell us something about your working method as a composer. Give us something that might be or might have been a starting point for a piece.



There is a slightly different process for me depending on whether Iím composing a Ďclassicalí piece, or a tango work. My interest in tango nuevo has been around for a few years now, I like the immediacy of the music, and its melodic intensity coupled with the melancholy/despair/eroticism. But the tango works Ė although they can be very hard to complete Ė evolve to some extent within a pre-existing tonal idiom; questions of musical language arenít very apparent. But for the classical works itís a bit like having to re-invent the wheel each time, because oneís musical language is always changing and moving on.

Because the notes are very important for me I always find that whenever I start a commission I spend a long time producing sketches: endlessly filling sheets of manuscript paper with ideas until something emerges. All this is very intuitive, there are no systems involved, but eventually some fragment of harmony or melody will come along that has an identity. Once there are some key ideas I tend to fashion these into a structure fairly quickly, and this gives me a working model to play around with. As I work very slowly it can take several years before larger pieces find their correct shape; balancing motifs and processes within a dynamic structure. For some reason (I donít know why) pieces can change considerably in the closing stages of composition. The idea of Ďre-visioní is crucial, if one can hear a work clearly then itís possible to finally complete it, but the Ďvisioní of the music can alter as it goes through various metamorphoses before being completed.

What I compose is very influenced by colour and timbre, by the tactile nature of sound. And the pieces are often more small scale and intricate. I think that this is partly because my music is non developmental, and can be a bit like a story by Borges in which time and events are fluid, and arranged in many layers.



Tell us about your recent CD release.



Undiscovered Islands evolved from a collaboration with the pianist Mark Tanner. I am very interested in composing for the piano and am writing an ongoing series of pieces called ĎWhite Booksí which take the harpsichord ordres of Couperin as their starting point. Like Couperinís works these short pieces reflect the many aspects of life.

Mark commissioned White Book 2, and gave the first performance at Wigmore Hall in 2008. We then decided to do a disc of all my piano music, and to also add in works that involved the flute, so Mark was joined by flautist Gillian Poznansky. This disc was recorded at St Georgeís in Bristol in the autumn of 2008, and has been released recently on the Priory label.

This CD is a pretty good overview of what Iíve been up to stylistically in the last eight years. The White Books are the main works, and although they are mostly modal/melodic in some way they are often very difficult to play, but have been given fantastic performances by Mark. There are other slightly easier pieces (including Petenera for piano, based on poems by Lorca) and the disc concludes with three tangos for flute and piano. Gillian and Mark also recorded Mediterranean, a piece that was originally commissioned by the Leasowes Festival for the sax player Sarah Field, with marimba, but has since worked very well in a flute and piano version.



Which non-musical influences have affected your music most?



Many things! Iím a fanatical reader, and am particularly fascinated by the visual arts. I think that this is partly because I compose music in a spatial, rather than linear, way. I find that the way artists have historically tried to solve certain issues of style and composition is very helpful to me in how I perceive what Iím writing. And the ideas of writers on art Ė such as Gombrich, Focillon, Marin, Schapiro Ė are a big part of my creative process. I also tend to have more friends who are artists than musicians, so I guess that rubs off on me a bit.



What is your musical philosophy?



Well, to be honest, Iím not sure Iíll ever discover that. There just seems to be an ongoing process rather than a hard and fast idea of what Iím doing. However, in a more pragmatic way I would say that I think contemporary composers have isolated themselves somewhat from the public, and many classical musicians as well, in the last few decades. There is certainly a place for music that is both demanding to listen to, as well as to play. But composing tangos, and pieces that have been spin-offs from this idiom, has allowed me to create works that can function as concert pieces in standard venues, as well as be of a level of difficulty that means they can be played by amateurs and students.



Who has been the greatest influence on your musical style to date and why?



Iíd certainly detect a French influence in my tastes Ė Couperin, Debussy, Messiaen, Boulez, following through to Takemitsu, and Unsuk Chin. But of course there are many other composers who are outside this stream of development that I look at and study. When I was a student I tended to spend more time looking at the works of living composers, but less so once Iíd left university. I like to keep up with whatís going on, but these days Iíd probably be listening to Bach or Haydn. One of my main non classical influences has been flamenco: the rhythmic structures are very complex and difficult to notate, but this gives the music a huge degree of energy and freedom. Iíve also dabbled with a lot of instruments as a way of getting under the skin of a style, and my efforts would include playing the clarsach, concertina, Irish fiddle, bandoneon, flamenco guitar; with mixed results!



What's the strangest idea for a piece you've ever had?



Hmmm. Interesting! Years ago I wrote a work for a Korg MI synth (called Seven Passages in Memory of Olivier Messian). For this piece I completely re-programmed the synth so that one could use it as a live keyboard instrument that could trigger many different programmes from different areas of the keyboard, to produce multi-layered sounds. It was never performed, fortunatelyÖ



Which work are you most proud of and why?



I often lose interest in a work once itís written. But after Iíve had time to hear performances and recordings I get to know the work from the Ďoutsideí and understand it better. At the moment my favourites would include Invisible Cities for orchestra, which is almost my earliest recognised work. Each time itís been performed Iíve had a lot of positive feedback, and new commissions have arrived as a result of people hearing it - most recently it was used as the modern test piece in the 2009 Leeds Conductors Competition, and itís a fascinating experience to hear six conductors work on a piece over a couple of days! Other pieces Iím quite fond of would include the tango Milonga Azure, which has been performed in over twenty different instrumental combinations, from duos right up to a version the BBC Concert Orchestra commissioned. And the White Book piano pieces contain some of my most personal music.



What does the future hold for you?



Lots of interesting possibilities at the moment. Itís been a very busy last couple of years as Iíve had to prepare most of my catalogue for publication in Germany, as well as sorting out the recording of the Undiscovered Islands CD. And there have been deadlines to meet for new pieces. There are new projects in the pipeline and pieces being written, but Iíve also said no to one or two things in order to give myself time to re-evaluate what Iím doing and have a tinker with my musical language, again.



For more on Graham's music visit his website: www.grahamlynch.eu
Interview by Composition:Today © Copyright 2004-2020



Comments by other Members
Posted by :

AdamKennon at 00:32 on 05 May 2020
Glad to have that amazing update on your blog that is quite supportive and acknowledging as well. There are lots of composers who are doing great work for the industry and providing the best essays most entertainign stuff to the listners.
Posted by :

leqeen at 19:24 on 22 June 2020
great information you deliver very creative and informative we can more help you to make confidence during interview by watching <a href="https://moviesguide123.com/">MoviesGuide123.com</a> we release a movie of our own platform, instead we show how negative and spammy is to use 123Movies. As 123Movies provide pirated content and we show the users to alternative of free and legal website.
Posted by :

leqeen at 19:24 on 22 June 2020
great information you deliver very creative and informative we can more help you to make confidence during interview by watching <a href="https://moviesguide123.com/">MoviesGuide123.com</a> we release a movie of our own platform, instead we show how negative and spammy is to use 123Movies. As 123Movies provide pirated content and we show the users to alternative of free and legal website.
Posted by :

leqeen at 19:25 on 22 June 2020
great information you deliver very creative and informative we can more help you to make confidence during interview by watching [url=https://moviesguide123.com/]MoviesGuide123.com>[/url] we release a movie of our own platform, instead we show how negative and spammy is to use 123Movies. As 123Movies provide pirated content and we show the users to alternative of free and legal website.
To post comments you need to become a member. If you are already a member, please log in .