C:T talks to composer Gabriel Jackson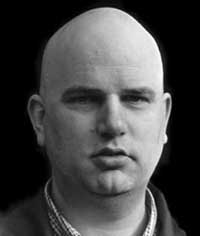 Photograph: Richard Ardus

Tell us something about your background.



I was born in Bermuda in 1962 where my father was a clergyman at Bermuda cathedral. When I was three years old we returned to England. My father had been quite an accomplished pianist when he was young and while he hadn't really kept up his piano-playing he was, and is, a very passionate and knowledgeable music-lover, with a huge record/CD collection, a very glitzy hi-fi system and wide-ranging musical interests and enthusiasms. So I heard and got to know an awful lot of music in my early years..

When I was eight years old I started at the Choir School at Canterbury Cathedral and a year or so later joined the cathedral choir as a treble. The life of a cathedral chorister is very demanding - before a day of school we would have an hour-long choir practice, after school there was another choir practice followed by Evensong, and after supper homework and instrumental practice; we had one day off a week but also sang Evensong on Saturday and two, sometimes three, services on a Sunday. But it was also great fun and very exciting, particularly in a very busy place like Canterbury where there were always lots of special services, radio and television broadcasts and recordings. We had to stay on after the school term finished until Christmas day for instance, and also at Easter, but that was fun, and singing in a packed cathedral for those special events was always thrilling. It is a fantastic musical education - you are singing great music everyday to a very high standard; you have to be very professional all the time, and you develop fantastic aural and sight-reading skills. We were particularly fortunate in my time at Canterbury to have Allan Wicks as Organist and Master of the Choristers - he was a hugely charismatic and inspirational musician and he remains the single most important influence on my musical life. He was also very committed to contemporary music so we sang a lot of contemporary music including things like the Tippett Canticles which were still fairly new in those days.

In my teens I studied composition at the Royal College of Music Junior Department with Richard Blackford and after that with John Lambert at the RCM proper.




How did you start composing?



This sounds a bit silly but I actually started writing notes on staves before I could actually read music properly. I must have been fascinated by how music looked and it was quite an interesting experimental process, drawing these notes on manuscript paper and then discovering, by having someone play me what I'd written down, and hearing what it sounded like. More or less as soon as I started piano lessons (I can't remember how old I was) and could read music I started composing little piecs, this time with some actual sense of what I was doing!



Who or what has influenced your style?



One very important influence is Mediaeval and Renaissance music, particularly late 15th and 16th-century English music. Formative musical experiences are hugely important, I think, and of course the core of our repertoire at Canterbury was Tudor music. Stravinsky has also been hugely important in many different ways - the idea that music is about other music, the use of block structures, without development or transitions, his particular understanding of the unique character of each instrument and the actual sound of the music. I am also a huge Tippett afficianado - the greatest English composer since the death of Byrd - his work has such generosity of spirit and an ecstatic quality that is very special. Among more recent figures minimalist and post-minimalist composers, be they 'holy like Part, Gorecki and Tavener (particularly Gorecki, a much more substantial figure than some would have us believe) or more 'pure' like Steve Reich and Philip Glass have been very important. Also the wonderful Australians Ross Edwards and Peter Sculthorpe.

I think my teacher John Lambert, who was the doyen of British composition teachers - he had taught Ollie Knussen, Simon Bainbridge, Jonathan Lloyd, Mark Turnage and many others - was also very important, although I'm not sure he would have approved of how I've turned out! But he always valued clarity of expression and a certain cleanness is something I always try to to acheive.

Another, quite different, influence is Soul and RnB - not in the sense of attempting any kind of 'crossover' or imatating the music in any way, but the sense of ecstatic communion one gets from the greatest singers, and the frequent use in Soul music of saturated diatonic chords, particularly when voiced by a group of singers, has been very influential. My use of evolving melodies over a harmonic and rhythmic ostinato owes as much to the way the singer's semi-improvised vocal line rides the groove in RnB as to minimalist techniques.





How did you get your first commission?



I had numerous requests for pieces throughout my teens and I even got paid a small amount for a piece once but my first proper commission, properly paid, after I left college, was for a piece for piano and percussion in 1984. I don't think I did anythng to actively get it - I was lucky enough to be offered the commission by Timothy Salter, who'd been my supervisor at college. And the pianist in the first performance was Thalia Myers, who has become a great friend and collaborator, so that was nice.



Where do your ideas come from?



Now there's a question! Literally, I don't know. The needs of the project, from other music sometimes, from visual art (I often derive structures and other material from artworks), the text (in vocal and choral pieces), things like that.



Do you have particular techniques - one's you come back to again and again? Tell us a bit about them.



Isorhythm (or my own form of it) where the same material is repeated with different pitches but the same rhythm is something I use a lt. My pieces are all tonal, but that's not really a technique is it? Abrupt editing between one section of material and another. Evolving melodies over harmonic/rhythmic ostinatos; ornate melodies over drones - do these count as techniques?



What's the worst thing about composing?



It's not well enough paid. And it's difficult!



And the best?



A fantastic feeling where everything goes right. The reaction of audiences members when a piece has really affected them. The sense, on occasion, that you've done a good job and the piece really works.



What inspires you to write?



The commission! The circumstances of the first perforamnce - the venue, the rest of the programme etc., a particular perrformer or ensemble (especially if I already know them and enjoy working with them), the text (in a vocal piece, the prospect of payment!



What advice would you give to a young composer just starting out?



Write what you want to write - don't worry about trying to please or impress others. Cultivate performers who you want to work with and who are interested in what you're doing. Don't worry about what other people are doing - concentrate on what you're doing and try and write the best music you can. Be very professional in your presentation of scores and parts - if they're full of mistakes or hard to read you will alienate the players. And be nice to performers you are working with - learn from their experience in practical matters, and be prepared to change things if you've misjudged something and it doesn't work.



Do you have a routine? A place that's special



No.




Do you do other work as well as composing?



Not really. I pretty much compose full time, which I'm very lucky to be able to do, but it doesn't mean writing a huge amount of music each year in order to make it pay.




---
BMIC Biography
Gabriel's scores on BMIC
---



Interview by Composition:Today © Copyright 2004-2021



Comments by other Members
Posted by :

jamseales0 at 05:56 on 22 December 2020
Nice post! This is a very nice blog that I will definitively come back to more times this year! Thanks for informative post. 보증업체
Posted by :

jamseales0 at 14:25 on 25 December 2020
I definitely enjoying every little bit of it. It is a great website and nice share. I want to thank you. Good job! You guys do a great blog, and have some great contents. Keep up the good work آدرس جدید سایت گاد بت
Posted by :

jamseales0 at 09:01 on 12 January 2021
This is such a great resource that you are providing and you give it away for free. I love seeing blog that understand the value of providing a quality resource for free. 먹튀검증사이트
Posted by :

jamseales0 at 09:23 on 19 January 2021
I am thankful to you for sharing this plethora of useful information. I found this resource utmost beneficial for me. Thanks a lot for hard work. สมัคร slot เครดิตฟรี แค่ยืนยันตน
Posted by :

jamseales0 at 10:43 on 23 January 2021
I was surfing net and fortunately came across this site and found very interesting stuff here. Its really fun to read. I enjoyed a lot. Thanks for sharing this wonderful information. 먹튀
To post comments you need to become a member. If you are already a member, please log in .