C:T talks to composer Ed Hughes, who's opera The Birds is being performed by I Fagiolini in this years City of London Festival.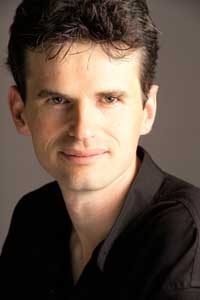 Ed Hughes

Tell us something about your background.



I studied at Cambridge University with Robin Holloway and Alexander Goehr, and later completed a PhD at Southampton University with Michael Finnissy. While I was at university I probably spent as much time composing and organising concerts as I did on academic work. Composing wasn't really central to the curriculum then but it was discretely encouraged by some of the more enlightened tutors. Of course one of the most amazing things about the place were the fantastic musicians one met as students, Jonathan Powell, Nic Hodges, Charles Mutter, Zoe Martlew, Emma Johnson, Philip Gibbon, and many more.



How did you start composing?



As an outsider. Although I studied piano for many years I never really became a player. So I realised one way of being able to get inside the extraordinary process which is music making would be to write music.



Who or what has influenced your style as a composer?



More recently I have been realising again, more and more acutely, the importance of my exposure to various forms of vocal ensemble music as a student and in subsequent years. I mean the early English vocal music of John Browne, William Cornysh, John Sheppard, Tallis and so on. My sense of harmony, abrupt juxtapositions of texture, polyphonic approaches to rhythm, and voicing, probably have a lot to do with this relatively early fascination.





Do you have particular techniques - ones you come back to again and again? Tell us a bit about them.



I borrowed the idea of rhythmic structure from John Cage's work 'String Quartet in Four Parts' and never really looked back.



Tell us about the Birds



The Birds is a satire. It is a music theatre piece, so I am just one element in a powerful and fast moving collaboration. I am very excited about it because I think it has a real dramatic structure, and a tremendous clarity, and is also, in its own way, quite experimental in its relationship to traditional forms of opera.



What kind of process did you have when developing the opera.



I worked closely with the director (John Fulljames) and the librettist (Glyn Maxwell) from the outset. It was John's idea to create an ensemble piece around Aristophanes's old comedy. Glyn played a crucial role in giving the piece a really contemporary edge. Glyn says its as though Aristophanes were around now, and writing for Private Eye. It's about 'restlessness' and the desire to move out of noisy urban life, to Provence or somewhere, get a second home, and then (ironically) recreate English suburbia around you. My own role was to find musical translations for the dialogue between mythic, permanent themes, and contemporary throw-away culture.



How can people find out more about you?



How can people find out more about you?
Through bmic (http://www.bmic.co.uk), uymp (http://www.uymp.co.uk) or http://www.edwarddudleyhughes.com


The Opera Group in association with I Fagiolini present The Birds, a new comic opera based on Aristophanes' fantastical comedy. Music Ed Hughes, Librettist Glyn Maxwell, Musical Director Robert Hollingworth, Director John Fulljames ,Designer Soutra Gilmour
Commissioned by the City of London Festival. Premiere June 29, 2005 then Buxton and Cheltenham Festivals, Oxford, Warwick, Iford and Salamanca.
http://www.colf.org/
Interview by Composition:Today © Copyright 2004-2020



Comments by other Members
Posted by :

jamseales0 at 11:57 on 18 July 2020
Extremely pleasant article, I appreciated perusing your post, exceptionally decent share, I need to twit this to my adherents. Much appreciated!. bitmain antminer T19
Posted by :

jamseales0 at 11:09 on 25 July 2020
The Linq At Beauty World by BBR Holdings. Hotline 61009266 . Get Discounts, Direct Developer Price, Brochure, Floor Plan, Price List & More. New Freehold Condo The Linq at beauty world showroom
To post comments you need to become a member. If you are already a member, please log in .