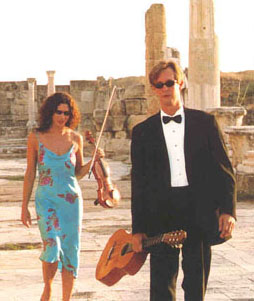 Duo46

CT: talks to Duo46, a violin and guitar duo who specialize in contemporary music.



Tell us all about Duo46- how it started, what it is, why, who?



Duo46 (4 strings on the violin, 6 strings on the guitar) is Matt Gould, guitar and Beth Ilana Schneider, violin. We started playing together while Graduate Teaching Assistants at the University of Arizona. We began studying standard 19th-c. original repertoire, moving into little-known 19th-c. rep., Baroque transcriptions and some Spanish works. Soon exhausting this rep, and a little bored, we began to search for 20th-c. music. When we discovered hundreds of pieces still unrecorded, or not even premiered, we found our voice. After compiling an annotated bibliography of over 450 original violin and guitar works written in the 20th-c., we began to archive the pieces with our first CD featuring music from the 1950s. Since then, we have balanced our time performing/recording existing works with commissioned ones from composers living in countries less represented so far...and to no guess, America was the least represented, and the subject of our disc Untaming the Fury.




What excites you about a piece of music - what keeps you interested?



Virgin territory. No hang-ups or pressure to recreate something past. A living entity. Basically, how the piece measures up to our MTHRFC criteria: clear melody, texture, harmony, rhythm, form and counterpoint...keeps us interested.




And what turns you off ?



Mass-Movers. Inhumane (MIDI) tempo indications. Artificial Harmonics.



How do you go about programming your concerts?



Whenever possible, we try to program works by local composers wherever we may be performing, and we like to present thematic programs. On average, we premiere about 20 new works each year, so most programs need careful planning.




How do you respond to unsolicited work- do you give feedback? Do you ever commission new work yourself?



At this point, we have privy to most of the violin and guitar pieces being written at some point. We give priority to commissioned works and non-premiered/unsolicited works after.




What do you see as the role (intended and actual) of new music in the modern world?



We believe that New Music is an art form and can be appreciated by most, and function on this level as part of the cultural heritage of different places in the world. We want our new music works to appeal to the intellect-to cause one to think, as well as to feel.




What's the best thing about running a contemporary music ensemble?



Meeting and collaborating with composers and forming great friendships in the process. And it is always a invigorating to disseminate new works that keeps us interested in playing music day-to-day.




And the worst?



Limited concert opportunities! New music still tends to scare presenters away. No matter how well planned and sensitive the program.




Any typical/common mistakes that new composers tend to make?



Typical/common mistakes are usually guitar related. Most composers are well versed with the piano or violin, but guitar is a bit awkward. Ineffective realizations of essentially good ideas occur frequently.




What are your plans for the future?



We are moving back to the states in July 2005, and will begin to assemble the hours and hours of recordings completed in Cyprus. We will continue our archiving project with a recording of music from the 1960s, and now that we will be located in the New York Metro Area, work with a few NYC composers and performers.



How can people find out more about you?



http://www.duo46.com


Interview by Composition:Today © Copyright 2004-2020



Comments by other Members
Posted by :

KonnorRhett at 18:57 on 18 May 2020
Thanks for doing an interview ith Duo46, and sharing the whole interview here. I appreciate this, and will do one of the resumes planet reviews on this soon. I am sure that a lot of people will read my review, and appreciate it.

To post comments you need to become a member. If you are already a member, please log in .