Avner Dorman is one Israel's most successful and renowned composers. He is published by Schirmer and has a CD of piano music out on Naxos.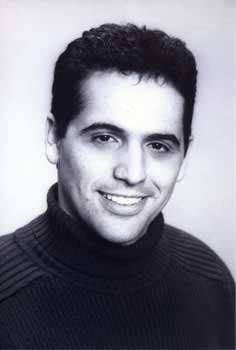 Avner Dorman

Tell us something about your background.



I was born into a musical family (my father is a Bassoon player and a conductor), but as a child, I didn't take music studies too seriously – I preferred playing football! (or as they call it in the US – soccer) I started playing the cello at age eight. A year later, my family moved to London for a year, and I used that as an excuse to quit the cello. At age twelve, I really wanted to play the drums, but was convinced to take on piano for a year or two first, just to learn the basics of music.

I guess you could say I was more prodigious as a child in math and chess, but as I grew older I knew my love for music was much stronger. I also studied Physics in addition to composition at the Undergraduate level, as part of a special program at the Tel-Aviv University.




How did you start composing?



I think I was a composer even before I learned music. A few years ago I found these old tapes that I made with my brother when I was eight or nine years old. There's this one piece I 'wrote' and recorded which is in 5/4, and alternates between Dorian and Pentatonic modes (and is sometimes polymodal). In the background I recorded noises of walkie-talkies, screams, and radio short-waves ….so I guess that was always in me J



Which composers have influenced you most?



That's a tough one! First of all, I would say my two teachers – John Corigliano and Josef Bardanashvili. Other than that, it's very hard to decide – can I say whether Bach influenced me more than Mozart, Ligeti more than Josquin De Prez, or Bartók more than Ravel? I do think that like many composers of my generation my music is influenced by Pop and Rock of the 70s and 80s. Also, since I studied music from central Asia, some Arabic music and some Carnatic music, the principles of these musical cultures, as well as some of their characteristic elements, have found their way into my music as well.



Which non-musical influences have affected your music most?



I like poetry, philosophy (especially of language), and I still study quite a bit of math. I think these other intellectual activities stimulate my brain and influence my work, but not in a direct way, at least not one that I see. Perhaps the one direct connection has to do with the structure of the Hebrew language. Almost every word in Hebrew is constructed from a root and every Hebrew speaker can invent words by combining roots with lingual structures. I love analyzing the Hebrew language, and I think my attitude towards developing motives is probably influenced by it.

On a more emotional level, I have responded to World events in my music. For example, I wrote the second movement of my second string quartet Prayer for the Innocents in memory of the victims of the massacre in Beslan in 2004.




Tell us something about your working method as a composer. Give us something that might be or might have been a starting point for a piece.



I think my work process can be described as bi-polar – on one end is the creation of the main motives/themes and on the other end, the architecture and the dramaturgy of a work. I think the two affect each other greatly, and so as I write I continuously re-evaluate both ends. I could start a piece from either side, but I can only start working seriously when I have some powerful motives. These can be very skeletal, perhaps just a rhythm or a rhythm with a mode or a series of pitches, but it's only when I am really excited about the theme or motive that I can proceed with the piece. I throw it away and start again. I throw out a lot of music!



Tell us about your work routine. Do you have a place that's special? A prefered time of day?



I vary my routine as much as I can. I alternate between piano, paper, computer, composing in my head, using another instrument (drum, mandolin, etc…) I think this helps me be more imaginative.
I always prefer to work out as much music as I can in my head before writing it down, and even if I wrote something out already, I might put it aside and write a longer version of it from scratch a week later. I think there's a real danger of the music becoming too scholastic and losing some of its flow when one works with paper or on a computer too much or too early in the process.




How does the new music scene in Israel compare to the US one?



Well, of course it's hard to compare such a large country with such a small one. I think the US is more comparable to a continent than a country.
Israel is more influenced by the music of Russia and other former soviet republics and by European music, mainly because of the geographic proximity and the massive waves of immigration from the former Soviet Union to Israel in the 70s and the 90s. Also, in Israel there is a lot of cross cultural exploration with musicians of classical Arabic music (I have worked with quite a few myself).
In the US you can find anything, hear anything, and do anything. It is such a large country, and with a general open minded attitude that I think if you believe in what you do and do it well you will find your place in the US. Of course, American music is more prominent here, and the influence of American composers is felt much stronger, but I think that's natural. I discovered a lot of music I didn't know since I came here.
From a practical point of view I think in the US there's more division between different genres, where in Israel (since it is so small) composers have to be more versatile (I wrote several ballets, scored a feature film, I had a Rock Band, and for five years I designed systems for and created ringtones for Orange, the second largest cell-provider in the country…oh, and of course, I wrote concert musicJ - such diversity is not so common in the US)




What are your plans for the future?



I am now working on a new percussion concerto for Martin Grubinger, which he will premiere at the Hamburg Philharmoniker with Simone Young in December. I am also making a minor revision to Spices, Perfumes, Toxins! for its European premiere at the Verbier Music Festival with Zubin Mehta conducting. After that I have two other big commissions – so I will need to come up with some more powerful materials soon. In addition to concert music, I enjoyed my experiences scoring films and writing for ballet, so I hope to be doing more of those as well.



How can people find out more about you?



I think it's best either to go to my website: http://www.avnerdorman.com, my myspace webpage: http://www.myspace.com/avnerdorman or my page on the G. Schirmer website.


Interview by Composition:Today © Copyright 2004-2020



Comments by other Members
Posted by :

KatieJ at 06:05 on 29 June 2020
Avner, you are my inspiration and my most favorite composer. Must say that God honored you in this life with so many things so you should be really grateful to God. You are such a wonderful human being I wish one day could meet you. I must share on https://www.researchwritingking.com/review-of-essaybot/ blog trusted updates.
To post comments you need to become a member. If you are already a member, please log in .