Other Resources

News Archive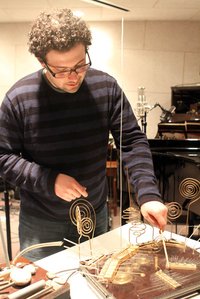 Recent or soon to be graduates from the Yale school of music comprise a fine collection of young composers, including Timo Andres whose album length work for two pianos was recently released by Nonesuch, and Ted Hearne who won the Gaudeamus prize ( and whom we interviewed on CT here). Now five of this talented group have enterprisingly got together to put on a show of their music at New York's Le Poisson Rouge this April 12th. I interviewd Chris Cerrone about the project.
Tell us about the upcoming concert.
Sleeping Giant is the premiere concert presented by a group of emerging composers that have come out of the Yale School of Music over the last few years. We'll be presenting new works by Timo Andres, Ted Hearne, Jacob Cooper, Robert Honstein and myself. I cooked up the idea for the concert when the five of us spent a weekend up in Westport, NY at the Honstein family summer cabin. There was so much joy in the group of us spending time together that for me it made sense for us to put on a concert. We're all close friends with a shared history and a strong desire to make music. As for the name, we wanted to name the concert after something New Haven-y, so we finally settled on Sleeping Giant, a park in Hamden, CT, an homage to our professor Ingram Marshall, who is famous (at least around Yale) for taking hikes and collecting mushrooms in that park.
Read more of the interview here
0 comments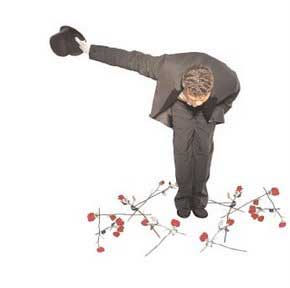 Taking a bow.

Taking a bow is one of those curious aspects of being a composer. I've sometimes caught myself wondering what is going on in a composer's mind as they jump on stage- does this moment in the spotlight make it all worthwhile; is it a terrible duty which would be avoided if only it could; or is it something somewhere in between?

I still find it a quiet source of pride how few composers are ready for that moment in the spotlight, we emerge tramp-like and awkward - the epitomy of uncool, uncommercial - we come on stage in our un-ironed jackets, or with a sock still stuck in one trouser leg. Then we scurry across the stage as quick as we can, not knowing where to put ourselves, and take an awkward bow. There's an interesting paradox in the way so many composers are so unnatural on the stage: we spend our entire lives trying to create something that is after all intended for performance 'on the stage'. We are aware of the finest, subtlest details of how certain effects in our music will come across - we can subdue an entire crowd, get them laughing or crying with our notes; and yet when we have to present ourselves in person on the stage we are likely as not to stumble on the steps before we even get there!

I for one would love ocassionally to attend performances where I wasn't called up to the stage - for starters one is forced to sit in a poor seat at the edge of the row, probably near the back, so as to effect a quick and easy emergence. Then, rather than listening to the music, you spend the entire concert wondering how you will get past that lady with the large hat sitting right in the way of the stage access; do I just shake the conductor's hand, or do I make my way through the entire ensemble kissing and hugging all ten of them, forcing the audience to keep clapping while I do (and risking that they might stop!).

At the end of the day, we composers probably secretly quite like a bit of adulation from time to time, but there's no doubt on the whole we're much happier and more comfortable when we get back to our desks and have only the concerns of the manuscript page to occupy us.
2 comments

The Aurora Orchestra seems to be going from strength to strength. Now in their fifth year, they recenly debuted at Kings Place where they have a new home, and have just announced a major three year residency with LSO St Lukes which will feature a series of cross-arts collaborations, the first of which I'm attending this Friday (full disclosure: I was offered a freebie) featuring Berio's Laborintus II and John Adams's Son of Chamber Symphony.
Since I first heard about them a few years ago, I sensed a freshness in their approach and programming; and the quality of their playing was confirmed when I saw their production (together with Mahogany Opera who also feature on Friday) of the wonderful but rarely performed (let alone staged) Renard by Stravinsky.
New ensembles come and go, but these guys have an air of permanence to them.
Details of Friday's performance here: http://auroraorchestra.com/performances1.php
Read the CompositionToday interview with Aurora's Nick Collon
0 comments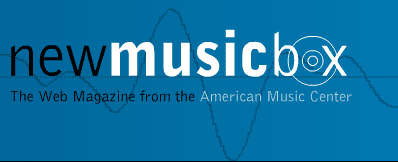 Picking up on some of the themes from Judith Bingham's fascinating post I recently did an interview for the American Music Centre's NewMusicBox site and I was somewhat surprised to hear the interviewer Frank J Oteri tell me that despite my never having returned to the US until 3 years ago (having been born there and left at the grand age of 6 weeks old), that there was something distinctly American in my sound-world - the article is titled "Accidental American".
I acknowledged to Frank that, like a lot of the US scene, I am happy to be open to a wide range of other cultures and musics from around the world; but on reflection, whilst I have loved klezmer, gypsy music and Eastern European folk music since childhood, British folk traditions have never held such an intense interest. I wonder if I am like my good friend who, as a Spanish composer based in London incorporated Spanish folk idioms into his writing, but then when he moved back to Spain these suddenly vanished completely from his music. In other words, if I didn't live in the UK perhaps I would take a deeper interest in its traditions. Perhaps, as Judith implies, it's to do with craving things that are not - for whatever reason - part of our daily lives?
1 comment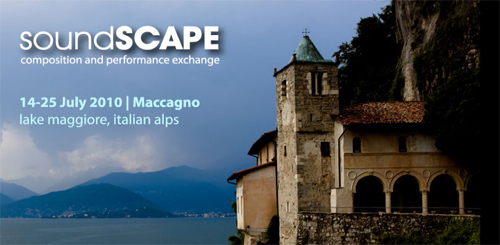 New music enthusiast Bob Schneider draws my attention to the soundSCAPE New Music Festival 2010. This composers and performers exchange takes place between 14-25 July 2010 at Lake Maggiore in the beautiful Italain Alps. It is an opportunity for composers to get their works premiered. Special features this year include a composer-in-residence fellowship and creating violin and guitar duets, to be performed by Duo46. Application deadline is March 31,2010. For details, visit http://www.soundscapefestival.org
0 comments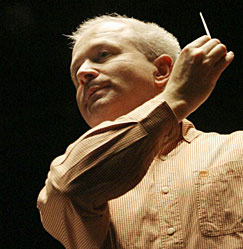 Ahead of his 50th birthday concert on Sunday 7 February 2010 at the Queen Elizabeth Hall, the London Sinfonietta has produced a new podcast profiling composer George Benjamin.
Sara Mohr-Pietsch talks to the composer about his life's work, influences and compositional styles highlighting the music that has brought him international renown.
(via http://www.londonsinfonietta.org.uk/audio/london-sinfonietta-podcast-7-george-benjamin)

For a further overview of Benjamin's work see our feature article by Gavin Thomas
0 comments
The good folks over at Sequenza 21 have been fortunate enough to link up with world-renowned violinist Hilary Hahn, to do a series of composer interviews. In the latest video, Hilary interviews composer David Lang, who's Little Match Girl Passion won the Pulitzer Prize 2008 (which you can listen to at the Carnegie Hall website )
David talks about his creative process, how in his training he felt your duty was to push all your composer colleagues under buses, and how, despite winning the Pulitzer, he is on the whole not in favour of competitions. It's a fascinating insight into one of the US's most prominent composers.
0 comments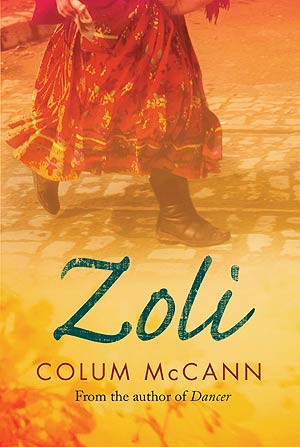 "To understand all is to forgive all, the French saying goes. In "Zoli," a novel about the Gypsies of Eastern Europe, Colum McCann imagines a deeper, darker watchword for this immemorially wandering and persecuted people: to be understood, even in part, is to be violated and destroyed." NY Times review of Zoli by Colum McCann

One of the fascinating themes of the novel Zoli (and I promise all this does relate to composing!), is the difference in attitudes between the Western/White attitude to the meaning and permanence of culture; and that of the Gypsies. Where the non-Gypsy protagonists in the story attempt to 'save for posterity' Zoli's brilliance as a poet and singer, the Gypsies find this very notion absurd and eventually outcast Zoli for what they see as her betrayal of their culture by allowing her words to be written down. At the end of the novel Zoli sends a message to her English/Czech former-lover and documenter who has spent lovesick years trying to find her again. The one thing she has to say to him after all this time is "nothing is ever fully understood" - that the white man's impulse to attempt to understand and document everything is doomed to failure. Culture and meaning are impermanent, incorporeal, impossible to capture. Indeed, like a quantum particle, the very act of looking changes their meaning.

Whilst I am a composer whose method of expression is tied completely to writing down my music, I can't help feeling us 21st Century composers fall far too far into the very trap the book so beautifully portrays. When we fetishize every last detail of how a note should be played, we are trying to turn music into something it is not. Our compositions are not physical, quantifiable things, however much spotlessly perfect CD recordings and Sibelius midi playbacks might lead us to believe they are. The meaning of a piece is passed by a performer from paper to the vibrating air the same intangible way friendship is sustained - through trust and respect, thoughtfulness, attention and understanding. Those are things you can't notate. A good musician will bring those things to your score however many dots and lines you add to a note. And in the spirit of friendship I believe it's important to give that trust back to the player as much as you can. If you love someone, set them free...
1 comment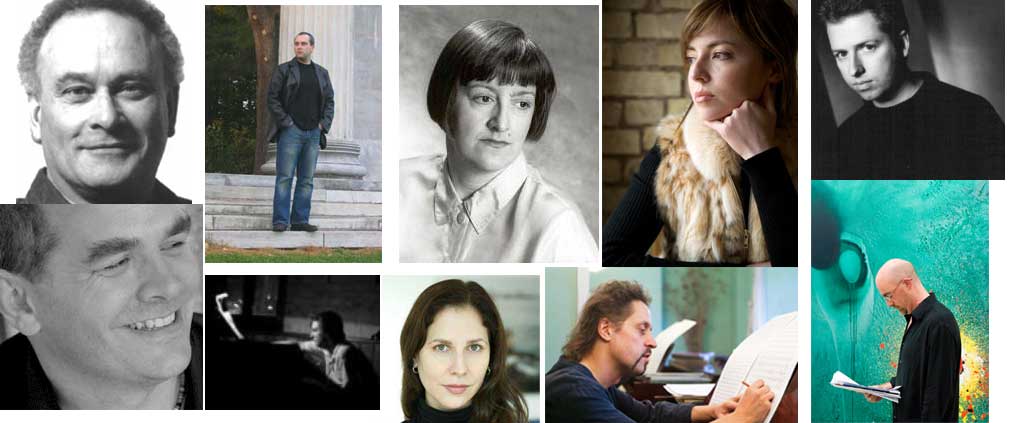 Welcome to the new look Composition:Today site Whilst still maintaining many of the old features, such as the jobs and competitions listsing, the concert listings, the showcase pages, soundbank and interviews, we're launching a brand new feature which we hope will become the central focus of the site - a joint-blog run which will be edited by a distinguished collection of composers.We're delighted and excited to announce the following composers have agreed to join us on this new adventure:

Colin Matthews
Arlene Sierra
Judith Bingham
Elena Langer
Oscar Bettison
Graham Lynch
Jim Aitchison
Scott Good
Ian Wilson
David Bruce




1 comment

Archive
1 |

2

|

Concert Listings Today & Tomorrow: