Other Resources

News Archive
I'm at last tucked up with my family in a remote part of West Wales, all ready to enjoy Christmas. December's arranging work finished ahead of time, the fire roaring, a farrago of seasonal fodder.
Christmas Eve in the UK comes, of course, with one contemporary music set-piece: the commissioned work for the Festival of Nine Lessons and Carols at King's College, Cambridge. This year it is composed by fellow Welshman Huw Watkins, who has set part of the Plygain carol Carol Eliseus. The service is broadcast live on Radio 4, beginning at 3pm.
In the meantime, here's one of the best-known of the many previously commissioned Christmas carols, Judith Weir's Illuminare Jerusalem, composed in 1985 for the service that year. To all C:T members and visitors, I wish you a very happy and peaceful Christmas.
2016 was viewed by many in the music world as one to forget. There were the deaths of Boulez, David Bowie, Peter Maxwell Davies and Prince and the twin political earthquakes of Brexit and the election of Donald Trump. In fact, the prevailing attitude by the end of 2016 was rather summed up by this cartoon:
So, as we approach the end of 2017, how did we get on? It's time to take stock…
January started happily enough, with a BBC Total Immersion Day celebrating the birthday of Philip Glass, who turned 80 on 31st. Celebrations to mark this milestone continued throughout 2017. In Hamburg, the opening of the stunning Elbphilharmonie concert hall (below) made London's foot-drafting over its own new venue all the more bewildering. On 20th Donald Trump was inaugurated President of the United States.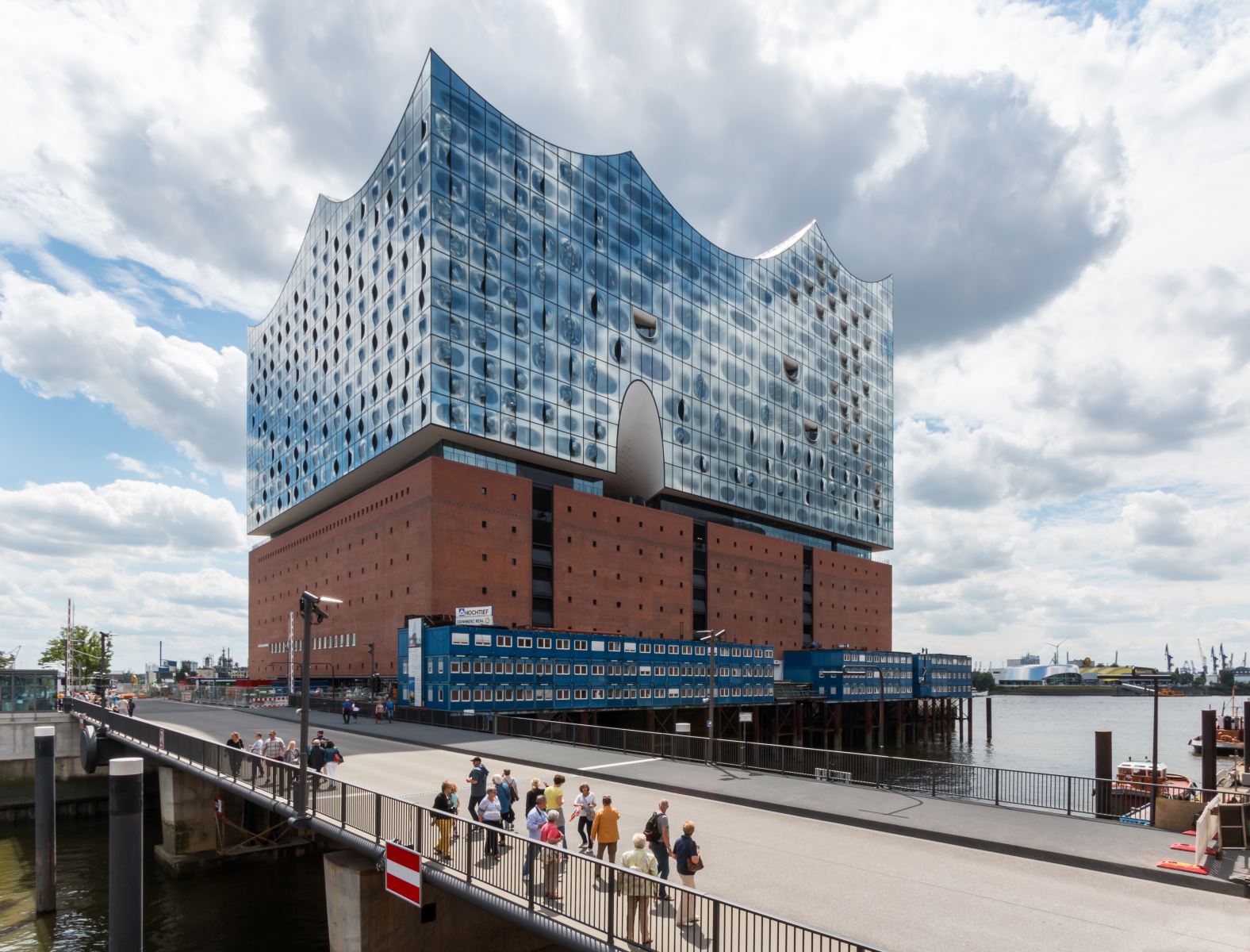 The Elbphilharmonie Hall
February started with the good news that George Benjamin had been commissioned to write an opera following the enormous success of his Written on Skin, whilst on 8th February C:T marked the birthday of the film music legend, John Williams.
On International Women's Day in March I reflected on the position of women composers in my country—much progress made but still a way to go. Tristan Murail turned 70 on 11th March, whilst I found myself in Japan attending the International Musicological Society conference, where I was lucky to hear a number of interesting speakers, including composer Toshio Hosokawa. At the end of the month Charlotte C. Gill's article Music education in now only for the white and wealthy caused a huge controversy that rumbled well into April.
Jim Aitchison and I penned our own contribution to the debate over the Gill article as a response by pianist Ian Pace had gathered over 500 high-profile supporters, including Sir Simon Rattle. David Bernard over at the Brooklyn Symphony, meanwhile, was giving a much better example of how children might be taught to appreciate music. In everyday life I found myself glued to the Brexit news. One story felt grimly ironic: it was announced that the PRS had won funding from the EU to run its European Keychange programme to empower female musicians.
At the beginning of May Donald Trump's Muslim ban led to the detention of American composer Mohammed Fairouz at a US airport. Back in the UK the schedule for the BBC Proms had been announced, seemingly with fewer new works than ever. Simon Rattle's few eloquent words on Brexit, meanwhile, were widely reported in the British press. In France Emmanuel Macron won a healthy victory against Marine Le Pen—the populist tide seemed to be turning.
June saw the momentous events of the UK general election. When the dust settled in the morning, however, not so much seemed to have changed. Theresa May walked back into Downing Street with a speech that indicated that it was 'business as usual.' It left me wondering whether we were heading for political gridlock.
On 9th July French pioneer of noise music, Pierre Henry, died. He was one of those few composers able to exert an influence outside the field of contemporary art music. C:T talked to the founder of Idagio, Till Janczukowicz, about his new music-streaming app dedicated to classical music. A few days later there was controversy at the Last Night of the Proms, when Daniel Barenboim gave an address that appeared to be inspired by his opposition to Brexit. The reaction of the British press was febrile. By now Brexit seemed to be everywhere, including at the Tête à Tête Opera Festival.
At the beginning of August Anne Midgette at the Washington Post wrote a piece that seemed to suggest that opera was doomed. I wondered what all the fuss was about. On 18th came the news that Donald Trump's Committee on the Arts and Humanities had resigned en masse. In a typically Trumpian twist the White House claimed that they were going to disband it anyway.
The beginning of September brought the sad news that two renowned British composers, Derek Bourgeois and John Maxwell Geddes had died. Then East Midlands airport was given a roasting for suggesting that performers work for free. I wondered if it would have been quite so ferocious had they asked the same of composers. At the end of the month I was heartened to hear that an 82-year-old composer had made a sudden career break-though. It's never too late…
On 2nd October we lost Swiss composer, Klaus Huber and then there was more Brexit gloom in October, with the announcement that the European Union Youth Orchestra was moving out of London. The shortlist for the British Composer Awards was announced at the end of the month. I was delighted when one of the judges invited me to the award ceremony in December. It felt like I was off to the Oscars.
We lost several fine musicians in November: the composers Jean-Jacques Werner and Ladislav Kubík and then the baritone Dmitry Hvorostovsky. Ghastly news also for the composer Philippe Manoury, who had 40 pages of drafts for a new string quartet stolen on a train between Strasbourg and Mannheim. Nico Muhly's new opera opened in London on 18th, to mixed reviews.
After enjoying part of a Stockhausen weekend in Ghent I headed to London for the British Composer Awards on 6th. It was quite something to witness such an array of composing talent in one room. December also saw Theresa May finally able to move the Brexit negotiations onto phase two. Given the difficulty she has encountered so far, I think we can expect 2018 to be a rocky ride.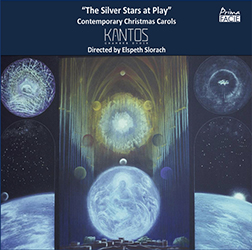 'The Silver Stars at Play' from Primae Facie Records features 23 world premiere carol recordings. At over 70 minutes it is a generous programme, with a cross-section of both significant and lesser-known mostly British composers. These include the likes of John McCabe, Peter Maxwell Davies, Sadie Harrison and Cheryl Frances-Hoad. Each work is about two to six minutes long. Most are performed without accompaniment.
Writing Christmas music can, of course, be a tricky proposition for a contemporary composer—it's not exactly a season that encourages innovation or self-expression. Happily the majority of the pieces retain a sense of individuality, regardless of the Christmas brief.
Several stand out, not all of them the big names. Paul Ayres' Hodie Christus natus est provides an arresting and contrapuntally vigorous opening to the programme. It builds to a very satisfying climax. Cheryl Frances-Hoad's This Time is Born a Child is an essay in how to do quiet simplicity, with enough harmonic individuality to avoid being a medieval pastiche. Andrew Cusworth's Of a rose synge we has a ravishing Tavener-like simplicity that nevertheless takes some unexpected harmonic turns. Phillip Cooke's Susanni has a ritualistic feel that builds convincingly on its dialogue between solo voices and choir. Perhaps my favourite was Sadie Harrison's As-salāmu 'alaykum Bethlehem, a riot of sound that bows least to the saccharine tendencies of the season. Even whilst pushing the harmonic envelope the result feels like a great shout of joy.
The recorded sound on the recording is excellent, the choral textures easy to separate even whilst the acoustic of St. Ann's Church, Manchester gives a satisfying bloom to the whole. Those expecting polite and colourless performances of the sort one might expect to hear on Christmas Eve from King's will be disappointed; the singing is full-blooded and pretty fruity at times. There are some problems here and there with blend and intonation. These are not deal-breakers, however, especially as the choir also comes with real strengths, not least its thrilling power at climaxes. Props too to director Elspeth Slorach for guiding the choir through so many diverse works with such evident stylistic understanding.
Good collections of contemporary Christmas music are surprisingly hard to come by, so 'The Silver Stars at Play' is a welcome addition to the discography. If you're looking for the perfect contemporary music stocking-filler, here it is.
I was lucky enough to attend the British Composer Awards last night, held at the British Museum, London.
The ceremony was presented by Andrew McGregor and Sara Mohr-Pietsch of Radio Three and there were performances of selected pieces from Jeremy Dale Roberts' Croquis by members of the Kreutzer Quartet. You can see the complete list of nominees in a previous post, here.
The winners were as follows:
Amateur or Young Performers
Who We Are by Kerry Andrew
Chamber Ensemble
Skin by Rebecca Saunders
Choral
Proclamation of the Republic by Andrew Hamilton
Community or Educational Project
Anything but Bland by Brian Irvine
Contemporary Jazz Composition
Muted Lines by Cevanne Horrocks-Hopayian
Orchestral
Torus (Concerto for Orchestra) by Emily Howard
Small Chamber
In Feyre Foreste by Robin Haigh
Solo or Duo
Inside Colour by Deborah Pritchard
Sonic Art
Luminous Birds by Kathy Hinde
Stage Works
4.48 Psychosis by Philip Venables
Wind Band or Brass Band
In Ictu Oculi by Kenneth Hesketh
There were also two special awards (without shortlists):
British Composer Award for Innovation
Shiva Feshareki
British Composer Award for Inspiration
Nigel Osborne
The ceremony was followed by some rather tasty bowl food, copious amounts of wine and very entertaining chatter from a room that was stuffed full of the UK's finest composing talent. Here are a few pictures from the evening.
The composers gather: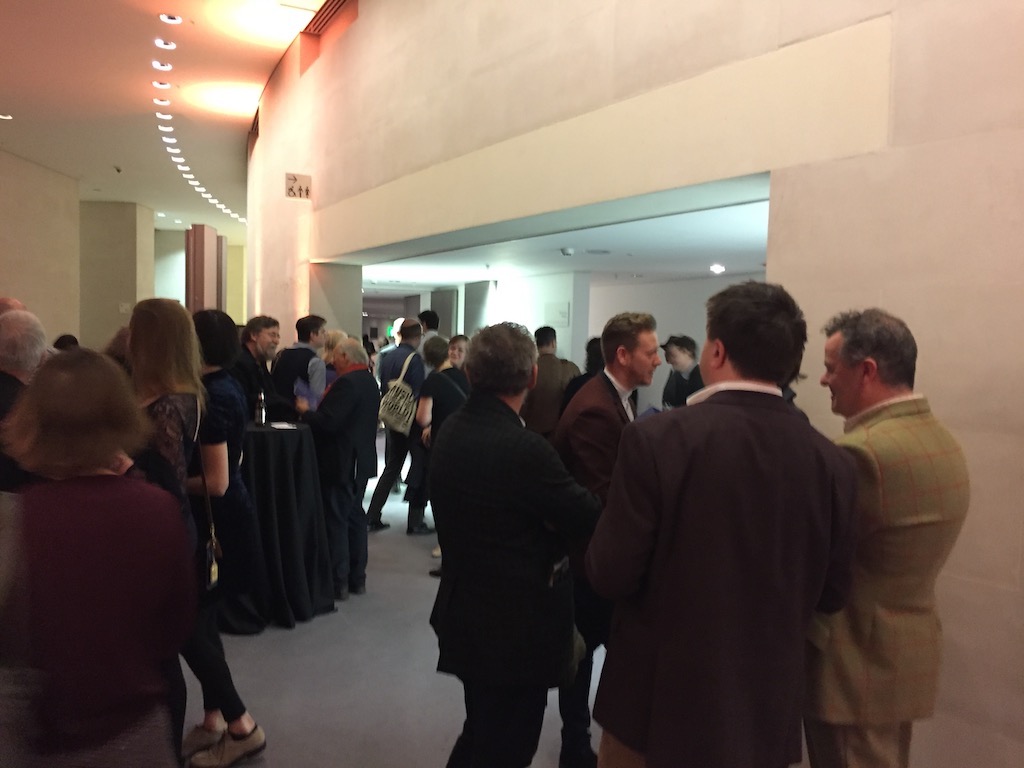 Andrew McGregor and Sara Mohr-Pietsch begin the presentations: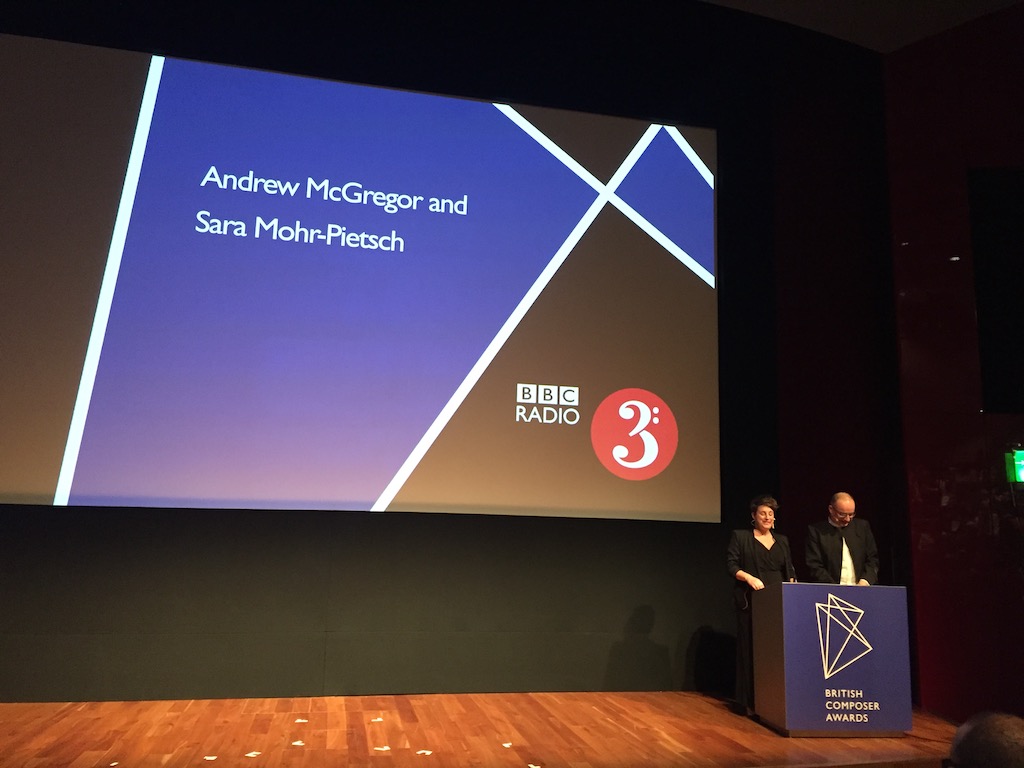 Kerry Andrew (left), winner of the children's choir category: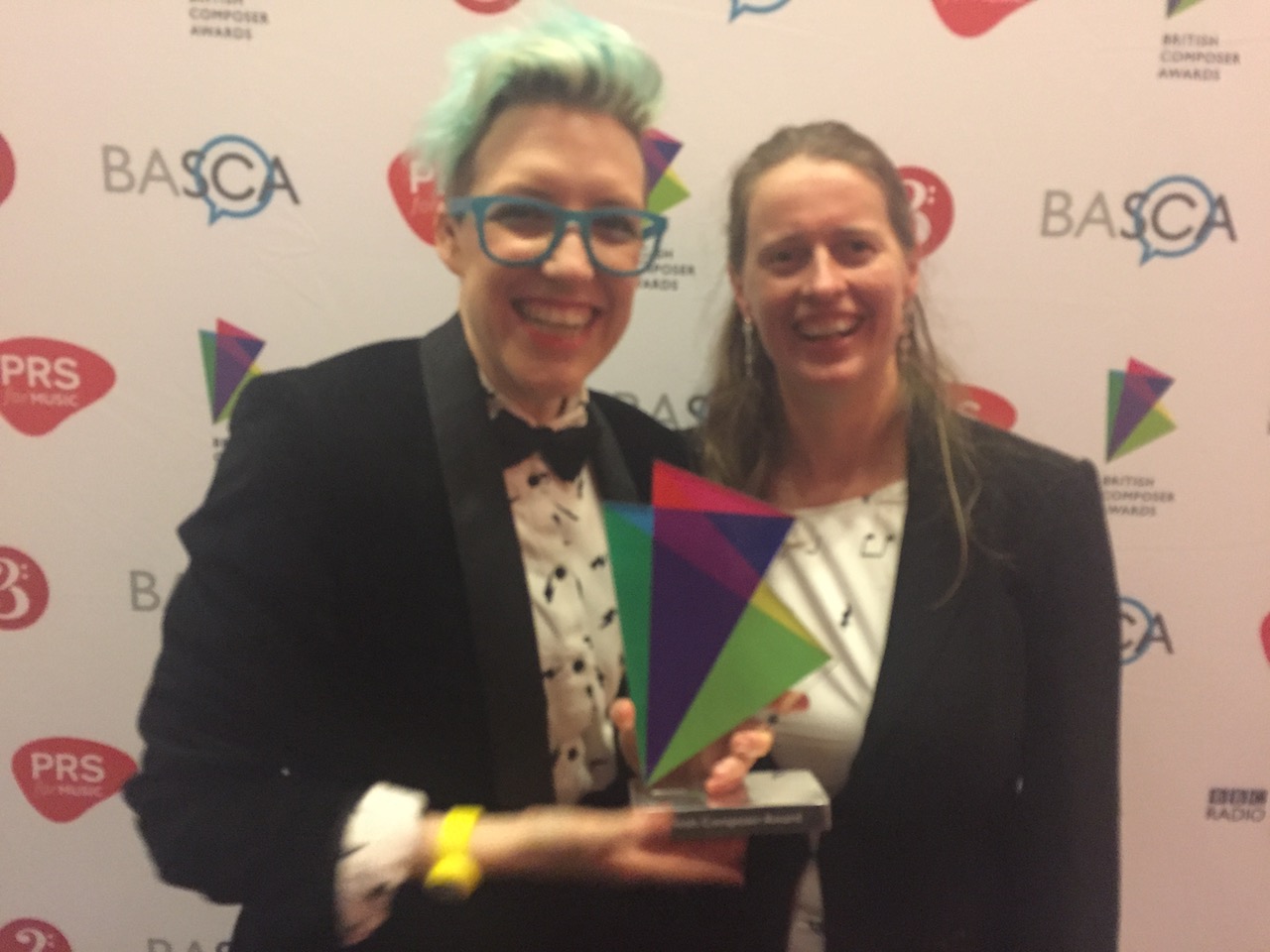 Shiva Feshareki (centre), British Composer Award for Innovation: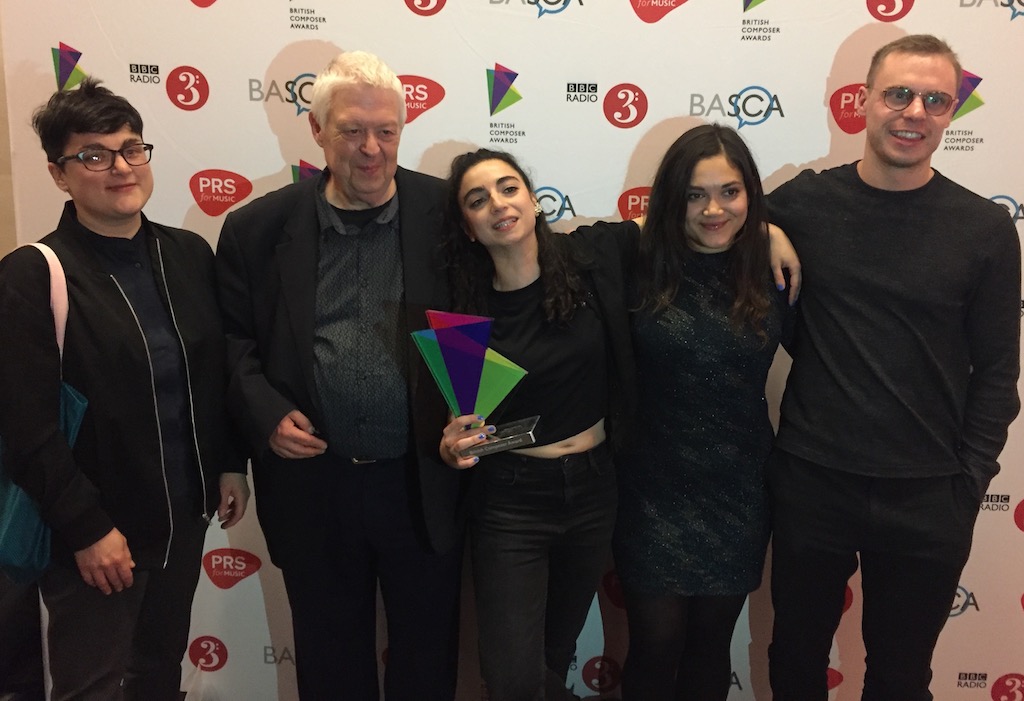 A few thoughts from the first night of a Stockhausen weekend held at De Bijloke in Ghent, which I had the pleasure of attending on Friday.
We were presented with one of Stockhausen's most celebrated early electronic works, Kontakte (1958–60), in the version that includes piano and percussion and his last electronic work, Cosmic Pulses (2006–7). In between the Ictus Ensemble performed an improvisatory electronic work, Electronic Concert Piece, which drew heavily on Stockhausen as a source of inspiration.
I sat near the centrally placed mixing desk in both Stockhausen works, feeling that that would probably yield the best balanced sound. It was mostly a good decision, even if the full quadraphonic effect—there were speakers behind us— seemed only to make itself felt well into the first piece, Kontakte. Once it did, it was spellbinding. Pianist Jean-Luc Plouvier and percussionist Miguel Bernat were both superb, playing with a super-abundance of energy and, as far as one could tell in such a layered and complex work, precision.
Electronic Concert Piece, which used scraps of material from both Kontakte and Microphonie I as well as a selection of electronic equipment with which Stockhausen would have been familiar, was a rather playful homage that seemed to pose more questions than it answered. One was never quite sure what was prepared and what was improvised and at times I wasn't even sure whether I was hearing live electronic manipulation or prerecorded samples, a fact that was made concrete when the players stopped and let Stockhausen have the last word in a recorded extract from Kontakte.
The final work, Cosmic Pulses, is an 8 speaker electronic work. It was played in complete darkness, apart from the eerie glow of the mixing desk. I was completely unprepared for its arresting cauldron of counterpoint, which over its half-hour stretch barely lets up. Whilst the barrage of sound became, perhaps, a little exhausting, the texture was so bristling with life and subtle change that I was easily held spellbound. To me it also spoke of the sheer compositional energy of Stockahusen—although written in his late 70s it bristles with youthful exuberance.
The mixing desk for Cosmic Pulses, before the lights went out: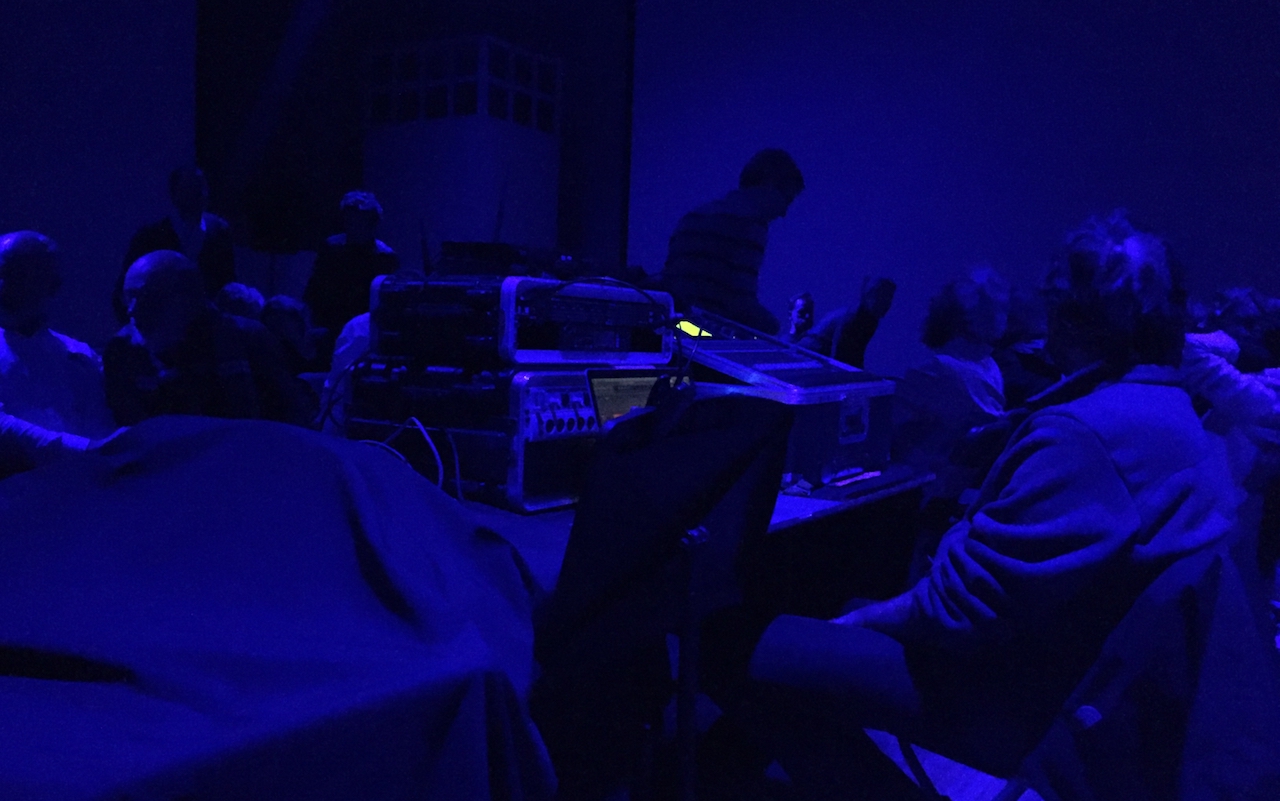 The two-day homage to the Stockhausen also had an exhibition of the types equipment used by the composer. Here are a few pics: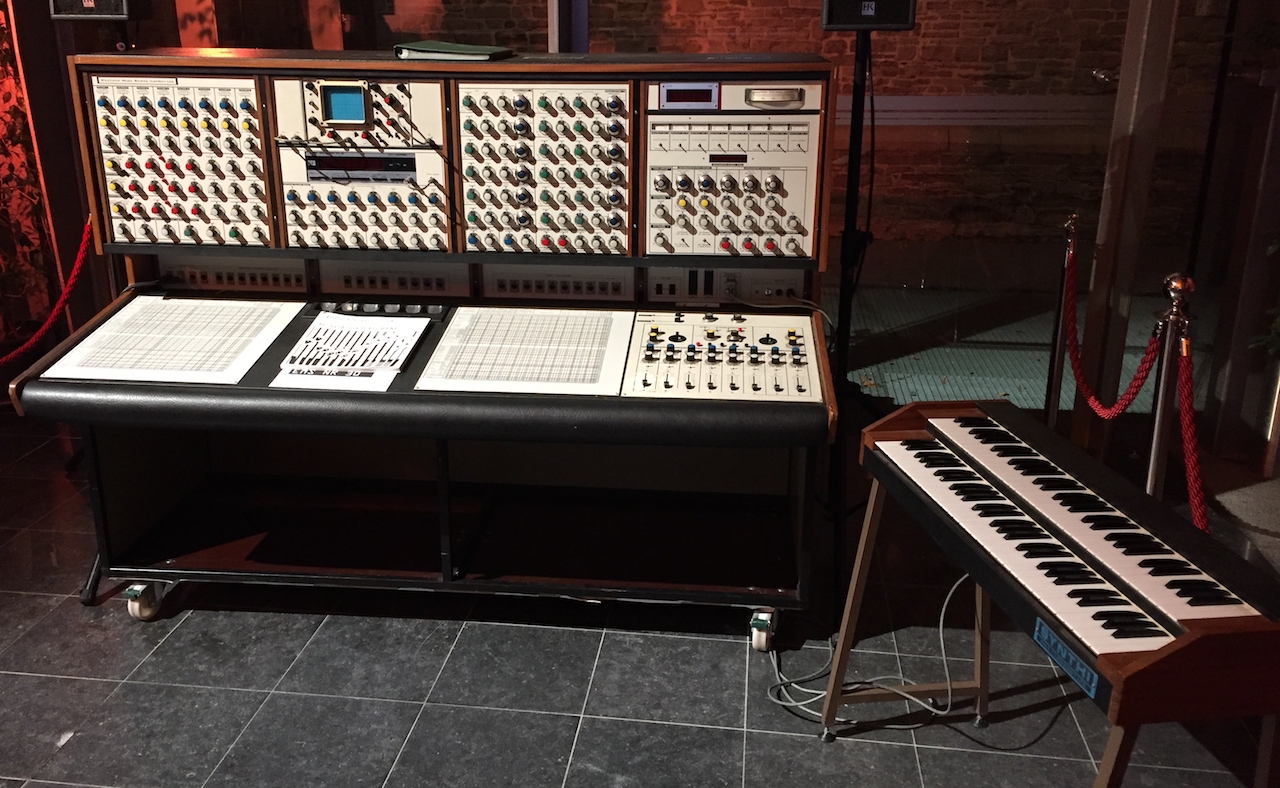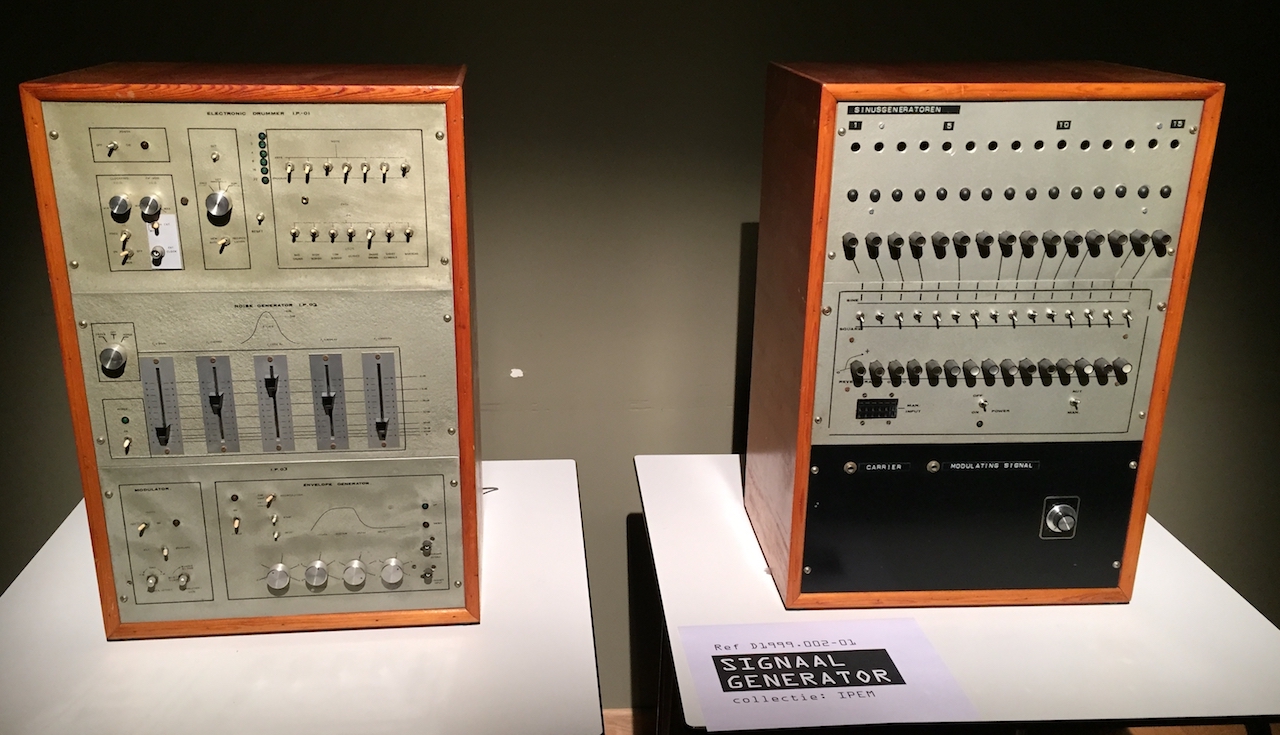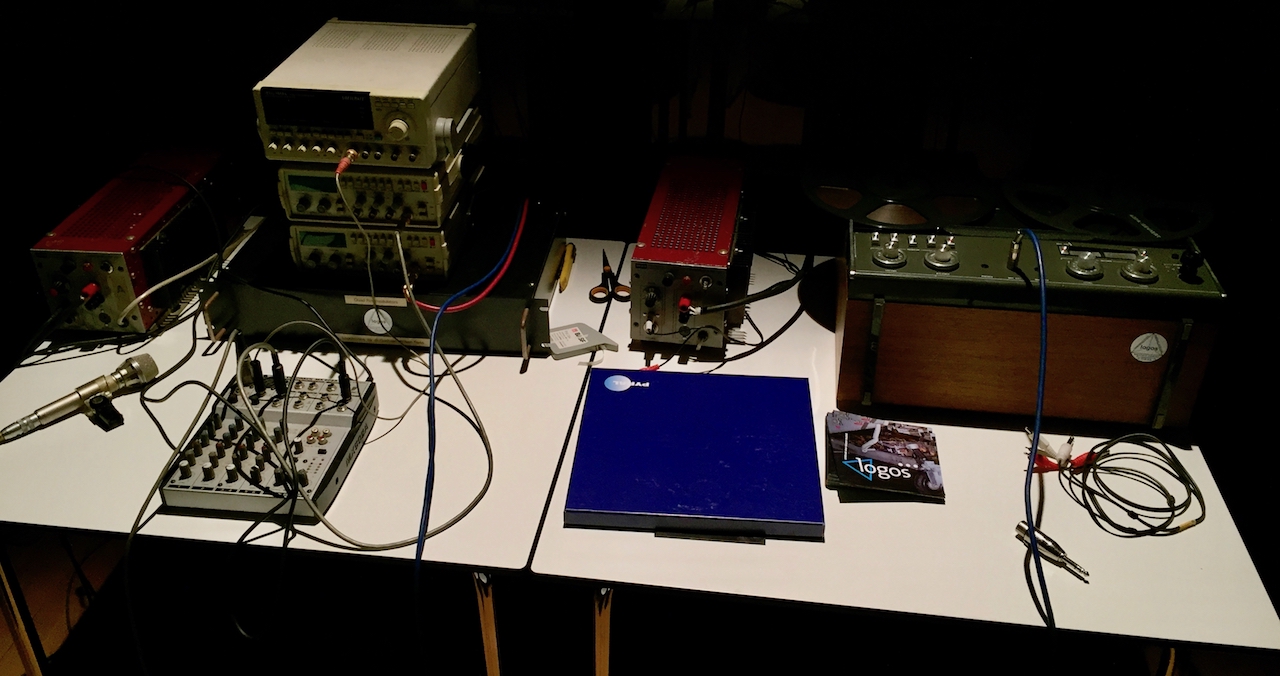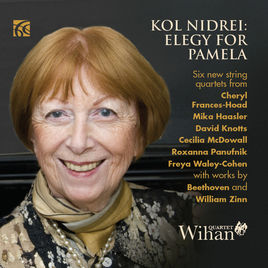 On Nimbus Kol Nidrei: Elegy for Pamela contains string quartets commissioned to celebrate the life of chamber music educator Pamela Majaro. It opens with the Cavatina from Beethoven's String Quartet No. 13 and is followed by works from Cheryl Frances-Hoad, Mika Haasler, Cecilia McDowall, Roxanna Panufnik, Freya Waley-Cohen, David Knotts and William Zinn. The composers were chosen by the Majaro's husband, a fact one can sense from the similarity of musical language within the commissioned pieces. This is not at all to criticise; the works are exquisitely well made, their tonal language entirely appropriate for the elegiac nature of the brief.
Also on Nimbus, pianist Andrew Matthews-Owen releases Halo, his first disk of contemporary music written for his instrument. Three composers are represented: Joseph Phibbs, Dobrinka Tabakova and Hannah Kendall. There is a bit more range of style on offer here, from the nocturnally muscular writing in Kendall's On the Chequer'd Field Array to Dobrika Tabakova's colourful Modétudes, which effectively explore the harmonic/melodic possibilities of the old church modes.
Wergo seems to have had an unusually fruitful month of releases, with 7 new albums on offer. These are Mimetics, a collection of piano works by Mauricio Kagel; organ music by Toshio Hosokawa and John Cage; a collection of songs by Wilhelm Killmayer; three works for various large instrumental/vocal groups by Hans Zender; another album including music by Cage, this time his Chess Pieces and Four Dances paired with Tom Johnson's Rational Melodies; a collection of works by Georg Friedrich Haas, Evan Johnson and Jani Christou that 'deal with emotional or audible silence'; and a new portrait CD of American-Norwegian composer Evan Gardner.
Naxos have released recordings of Terry Riley's The Palmian Chord Ryddle for electric violin and orchestra and At the Royal Majestic for organ and orchestra; songs by Daron Hagen; and Timothy Hamilton's Requiem, which was commissioned in 2012 to mark the centenary of the First World War. Not contemporary, but also worth checking out is their world premiere recording of Shostakovich's original score from the 1955 film The Gadfly, as reconstructed by conductor Mark Fitz-Gerald.
A few other random choices that might interest: back on Nimbus is a generous programme of eight works by Augusta Read Thomas, ranging from small scale chamber music to Ritual Incantations, a work for cello and orchestra; NMC have released a collection works by three young composers—Lisa Illean, Gareth Moorcraft and Donghoon Shin—that participated in the Philharmonia Composers' Academy (see video below); and, perhaps most sonorously, is Divine Art Records' new recording of Andreas Willscher's Organ Symphonies 19 & 20.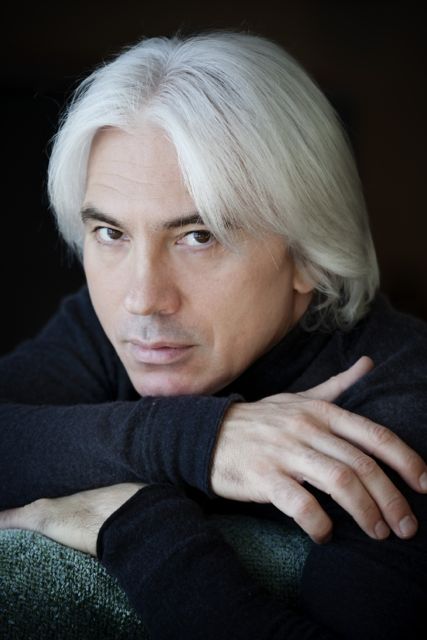 Photo: Pavel Antonov
Sad news, with the death yesterday of the great Russian baritone Dmitri Hvorostovsky.
Whilst not a great exponent of contemporary music, he was known for his collaboration with Russian composer Georgy Sviridov (1916—1998). Sviridov was very much a composer of the Soviet era, a student of Shostakovich and well used to writing music that fulfilled the requirements of Socialist Realism. He wrote two song-cycles for the Hvorostovsky, St. Petersburg and Russia Cast Adrift, both recorded (follow the links). Hvorostovsky himself described the music as 'quite simple and, unlike most contemporary vocal music, it has beautiful melodies, written to the most wonderful poetry.'
In another interview the singer described performing a great deal of contemporary music when a member of the Krasnoyarsk Theatre as a very young man: 'I wouldn't give you examples, but I do love contemporary music. When I was much younger, I used to do it a lot when I was a member of Krasnoyarsk Theater, when I lived in Krasnoyarsk, my home town. I was doing a lot of contemporary music written by our young composers. It was almost all twelve-tone music, which was very difficult.' It would be good to know more about this part of his career. He also said in the interview that he would consider returning to contemporary repertoire. Who knows what we might have had had he been granted a little longer.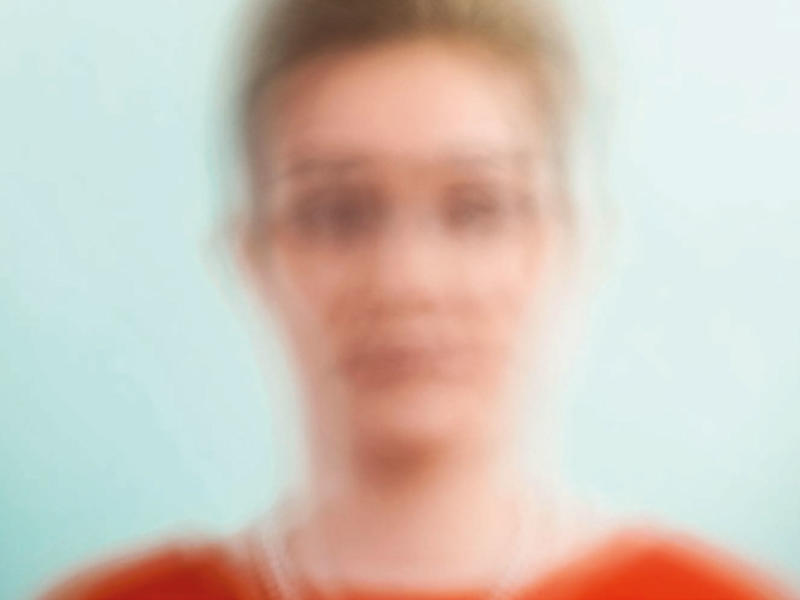 A selection of reviews from the opening of Nico Muhly's Marnie, premiered at ENO last Saturday. Muhly's second opera for the company, it is based upon either or both the 1964 Alfred Hitchcock film and/or the 1961 Winston Graham novel on which the film is based.
The Stage calls it 'an outstanding achievement':
Much of this is down to a score that shows a significant development in Muhly's art, both in terms of technical skill and expressive power; he handles his forces with increased command as well as discretion, revealing the interiors of his complex characters. The result is an outstanding achievement.
The Guardian says 'The central relationship is compelling and there is some tremendous writing for the ENO chorus, but Muhly's stylised opera lacks Hitchcockian suspense':
A lyrical warmth characterises Muhly's vocal lines, and the choral writing, geared to the ENO chorus for whom Muhly has expressed great admiration, is tremendous, arguably constituting the finest music in the entire work. Yet there is a major flaw, which is primarily one of tone. Muhly's approach is essentially reflective and there's too little menace and tension throughout.
The New York Times leads with 'Nico Muhly's 'Marnie' Brings Hitchcock Into the 21st Century', though the review itself is less positive:
But the fundamental problem of "Two Boys" is that of "Marnie," too: a sense that atmosphere reigns over drama. Mr. Muhly's style is inherently restive — it's all unsettled motion, shot through with tender exhalations — but the sound world is so hyper-polished and unvarying that the restlessness feels paradoxically static.
The Arts Desk says that 'Nico Muhly's world premiere offered musical pleasures but too many flaws to be great':
In style the music is closest to John Adams, with post-minimalist pulsing textures and a largely diatonic, if not tonal, harmonic vocabulary. But there weren't the moments either of orchestral or melodic magic that light up, for example, Nixon in China, and that remain in mind after the show has ended.
Bachtrack was perhaps the least positive:
…the piece is let down by fundamentally vapid orchestral writing and a near total lack of dramatic tension, making some scenes, particularly the last, almost interminably dull. Where one longs for dynamism and orchestral flair, one finds only insipidity; Muhly's Glass-inspired writing, beautiful in the right setting, is not at ease with his subject.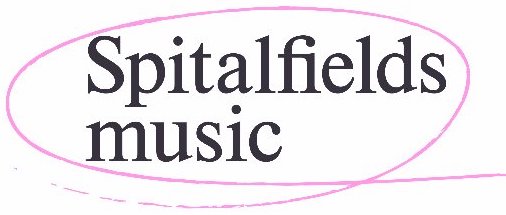 The Spitalfields Winter Festival runs from 2nd to 9th December. Artistic Curator André de Ridder explains that this year the focus is on 'making each event, each evening a festival in its own right. No programme will be presented by just one ensemble or soloist, but by a gathering of different artists and line-ups, exploring musical worlds and ideas in a myriad of ways.' Highlights include Recomposed by Max Richter: Vivaldi, The Four Seasons on 4th; various takes on counterpoint, from Bach's Art of Fugue to Veli Kujala's Hyperchromatic Counterpoint on 5th; a concert that mixes classical, techno, experimental and electroacoustic music and culminates in a new work by Qasim Naqvi on 6th; and text scores by Pauline Oliveros' followed by the UK premiere of Anna Thorvaldsottir's In The Light Of Air on 8th.
The BBC in collaboration with the Barbican and Guildhall School of Music will host another Total Immersion Day on 10th December, this time examining the music of Esa-Pekka Salonen. The first concert at 1pm focuses on his chamber music, including Dichotomie for solo piano. At 5pm the BBC Singers perform three choral works, alongside pieces by his teacher Einojuhani Rautavaara. In the evening the BBC Symphony Orchestra play Gambit, Wing on Wing, Timo II and Karawane (UK premiere), with Salonen himself introducing each work from the stage.
As December progresses things get lighter and more Christmassy. Alongside the many Messiahs and Christmas Oratorios, however, music by living composers is still front and centre. On 15th December at Temple Church, London the BBC Singers perform contemporary music for the Christmas period, including the world premiere of Evergreen by Joanna Marsh. The BBC Symphony Chorus's programme at Maida Vale Studios on 17th is a bit more wide ranging, but also includes contemporary works from the likes of Howard Skempton, Cheryl Frances-Hoad, Malcom Archer and Will Todd. The very newest Christmas music will be on offer on 18th, with the final of the BBC Singers Carol Competition, which this year challenged composers to set the 15th-century text Sir Christemas. Don't forget, finally, that the Christmas Eve service from King's College Cambridge this year features a new work by Huw Watkins.
Christmas is also a popular time for film music concerts. In Paris on 10th there is a Homage to Steven Spielberg, including music by John Williams, Jerry Goldsmith, Thomas Newman, Alan Silvestri, Michael Giacchino and Don Davis. John Williams' also features in two concerts at the end of the month, one dedicated entirely to his works on 27th, the second, on 30th, sharing the stage with music by Hans Zimmer. Also worth checking out is the BBC Concert Orchestra's exploration of music from the film noir greats on 8th December at the Royal Festival Hall. It will be hosted by film critic Mark Kermode. Hello to Jason Isaacs.
This was posted a few days ago by Norman Lebrecht at Slipped Disc, but bears repeating, since it is such a dreadful thing to have happened. One can only hope that the work is found:

The French composer Philippe Manoury had his suitcase was stolen on November 6 on a train between Strasbourg and Mannheim. Inside were 40 pages of drafts for a new work for string quartet as well as copies of the fourth movement of Pierre Boulez's String Quartet "Livre pour Quatuor".

He'd like the thief to know that he can do what he likes with whatever else was in the suitcase, but the scores, which have no value to anyone else, are invaluable to the composer. The loss is a great blow for Manoury.

He appeals to the thief to leave the scores in a public place where they can be found.

If anyone sees or hears anything, please contact info@karstenwitt.com

Archive
1 | ... | 5 | 6 |

7

| 8 | 9 | ... | 51 |