Other Resources

News Archive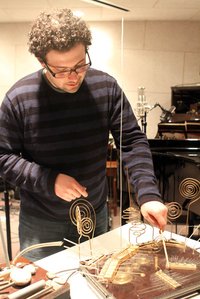 Recent or soon to be graduates from the Yale school of music comprise a fine collection of young composers, including Timo Andres whose album length work for two pianos was recently released by Nonesuch, and Ted Hearne who won the Gaudeamus prize ( and whom we interviewed on CT here). Now five of this talented group have enterprisingly got together to put on a show of their music at New York's Le Poisson Rouge this April 12th. I interviewd Chris Cerrone about the project.
Tell us about the upcoming concert.
Sleeping Giant is the premiere concert presented by a group of emerging composers that have come out of the Yale School of Music over the last few years. We'll be presenting new works by Timo Andres, Ted Hearne, Jacob Cooper, Robert Honstein and myself. I cooked up the idea for the concert when the five of us spent a weekend up in Westport, NY at the Honstein family summer cabin. There was so much joy in the group of us spending time together that for me it made sense for us to put on a concert. We're all close friends with a shared history and a strong desire to make music. As for the name, we wanted to name the concert after something New Haven-y, so we finally settled on Sleeping Giant, a park in Hamden, CT, an homage to our professor Ingram Marshall, who is famous (at least around Yale) for taking hikes and collecting mushrooms in that park.
Read more of the interview here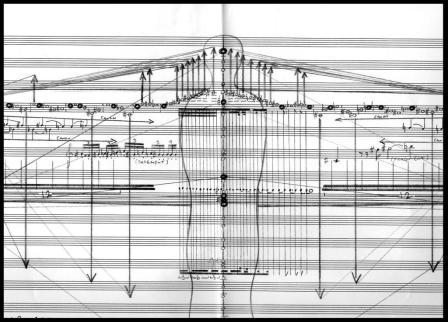 Sound-map for the Angel of the North (1995-1998)
I first met the sculptor Antony Gormley in 2007 in the spacious drawing studio of his magnificent studio complex in Kings Cross. I seem to remember our meeting was cut short by his having to rush off to an emergency dental appointment with toothache (at least I hope that's what it was). Nonetheless, Antony was fascinated by the idea of his work being used to generate music and generously encouraged what were continuing to be, my faltering and mostly frustrated efforts. It took 2 years to travel from the first ideas to the finished piece. Initially I found the severity and concentration in the material execution of Antony's work left me with no purchase with which to begin anything.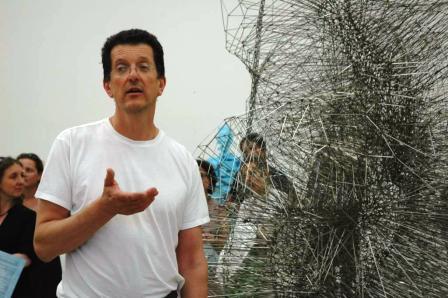 In this first, dentally compromised, meeting with Antony, I was fascinated to discover that, in common with the other artists I have worked with, he was acutely aware of what he felt to be the enormous affective power of music. This was reinforced during our second meeting at his groundbreaking 2007 Hayward Gallery show. Many of us will remember the extraordinary Blind Light installation: a 25 sq m cloud chamber into which the visitor could venture and 'disappear'. In the chamber, the feeling of being in contemporary central London rapidly receded and viewers found themselves in what felt, psychologically and perceptually, like a completely limitless space where the only visual experience was whiteness, apart from a few of the most fleeting shadowy fragments of disembodied companions.
The drama of the Blind Light experience was irresistible and overwhelming. In discussion with Antony afterwards I was astonished to hear him confess that Blind Light was his 'pathetic attempt to mimic the effect of music.' Disarmingly modest this may have been, but the link to the effect and affect of music was fascinating and here was a concrete musical analogue: from the proposition in Antony's sculpture of the body as a 'lever on space' to the idea of music as a field. However, this raised as many conundrums as it solved: it yielded only a rather nebulous idea with no concrete starting points with the obvious problem that music already is a field.
The first turning points came through two linked encounters. Firstly, I discovered that Antony was strongly affected by the writings of the great medieval thinker, St Augustine, in particular his reflections upon memory as recorded in book X, chapters VIII and XVI of the Confessions. Augustine's miraculous words describing memory as "a spreading, limitless room within…" resonated at once with Antony's preoccupation with the body as a field, and by extension, the pervasive effect of music. The second encounter took the form of media reports I heard by chance concerning public reaction to the installation of Antony's work, Another Place, on Crosby Beach. Aside from controversy over the 100 cast iron figures looking out to sea somehow causing either offence or a safety hazard, I was astonished to hear ordinary people relating how they came to 'be' with the sculptures, as if they possessed strength to bring comfort and to withstand and hold the spectrum of human vulnerabilities brought to them. This was a pivotal moment.
I now had a formula I could exploit: real memories, in the form of text (which therefore suggested the use of a singer) dispersed over constellations of (abstract) structure derived directly from Antony's sculpture. This would give a level of operation at the fore to mid-ground, but I also needed an overarching form. This came from 2 sources: one was a response to the structure of Augustine's text in chapter VIII of the Confessions and the other came from Antony's words to me regarding his most famous work, the Angel of the North. As it happened, both corresponded to a process of augmentation: Antony described the Angel in terms of his expansion series of work (you can see the radial ribs on the sculpture concentrate at the centre and increasingly disperse towards the wing-tips). Augustine's text dealing with memory, by and large, begins with descriptions of local senses and expands outwards through to reflections upon the vastness of what the mind can comprehend - in stark contrast to its apparently diminutive physical dimensions. The next tasks were to assemble the various ingredients and, over time, learn the 'language' of what I had in front of me.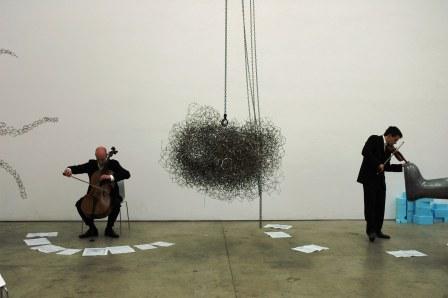 After literally months of searching, I found memory fragments in the form of texts which I then I broke down into an order that I hoped roughly fitted with the trajectory of expansion described above. I decided to begin by using fragments of sensory recollections of taste, colour, smell, weather etc. Next, in what could be described as being in ascending order of increasing physical distance from the mind, I chose a subject that described consciousness engaging with the human world: a world of others and of conflict. I decided upon a recent event within the European continent: the Srebrenica massacre which occurred during the 1995 Bosnian war and the words of a father calling for his missing son and those of his mother subsequently at his unmarked grave. The use of the text was made possible by the kind permission and invaluable advice of one of the UK's le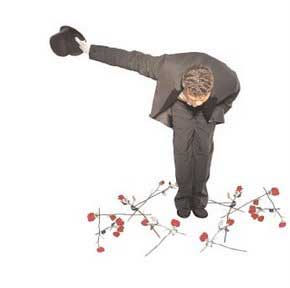 Taking a bow.

Taking a bow is one of those curious aspects of being a composer. I've sometimes caught myself wondering what is going on in a composer's mind as they jump on stage- does this moment in the spotlight make it all worthwhile; is it a terrible duty which would be avoided if only it could; or is it something somewhere in between?

I still find it a quiet source of pride how few composers are ready for that moment in the spotlight, we emerge tramp-like and awkward - the epitomy of uncool, uncommercial - we come on stage in our un-ironed jackets, or with a sock still stuck in one trouser leg. Then we scurry across the stage as quick as we can, not knowing where to put ourselves, and take an awkward bow. There's an interesting paradox in the way so many composers are so unnatural on the stage: we spend our entire lives trying to create something that is after all intended for performance 'on the stage'. We are aware of the finest, subtlest details of how certain effects in our music will come across - we can subdue an entire crowd, get them laughing or crying with our notes; and yet when we have to present ourselves in person on the stage we are likely as not to stumble on the steps before we even get there!

I for one would love ocassionally to attend performances where I wasn't called up to the stage - for starters one is forced to sit in a poor seat at the edge of the row, probably near the back, so as to effect a quick and easy emergence. Then, rather than listening to the music, you spend the entire concert wondering how you will get past that lady with the large hat sitting right in the way of the stage access; do I just shake the conductor's hand, or do I make my way through the entire ensemble kissing and hugging all ten of them, forcing the audience to keep clapping while I do (and risking that they might stop!).

At the end of the day, we composers probably secretly quite like a bit of adulation from time to time, but there's no doubt on the whole we're much happier and more comfortable when we get back to our desks and have only the concerns of the manuscript page to occupy us.
My concert picks for April in London:
Full-on Varèse, new sounds at Kings Place, and a good selection of contemporary and still-in-progress opera around town.

Exploring Sound and Time, Monday 12 April
Music by Harrison, Saunders and Xenakis
http://www.kingsplace.co.uk/music/out-hear/exploring-sound-and-time

Exposure at ROH2:
Two alternating programmes of opera snapshots from recent works, new works and works still under construction.
April 14/15/16/17
http://www.roh.org.uk/whatson/production.aspx?pid=13544

London Sinfonietta Varèse 360° Weekend
Complete works of Varèse over 16/18 April
http://www.londonsinfonietta.org.uk/project/var%C3%A8se-360%C2%B0

Max de Wardener, Nick Ramm and Dave Price, Monday 26 April
Featuring Harry Partch instruments including a 12 foot replica of his bass marimba, prepared autoharp and microtonal synths tuned to just intonation.
http://www.kingsplace.co.uk/music/out-hear/max-de-wardener-dave-price-and-nick-ramm
American Experiments, Thursday 29 April
Celebrating the works of John Cage, Morton Feldman, Christian Wolff and Frederic Rzewski
http://www.kingsplace.co.uk/music/weekly-themes/american-experiments
Plus two opera productions coming up:

Ades' Powder Her Face
April 26 through May 7th
http://www.roh.org.uk/whatson/production.aspx?pid=10790

Henze's Elegy for Young Lovers
April 24 through May 8th
http://www.eno.org/see-whats-on/productions/production-page.php?&itemid=182

The Aurora Orchestra seems to be going from strength to strength. Now in their fifth year, they recenly debuted at Kings Place where they have a new home, and have just announced a major three year residency with LSO St Lukes which will feature a series of cross-arts collaborations, the first of which I'm attending this Friday (full disclosure: I was offered a freebie) featuring Berio's Laborintus II and John Adams's Son of Chamber Symphony.
Since I first heard about them a few years ago, I sensed a freshness in their approach and programming; and the quality of their playing was confirmed when I saw their production (together with Mahogany Opera who also feature on Friday) of the wonderful but rarely performed (let alone staged) Renard by Stravinsky.
New ensembles come and go, but these guys have an air of permanence to them.
Details of Friday's performance here: http://auroraorchestra.com/performances1.php
Read the CompositionToday interview with Aurora's Nick Collon
It seems to have fallen to Radio 4 (rather than 3) to have informative and engaging programmes about classical music. The last one I heard was about the enduring power of 'When I am laid in earth,' by Purcell. Various bods were wheeled out to deliver their epiphanies and insights, and I have to say that I really enjoyed Alison Moyet's gorgeous rendition, a fifth down – how much easier to do that tricky word 'remember' -normally on a top G! Everyone had their point of view, including the muso who declared it 'the best melody of the 17th century!' Does it irritate you as much as me when people create league tables and play off one unique work of genius against another? I shouted 'shut up!' at the radio.

What was absent from a composer's point of view was just that – the composer's point of view. To me, whatever a piece of music becomes, whatever peg the composer hangs it on, it always starts with the composer. Amongst all their sense of personal ownership, nobody seemed to wonder about Henry Purcell, the human being, and what his personal input had been into those 40 bars of exquisite pain. Could anyone doubt that he identified with Dido rather than the colourless Aeneas? This is not an idle point, for Aeneas is on a mission to create a new country, surely something a creative person might identify with, and yet it is Dido's fragility and easy decline into early death that is drawn with such pain. I wondered why nobody mentioned the surely pertinent fact that Purcell was a child of 6 or so when the Great Plague hit London, and then the following Fire. And/or wondered whether Purcell, still a young man, had just experienced something similar by way of a rejection.

It is the vagueness of music and it being a non-verbal language that makes people take ownership of it, and elbow the person that was the composer out of the picture. This doesn't seem to happen so powerfully in the visual arts and it certainly doesn't happen with books or poetry. It is a wonderful thing to become totally engrossed in a piece of music. I like to binge on a particular piece, playing nothing else for days, - the music becomes subsumed into your existence like the first days of being in love. The downside of this is the ludicrous and depressing mythologizing of dead composers that goes on. If you believe that some God-given gift is at work then that rules out any influence from dreadful upbringings, or hot-housing parents. Let's face it, living composers are nothing like the Jill and John picture of dead ones. You can have a pizza and a laugh with them, get irritated by them, owe them money, talk about mobile phone tariffs with them. They can sleep with your wife or have to go to AA.
Recently I read a brilliant book about Schumann by Peter Ostwald called Music and Madness, - a psychological study based on letters and diaries. I nearly laughed out loud to read that Schumann, as a young man, may have had a sexual relationship with William Sterndale Bennett. Immediately, the two young men seemed totally recognisable as people I know now, and I felt a tremendous rush of sympathy for them. It made me want to listen to some Sterndale Bennett as well.
How different to the repulsion I feel (and I seem to be alone in feeling)towards the latest biogs of composers on BBC4, by Christopher Nupen, in which a profoundly reverential tone is taken and the things which influence other people – 'normal' people – are ignored – stuff like alcoholism, or child abuse. Psychologically, they are 100 years out of date. Near the end of the Schubert episode, which seemed to be made up of one long close up of the pianist's right hand (modern piano of course – nothing too real!), Nupen mentioned in a hushed voice that Schubert had contracted syphilis. Now I am shouting at the TV! – When, where, why?? But already he has moved on.
It is this ghastly attitude to dead composers that bedevils the lives of living ones. The lack of compassion towards their everyday existence, the lack of interest from the press as compared to the truly extraordinary interest there is in books and writers, the impoverishment that accompanies the lives of 90% of composers, is only enhanced by this romanticising of the dead. Living composers can only ever be a disappointment.
Last year I spent a couple of days at the Leeds Conductor's Competition: Britain's leading competition of this type, which happens every 2-3 years. I was there because an orchestral work of mine was being used as the modern test piece at a stage in the event in which there were only six contestants left. Each competitor had a slot to rehearse some Stravinsky, Rachmaninov, and my own piece. It was a fascinating experience on so many levels, not least in that it gave me the opportunity to hear my own music interpreted by six different conductors!

Since then I've spent some time musing over the nature of competitions, and come to the conclusion that there are basically three main types;

1) The Dead Certain. This is the sort of competition you get in sport; clear winners, and losers. Whoever runs faster than everyone else/jumps higher/scores more points or goals.

2) The Somewhat Hazy. Here the framework of winning and losing is more complex. I'd put arts based competitions in this category; the Turner Prize, Booker Prize, the Leeds Piano Competition (as well as the conducting one), and so on. Within this context a panel of judges may well take differing views on the quality of the artistic creations they have to appraise, and how to rank them, but they still have access to what they asses; they can read books, see works of art, and listen to performances.

3) The Downright Dubious. There's only one candidate for this category; composition competitions. Here's a typical scenario - one hundred and fifty composers submit orchestral works which are up to 20 minutes long, they are scrutinised by a panel, and the winning composition gets a cash prize and performance. At no point in this process do the judges get to hear the pieces in question! Given this situation one wonders how on earth it is possible to make a critical assessment of as much as fifty hours of dense and difficult music without even hearing a note performed (and forget midi playbacks, they're a waste of time for orchestral works, and everything else really).

Instead of these random lucky-dip composition competitions wouldn't it be wonderful for composers (especially younger ones) if every orchestra was to set aside a couple of sessions a year in which they'd read through and record previously unperformed orchestral works. Not an 'open to the public' workshop (these often seem to waste time with meaningless discussions that involve the audience), but simply a chance for a composer to hear his or her piece, get feedback from the orchestra, and take home a good quality recording.

No prizes, winners or losers: just a chance for composers to listen and learn in a sympathetic environment. I know that this is a crazy idea, given the scarcity of rehearsal time for most orchestras, but it's a nice thought.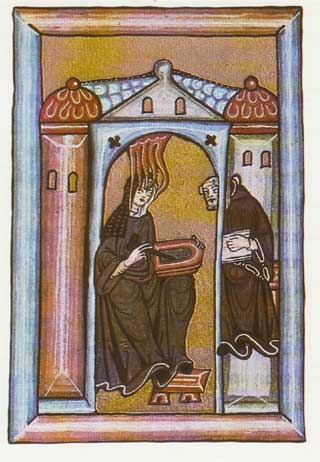 Hildegard of Bingen
I'm becoming more and more painfully aware that I promised David quasi-regular blog postings for CT, but I now feel a little as if I have writer's block – I feel like I should have something to say about something, but any ideas I have had recently seem to be a little self-serving or just plain dull. This is not, thankfully, an affliction (the writer's block) that carries over to my composing, where the time available for writing still seems a little shy of the time I actually need and consequently I'm always ready and able to compose when those hours do free up. This, despite the fact that I am ostensibly a full-time composer. Where do the hours go? I do one day's teaching a week as part of my post-Doctoral Research post requirements, but that should surely leave 4, 5 or even 6 days for writing depending on the level of workaholicicism I wish to engage with. And yet there always seems to be some rehearsal to attend, some promotion to be seen to, perhaps a little interview here or guest lecture there and there are always emails to write and reply to. Perhaps I need a secretary – or can one still get an amanuensis these days? And what about tea breaks? Perhaps if I had less of those I might write more, but then again the Reward system works very well for me.

Actually, I've got the first production of a new music theatre work coming up at the start of next month in Dublin – Una Santa Oscura is a bit like an opera but with no singers or text and instead a violinist is the sole protagonist (see, a self-serving blog entry). The interesting thing about this project for me, compared to my experience with writing chamber opera where one knows it's out of one's hands once the music is done, is that I formed the complete concept for the work myself – a staged work for a violinist inspired by aspects of the life of Hildegard of Bingen. Still, here I am willingly handing it all over to the director and finding myself very curious about what he's done with the idea (because I haven't had time to attend any rehearsals yet); after all, the concept might have been mine but he's got the work of filling in the details. So, there go a number of days in the next couple of weeks with rehearsals and performances and little enough time for writing music let alone blogs.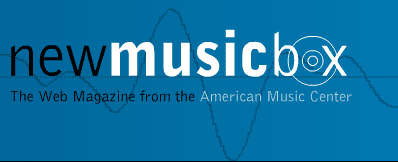 Picking up on some of the themes from Judith Bingham's fascinating post I recently did an interview for the American Music Centre's NewMusicBox site and I was somewhat surprised to hear the interviewer Frank J Oteri tell me that despite my never having returned to the US until 3 years ago (having been born there and left at the grand age of 6 weeks old), that there was something distinctly American in my sound-world - the article is titled "Accidental American".

I acknowledged to Frank that, like a lot of the US scene, I am happy to be open to a wide range of other cultures and musics from around the world; but on reflection, whilst I have loved klezmer, gypsy music and Eastern European folk music since childhood, British folk traditions have never held such an intense interest. I wonder if I am like my good friend who, as a Spanish composer based in London incorporated Spanish folk idioms into his writing, but then when he moved back to Spain these suddenly vanished completely from his music. In other words, if I didn't live in the UK perhaps I would take a deeper interest in its traditions. Perhaps, as Judith implies, it's to do with craving things that are not - for whatever reason - part of our daily lives?

Archive
1 | ... | 58 |

59

| 60 | 61 | 62 |