Other Resources

News Archive
Christian Morris talks to the composer Helen Grime who, amongst many other things, has just started as Associate Composer with the Hallé Orchestra.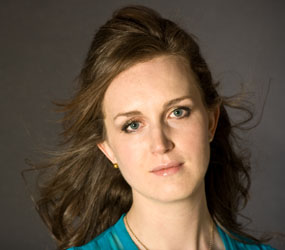 Photo:Helen Grime
Tell us something about your background.

My grandparents both taught music and my mother does too, so there was a lot of music in the house from an early age. My mother used to play me a lot of classical music. When I was very little I can remember listening to Ravel, Debussy, Bach and lots of other things. It was a huge part of my life. I started playing the piano and oboe later on. My brother and sister are both very musical too. We were lucky; we had a great education in Scotland. In primary school, at about the age of 10 or 11 I'd go out of school, just across the playground, for my piano, oboe and even composition lessons. Later the school we went to was a state school but it had a specialist music scheme in it. We used to do a lot of music during the day.

Individual composition lessons?

Yes. It was seen in our school as an important part of being an all-round musician. Composition was something that we were all given the opportunity to do. We were lucky, in that all this was paid for by the government.

And this was a specialist school?

Yes. It was called the City of Edinburgh Music School. There're a few others in Scotland. There's one near Aberdeen and one in Glasgow. I'm not sure there's anything like that in the rest of the UK outside privately funded schools such as Wells.
>> Read the rest of the interview here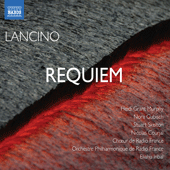 Since, as a youngster, watching Mozart feveredly dictating passages of his last work to the dastardly Salieri in Peter Schaffer's Amadeus I have been a fan of the Requiem Mass. Whilst reality in the case of the Mozart Requiem was as weird, though not quite the same as Schaffer's fiction, the drama did play upon a central truth about the Requiem Mass: that, in confronting the most profound question of all—our own mortality—it is a genre that has a special resonance for composers.
When Radio France, the Koussevitsky Foundation and the French Ministry of Culture commissioned Thierry Lancino to write a new work in this genre, they wanted him 'to renew the tradition of the Requiem'. Like Britten's clever use of Wilfred Owen's poetry fifty years ago, Lancino brilliantly achieves this by taking as his starting point the opening of the long Dies Irae text: 'Dies irae…teste David cum Sibilia' (Day of wrath…as attested by David and the Sibyl'). This moment, he notes in interview, adds a pagan touch to the Christian poem; the Cumaean Sibyl was granted near eternal life by the god Apollo but, after she refused his love, he denied her eternal youth, her body withering away and shrinking until it was eventually kept in a jar. The Requiem therefore unfolds as 'as a dialogue between the pagan Sibyl and the biblical David'. The Requiem text is preserved in its original order, but like the Britten, is interspersed with a secondary text, here in Latin, French and Greek—the languages to an extent representing the protagonists—by Pascal Quignard. The twist here is that the libretto explores the idea of David begging for eternal life, whilst the Sibyl begs for death as oblivion, a release from her torment.
The musical language of this splendid new work places it more in the blood and thunder tradition of Verdi and Berlioz than alongside the more positive visions offered by Lancino's compatriots Durufflé and Fauré. The language is dissonant and challenging and, from the opening tolling bell to the final empty fifth, we are offered little by way of musical solace. One of the most musically striking passages is the Sanctus. Traditionally a moment of luminescence, here heaven and earth do not feel filled with glory but with an ethereal writhing of restless souls. The effect is both marvellous and disconcerting. The flow and interaction between the different planes—the more impersonal writing for chorus (who largely stick with the Requiem text) against the drama amongst the soloists—is expertly controlled throughout by the composer. More than anything, however, the work is about the relationship of the Sibyl to death, most movingly in the Lacrymosa, where her pitiful longing for oblivion appears alongside the lines 'Dona eis requiem', ('Grant them rest').
Chœr de Radio France, Orchestre Philharmonique de Radio France and soloists Heidi Grant Murphy, Nora Gubisch, Stuart Skelton and Nicolas Courjal give white-hot, emotionally charged performances in this recording from Naxos. In particular I would single out mezzo-soprano Nora Gubisch; her portrayal of the desperate plight of the Sibyl is incredibly moving. My only reservation relates to the recording. I believe it to be live and, as such, I don't mind extraneous noise such as coughing and page-turns, even if there is quite a lot of it here. Sadly, however, someone—the conductor, I suspect—has been caught by the Naxos engineers groaning and moaning throughout. This is a pity, since it really does detract from some of the quieter moments.
Quick New Release Roundup
Björk has released the rest of her iOS apps for her Biophilia album at £6.99 in the UK. They are: Thunderbolt, Sacrifice, Mutual Core, Hollow, Solstice and Dark Matter. I particularly liked Hollow, with its amazing journey into a human body. Some, such as Dark Matter, I clearly haven't got the hang of yet, since no matter how many times I followed the app instructions I could not make the song advance. I get the feeling too that Björk released the best songs first; there is nothing, for example, to match the wonderful Cosmology that came free with the initial installation. Despite this, however, there's enough of interest here to justify the price and it remains a recommendation.
Naxos has released a new recording of Nikolai Kapustin's Eight Concert Etudes and his witty and energetic 24 Preludes in Jazz Style played by Catherine Gordeladze. Berg's unfinished operatic masterpiece Lulu has just been issued on DVD by DG with singers Patricia Petibon, Julia Juon, Ashley Holland, Paul Groves and the Symphony Orchestra of the Gran Teatre del Liceu under Michael Boder. Also on DG is a six CD release of piano music by Stravinsky, Prokofiev, Webern, Boulez, Nono, Manzoni, Schoenberg, Debussy, Berg and Bartók played by Maurizio Pollini. Nimbus, meanwhile, has released a disk of flute music: inspired by the blind it is entitled The Invisible World and includes recent music by Carl Witt, Yevhen Stankovych, William Boustany (who is also the flautist on the disk) and Houtaf Khoury.
Whilst this falls out of my normal reviewing remit I would also like to make a special mention of the nice people at Present Music, one of the leading new music ensembles in the US. It has done much to promote new music in its home base in Milwaukee and, through its tours, within the rest of the US and internationally. They have also released a number of fine recordings. If you are an aficionado of minimalism especially I urge you to check them out, here.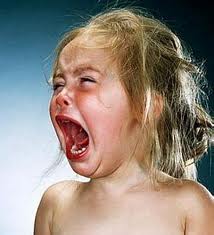 I have recently come across this article written by an opera critic Robert Thicknesse in the previous issue of Opera Now magazine. The article discusses the eight worst contemporary operas of the year - it is both sad and funny and I thought could maybe sparkle a discussion here. I was reading it with great interest particularly because am in the middle of writing a short comic opera, which, am now worried, might be eligible for the next black list!
[reprinted here with kind permission of Robert Thicknesse]
"It's been a vintage year for new opera in Britain… not! So here, for all who have sweated, suffered and sworn through the patronising, camp, pompous and almost universally musically worthless offerings of the past months, is a trip down memory lane.
Least painful, probably, was Anna Nicole (Turnage), whose uncertainty of aim – contempt or pretend sympathy? – stymied the composer to the extent that his real voice came over only in a couple of orchestral interludes; the rest moved so slowly it did no favours to a libretto that needed to be sung double-quick to get away with jokes you could see staggering towards you over distant hills. It would have been better if scribbler Richard Thomas, jovial celebrant of the tawdry, had written the music as well. This was a vulgar spectacle, which looked as though it had been directed by Graham Norton and designed by Jeff Koons, with old auntie Covent Garden vajazzling herself to get down with the kidz.
Our next suspect is ENO's Duchess of Malfi (Torsten Rasch), another show that at least went to the trouble of trying to cover up the threadbare with a truckload of theatrical bullshit, as a masked audience wandered through a darkened office block in east London witnessing snippets of melodrama and randomly-generated music, and being bullied by actors – and does it get worse than that? This was a vastly over-promoted Haunted House children's party, and God only knows what kind of hole it made in ENO's budget.
Somewhere in the same bracket comes Damon Albarn's navel-gazing thing about his y'know, Englishness, Dr Dee. Its exceptionally vague dramaturgy was livened up by Rufus Norris's hard-working production, full of visual trickery and even a nice raven. Some pleasant music, a bit of pastiche polyphony and minimalism, and a big drum solo; Damon sat on a shelf making vague gestures towards the action and mumbling his way through mystic songs, like Spinal Tap in Stonehenge mode. Best read up on the Doctor before you go, if you go.
Kommilitonen! blew into town on a warm fart of self-righteousness as two cosy old lefties, Peter Maxwell Davies and David Pountney, daringly invited us to hiss at Nazis and Cultural Revolutionaries and did a lot of posturing in an agit-propera with an infantile approach to moral complexity. Still, Davies is a real composer, if no longer particularly radical, and Pountney put lots of effort into making his own work look good. The final cry of "Freedom!" takes the Les Mis prize for this year's cheesiest bathos.
Davies's old mucker Alexander Goehr returned to opera, never his strong suit, with Promised End, boldly going where better composers had feared to tread in taking on King Lear. This was terrifically dry, dull and dated, a lesson in how to destroy promising words with terrible word-setting and alienate an audience who strive to find some emotional connexion with the characters on stage. Elsewhere, Goehr's music was spikily lyrical, though uninterestingly scored.
That was a gloomy evening, but James Macmillan's Clemency was worse. The ideas were promising – hospitality, terrorism, bargaining with God, a bit like a night in a British seaside hotel – but issues raised do not equal issues explored, and the soundworld of big retro unison string tunes à la Vaughan Williams and Macmillan's urgent rhythmic drive were not enough to sustain a flagging interest, or even the will to live.
That finally seeped away during Luke Bedford's drivelling Seven Angels, a dank evening where one felt one was slowly drowning in a musical bog while being bombarded with soggy frogs in the form of Glyn Maxwell's empty, orotund poetastery, this time on the radical subject of how we are, like, doing really bad things to the ecology, and co-opting poor old Milton for the purpose.
At this unhappy end of the market, optimism clings to such formulae as: "Well, that was incredibly boring, but it wasn't too irritating," not something one could possibly say about Two Boys, composed by perky little Nico Muhly, a composer in urgent need of a slap. A discarded episode of some police procedural set to the most derivative score of second-hand Glass (or was it Adams – does anyone care?), with a gloomy, clunking staging, any marginal quality in the evening was provided by the stalwart Nicky Spence: a nice lad, but seeing him wanking in close-up was not previously on my list of must-dos – even though it neatly summed up the only thing most contemporary opera composers excel at."
With darker nights and winter almost upon us here's something more cheerful to consider: November offers such an array of new music concert riches that I hardly know where to begin.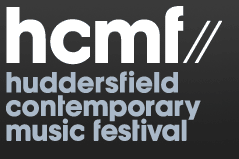 The Huddersfield Contemporary Music Festival (hcmf//), one of the most important of its type in Europe, runs from Friday 18th November–Sunday 27th November. This year there is a special focus of the music of Iannis Xenakis and of Danish composer-in-residence Bent Sørensen. Xenakis events include a concert of works for strings and piano given by Ian Pace and the Arditti quartet on 25th November, a concert of large-scale choral works given by the New London Chamber Choir under Clement Power on the final day and a documentary exhibition devoted to the composer at Huddersfield Art gallery running throughout the Festival. Sørensen's music features throughout the Festival. On Friday 18th November the Tronheim Soloists and accordionist Frone Haltli première his It is pain flowing slowly on a white wall. Five further concerts include Sørensen's work, including Documentary Concert#1 on Saturday 19th November, a composer portrait performed by Ensemble Scenatet that includes a silent documentary film of the composer; and, on the final day, Saudades Inocentes, a new work for three generations of male singers—grandfather, father and son—guitar, accordion and a landscape of loudspeakers and also featuring Ensemble Scenatet.
Other notable performances at hcmf// include the world première of Richard Barrett's monumental CONSTRUCTION for three vocalists, 16 instrumentalists, electronics and installation on 19th November, three years after it was to have originally been performed. UK premières include: James Dillon's Oslo/Triptych for flute, clarinet, percussion, piano, two violins, viola and cello on Saturday 19th; Bernhard Lang's Tables are Turned on Sunday 20th November, a celebration of the unpredictable and surprising properties of the vinyl disk; and a new 40-minute work by Rebecca Saunders, last year's Festival composer-in-residence, on Thursday 24th November.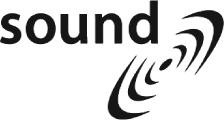 My apologies go to Sound, North East Scotland's Festival of New Music, which I managed to miss last month. Their programme continues until 13th November, however, so there is still much to be enjoyed. Pieces that caught my eye include Julian Anderson's Eden given by the BBC Scottish Symphony Orchestra on 4th November; Maxwell Davies's Chat Moss, played by Aberdeen Sinfonietta on 6th November; works by Kalevi Aho, Peteris Vasks and a Geoff Paler première given by the Auriga Wind Quintet on 8th November; and a concert by the Stavanger Vocalensemble on 11th November featuring music by Bodvar Drotninghaug Moe, Arne Nordheim, Arvo Pärt, Kazuo Fukshima, Knut Nystedt, Eric Withacre and Sally Beamish.
There are several interesting concerts at the Bridgewater Hall this month. On Saturday 5th November you can hear John Adams' Harmonium played by the Hallé under Sir Mark Elder whilst on Wednesday 9th November The Absolution Saxophone Quartet play a programme that features arrangements of Astor Piazzolla's Libertango and Steve Reich's New York Counterpoint, as well as an as yet untitled world première by Callum Dewar. Also featuring the Hallé, on 17th November one can hear the work Virga by Helen Grime, a composer whose music impressed me no end when I met her in North Wales a few years ago.
Talking of Wales, the BBC National Orchestra of Wales will be playing three works not often heard by Welsh composers. One that I know well is William Mathias's brilliant Helios, which will be played on Friday 11th November at Prichard Jones Hall, Bangor. Also on offer is Alun Hoddinott's Landscapes at Aberystwyth Arts Centre on 10th November and Daniel Jones's Cloud Messenger at William Aston Hall, Wrexham on 12th November.

Further east, the Bristol Ensemble in conjunction with Arcomis Arts Commissioning (see my interview, here) present Elektrostatic. The concert series runs from 27th November all the way until June 2012 and features modern classics as well as brand new and lesser-known works. Those shows that will take part in the Arnolfini are also part of the venue's 50th celebration and will feature archive programmes from its past and introductions or performances from such luminaries as Sir Peter Maxwell Davies, Jane Manning and Gavin Bryars.
At the Barbican in London, on 4th November there is the rare chance to hear Arthur Honegger's Joan of Arc at the Stake in a concert performance given by the London Symphony Orchestra, Chorus and the New London Children's Choir. Also in at the Barbican is Stravinsky's Symphony of Psalms and Messiaen's Turangalîla Symphony with the BBC Symphony Orchestra and Chorus on 5th November; Richard Einhorn's Voices of Light with London Symphony Orchestra and Chorus on 6th November; and Sofia Gubaidulina's In tempus praesens with violinist Anne-Sophie Mutter and Shostakovich's Symphony no.10 conducted by Valery Gergiev on 27 November.
Gergiev and Mutter also appear together with the LSO at the Salle Pleyel in Paris on Tuesday 29th November, where they will play Wolfgang Rihm's Lichtes Spiel, a work that I reviewed on Anne-Sophie's latest disk a few weeks ago. The day before, on 28th November, Gergiev will also conduct another performance of Shostakovich's Symphony no. 10 at the venue. Before either of these concerts, however, at the Salle Pleyel on 4th November, the Orchestre Philharmonique de Radio France under Jukka-Pekka Saraste present a concert that includes performances of Britten's Les Illumintions with soprano Christine Schäfer and Shotakovich's Symphony no. 8.
The Wien Modern 2011 festival continues until 25th November. There is such a wealth of music on offer that it is probably best to check the programme here. Concerts that caught my eye, however, include: Harrison Birtwistle's Cortège, Jonathan Harvey's Round the Star and Back and Climbing Frame, Rebecca Saunders' Stirring Still 2 and Wolfgang Mitterer's Little Smile on 4th November; Wolfgang Mitterer's comic opera Baron Münchhausen on 17th and 24th November; works by James Macmillan, Luke Bedford, Emily Howard, Jonathan Harvey, Mark-Anthony Turnage and Oliver Knussen performed by oenm (oesterreichisches für neue musik) on 18th November; and Friedrich Cerha's Konzert für Schlagzeug und Orchester and Georh Friedrich Haas's Eine Orchestrierung and Poème performed by the Vienna Philharmonic under Peter Eötvös.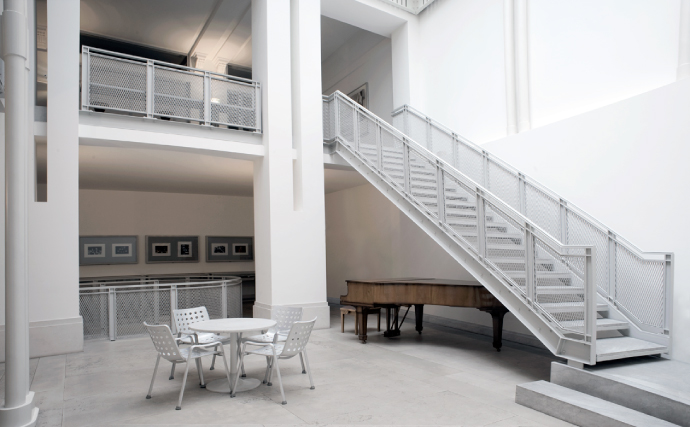 With a good friend of mine, the Mexican composer Mauricio Beltrán, I have just spent a fascinating few days in the Sacher Foundation Library in Basel, Switzerland.
Paul Sacher (1906-1999) was a Swiss conductor and musical patron. Though born into a poor family, in 1934 he came into vast riches through marriage to Maja Hoffmann-Stehlin, heiress to the Hoffmann-La Roche drug company. It was this fortune that enabled him to commission music from some of the greatest composers of the twentieth century, including Bartok, Stravinsky, Martinù, Honneger, Henze, Strauss, Birtwistle, Dutilleux, Lutoslawski, Carter and Boulez. Many of these composers, as a result of a commission, would give an autograph manuscript to Sacher as a gift. These became the basis of his collection of a host of twentieth-century composers' scores, sketches, letters, recordings and other items, including, perhaps most significantly, the complete estate of Stravinsky, purchased in 1983. Sacher established his Foundation in 1973, his archive eventually being housed in Munsterplatz, Basel. It is one of the most important collections of its type in the world. A full list of composers with material at the archive may be found on the Foundation's website, here.
It may seem a strange thing for a composer to want to dig around in a library for several days. Our research was, however, something I think that would be of interest to composers here: we wanted to cast some light on the composition process of Henri Dutilleux, who is notoriously reticent on the subject, viewing the moment of creation as in some sense sacred. Some of the Sacher Collection is so in demand (the works of Stravinsky especially) that one can only study microfilm of the original material. We were lucky to be able to handle the original sketches. What we found, I'm pleased to say, was a composer whose working methods would be perfectly familiar to the average pen and paper composer. Anguish, revision and self-doubt reflected in many layers of rubbings-out, scribbled margin indications and excised and sellotaped-over pages. There were, however, some exciting discoveries we made from the sketches. We're still unpacking the implications of these and will write them up in a more scholarly manner in due course.
In the meantime, I write this simply to recommend this kind of activity as a composerly tonic. I must admit that I went to Basel with some reservations; the expense of Switzerland, the worry that we wouldn't find anything new. The first of my concerns was undoubtedly true—we both managed, for example, to have ten minute taxi-rides from the airport that cost £35— but Basel amply rewarded us with its culture, fine food and friendly people. It is a wonderful city. Happily I needn't have worried on the second point; our research revealed many interesting and hitherto unknown facts about the composer. But I'm not sure I would have cared if it hadn't. A score, despite the fact that it is only musical potential energy, is a wonderful thing, the score of a great composer very wonderful indeed. And opening those pages, following the doubt and indecision, but also observing the final perfection was a great privilege. It was also inspiring. Let's be honest: don't we all dream that one day someone might sit in a library doing this with our own pieces?
External Sources:
Biography of Paul Sacher on the Foundation Website
Wikipedia article on Paul Sacher
Obituary of Paul Sacher in The Economist
Obituary of Paul Sacher in The Independent
Christian Morris talks to Irish-born violinist Gregory Harrington, an emerging soloist based in New York, who has just released A Different World, an album of music by James MacMillan.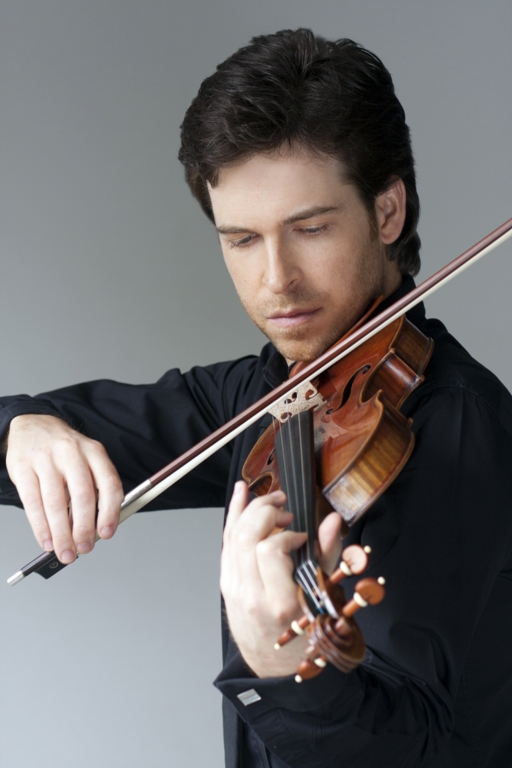 Tell us something about your background.

Well, I started violin when I was 4, studying at the Royal Irish Academy of Music with Kevin Kiely until I was 18. I then went to University College Dublin and studied International Business with an arts degree in Spanish, working in Dublin doing finance in a multinational to pay for lessons once a month in London with the wonderful Russian violinist Marat Bisengaliev. Eventually I did the auditions for New York, and came over to study at the Mannes College of Music with Sally Thomas, from whom I learnt a tremendous amount, and finally finished studying with Erick Friedman for a period of three years, who was a really wonderful teacher.

How did you become interested in contemporary music?

Unexpectedly actually... I was looking for a piece to perform at my London debut in the South Bank Centre back in 2000. So I had just come over to study in New York and spent a few days going around music stores here in New York looking for a contemporary piece to perform. I came across Kiss on Wood by James MacMillan, and was just so drawn to the sonorities and the musical language that he uses. I remember after putting down his score saying to myself "Yep, this is it…" and it has really taken off since then.
Read the rest of the interview with Gregory Harrington here

(Photo: Jeffrey Hornstein)
I said in one of my earliest blog posts that I didn't envy the job of concert reviewers. Having to make a snap judgement about a piece of music strikes me as a thankless job, especially if, after a few years have passed, the work you said was a failure is acknowledged by everyone as a masterpiece (or vice versa). CD reviewing might be considered rather easier - one can listen to a piece many times to form a judgement - but even then you often form an opinion in a relatively short period of time. Sometimes it has taken me years to get to know, understand and finally love a piece of music, making me nervous when I come across something I don't like.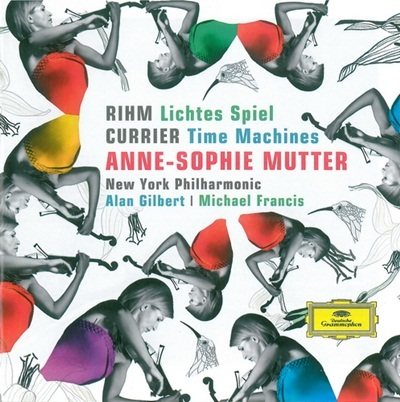 Which brings me to Deutsche Grammophon's new release of music by Wolgang Rihm, Krzysztof Penderecki and Sebastian Currier featuring violinist Anne-Sophie Mutter. I found myself, at best, perplexed by the two pieces by Wolfgang Rihm. The first, Lichtes Spiel for solo violin and orchestra (New York Philharmonic), has an attractively languorous Bergian romanticism but, seemingly, very little sense of direction or shape. And in one seventeen-minute movement it feels hopelessly spun-out. The double bass player Roman Patkoló joins Mutter in Rihm's Dyade, for unaccompanied double bass and violin. They both play with commendable commitment, but, though there is much more drama and variation in this work, it still feels insufficiently focused. As if to emphasize this point, it is prefaced by Penderecki's Duo Concertante, for the same two instruments. At less than half the length of the Rihm it is brilliantly purposeful and urgent, an object lesson in writing for limited resources. The final piece on the disc is Currier's Time Machines, a concerto for violin and orchestra in seven movements, each inspired by an element of time. I loved the work's colourful orchestration and minimalesque pulsating rhythms, but also its moments of extended lyricism, as in the last movement Harmonic Time, which seemed to evoke something of the vast and unknowable cosmos. Mutter and the New York Philharmonic play with both laser-like clarity and emotional commitment. I would be happy to own this disk, but, in the first instance at least, only for the Currier and Penderecki.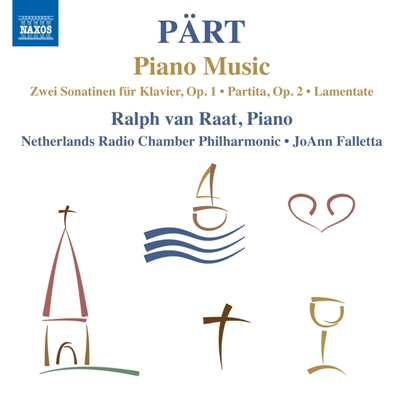 Naxos has released a new disk of piano music by Arvo Pärt, played by Ralph van Raat. It offers a fascinating overview of the composer's changing style. The first works - Piano Sonatine, No.1 and No. 2 and Partita - come from the end of the fifties and are in a tonally rich neoclassical style influenced by Shostakovich and Prokofiev. The central work of the disk is the exquisitely poised Für Alina in the pared down manner made famous in such works as the Passio Domini Nostri Jesu Christi secundum Joannem. If, like me, you found that work just a little too cold and ascetic, it is worth checking out the last work on the disk, the both violently impassioned and lyrically introspective Lamentate for piano and orchestra, written in 2002. Pärt describes the work as a lamente 'not for the dead, but the living.' It makes for powerful listening, especially in this excellent recording.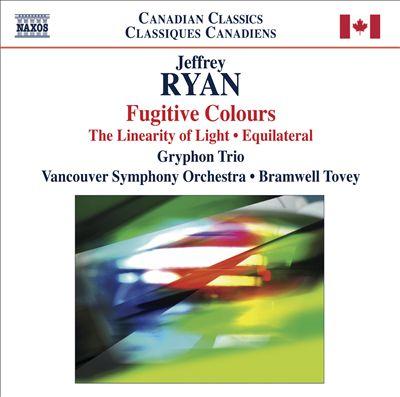 Also on Naxos is something that, for me, was a bit of a discovery: a disk of music by Canadian composer Jeffrey Ryan. It contains his Linearity of Light, the triple concerto Equilateral and Symphony No. 1, Fugitive Colours. The first and last works are played by the Vancouver Symphony Orchestra, who are joined by the Gryphon Trio for the second. The inspiration for Linearity of Light, writes the composer, 'is visual-the qualities and properties of light', a premise that gives birth to a highly engaging work of often dazzling orchestral colour. Breathless, the first movement of Equilateral, begins rather like a speeded up version of the second of Knussen's Two Organa, developing into a movement as restless as its title suggests. This is followed by a beautifully contemplative second movement that makes reference to Anglican plainchant and the Hebrew words of the Mourner's Kaddish. The final movement is a 'vibrant affirmation of the dance of life' that is, nevertheless, so relentlessness that it might also suggest a hurtling towards the grave. Symphony no. 1: Fugitive Colours, continues the composer's interest in colour. The first movement builds an effective structure out of a knitting analogy in which 'one colour of thread, about to be dropped is woven in and wrapped around another colour about to begin'. The brooding and enigmatic second movement, Nocturne, essays rich reddish-purple, contrasting with the rapidly changing colour in the aptly named scherzo third movement Light: Fast. The last movement, Viridian, is based on a cool green. The music throughout this disk is marked by brilliant orchestration, pulsating (often ostinato) rhythms and a lucid tonal style. The performances are excellent .
Other Releases
Nimbus's The Bad Tempered Flute features the flute music of Andy Scott with flautists Paul Edmund-Davies, Clare Southworth and Andy Findon, pianists Tim Carey and Peter Lawson and harpist Lauren Scott. Steve Reich's WTC 9/11 (see contrasting reviews here and here), featuring the Kronos Quartet, is now available on Nonesuch. Robert Daugherty, a composer known for the approachability of his style, has a new disk, Fire and Blood, out on Warner Classics. Naxos's clutch of new music recordings this month include: a double-disk set of chamber music by Robert Helps; James Whitbourn's Living Voices and Son of God Mass; Penderecki's Viola Concerto and Cello Concerto No. 2; a disk of Azerbaijani Piano Concertos; and Jenny McLeod's Emperor and the Nightingale.
Nimbus is currently taking pre-orders (up to 31st October) for a recording of Richard Blackford's Not in Our Time (see review here) at a reduced price of £9.99 (£14.99 thereafter). Also soon to be released will be a disk of music from the winners of the Abbey Road Studios 80th Anniversary Anthem Competition. The winners, who in the classical category were Daniel Brinsmead, Daniel Elder, Tina Andersson and Zhangyi Chen, were given the chance to record their works with professional singers and the London Symphony Orchestra. I hope to be able to review the disk when it is released.

The North Wales International Music Festival begins on 24th September. The programme focuses largely on older repertoire, though there is a composer portrait concert dedicated to the music of Paul Mealor, he of Ubi Caritas royal wedding anthem fame, on 29th September. Earlier in the day he will also give a talk with conductor Nicholas Cleobury entitled 'Is Modern Music For Me?' The Tetbury Music Festival opens its doors on 6th October. Only lasting a few days it does, however, include a concert in which Steven Isserlis will play Thomas Adès's Lieux Retrouvés and Geörgy Kurtág's Four pieces for solo cello.

Two European festivals caught my eye. In Madrid the Festival Internacional de Musica Contemporánea de Tres Cantos begins on 8th October. The seven concerts in the festival programme focus largely on the music of living Spanish composers such as Sergio Blardony, Raquel Rodríguez and Jesús Legido. Featured performers include pianist Jean-Pierre Dupuy, violinist Manuel Guillén and the group Sonido Extremo (Extreme Sound), conducted by Salvador Rojo. Three of the concerts, on 8th 15th and 29th October, are also preceded by round table discussions at 6 pm. Spanish required. Wien Modern runs from 28th October to 25th November 2011 in Vienna. Again dedicated to contemporary music, the festival will focus on the music of Austria and the United Kingdom. The festival opens on 28th with a concert given by the ORF Radio-Symphonieorchester Wien featuring music by Bernhard Kerres, Lothar Knessl, Andreas Mailath-Pokorny and Friedrich Cerha. Subsequent October concerts include music by James Clarke, Brian Ferneyhough, James Dillon, Hilda Paredes, Zahra Mani, Mia Zabelka, George Benjamin and Luke Bedford. More information on the festival's November concerts next month.
Aside from festivals there is a wealth of other concerts to choose from this coming month. On 26th October at Hoddinott Hall the BBC National Orchestra of Wales will give a portrait of the Dutch contemporary music scene, featuring music by Robin de Raafm, Willem Jeths and Klas Tortenson. The BBC Scottish Symphony Orchestra will give the Scottish première of James MacMillan's St. John Passion at City Hall, Glasgow on 29th September and a concert of Sceisi, Cage, Skempton and Cardew on 29th October at Old Fruitmarket, Glasgow.
At the Bridgewater Hall the Hallé will perform concerts that will include Stravinsky's Le Sacre du Primtemps on 13th October and Magnus Lindberg's Violin Concerto on 27th October. In Birmingham, Oliver Knussen conducts a programme of Birtwistle, Milstein, Dallapiccola and Schoenberg at the CBSO Centre on 25th September. The concert features the Birmingham Contemporary Music Group, who will also, on October 29th and 30th, be running Feel the Buzz, a composing and improvising project for 14-18 year olds. Talking of youth, the CBSO Youth Orchestra, conducted by Jac van Steen, will give the première of Leckey by Ben Foskett at Symphony Hall on 30th October. Also at Symphony Hall, on 21st October there will be a semi-staged performance of Bartók's chilling Duke Bluebeard's Castle, with the Philharmonia under Esa-Pekka Salonen.
In London ENO continues its run of Mieczyslaw Weinberg's The Passenger, based upon a semi-autobiographical novel by Auschwitz survivor Zofia Posmysz, until 25th October 2011. On 1st October at the Queen Elizabeth Hall the London Sinfonietta will give a concert of music by Pierre Boulez, who will also appear onstage beforehand to talk about his life and work. The group will also present two concerts of electroacoustic music on 21st and 22nd entitled Sonic Explorations at Kings Place. The first features music from Europe, the second from South America and Britain. The London Symphony Orchestra, finally, will give two performances at the Barbican of Britten's War Requiem on 9th and 11th October and an all-Steve Reich concert, also at the Barbican, on 15th.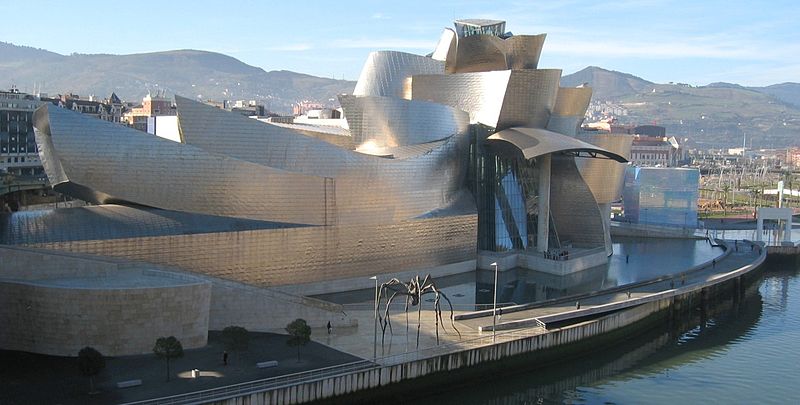 After a visit to some Basque friends in Northern Spain last week I found myself with a day to spare in Bilbao. The city used to be faceless and industrial until the Guggenheim Museum of Modern Art, Frank O. Gehry's breathtaking postmodern masterpiece, was constructed on the river estuary next to the city's classical district or 'Ensanche'. Now civic confidence is everywhere, marked by the perfectly kept flowerbeds and armies of mechanised pavement sweepers. I've visited the Guggenheim before, so I went round several other museums first, also taking my time over tapas, cerveza and manzanilla in the Casco Viejo. By the time I got to the Guggenheim, swallowing my pride at the €13 entrance cost, I had four hours in the building before it was to close at 8pm. Ample, I thought.
At first I was disappointed, since the first things one comes across are items from the permanent exhibition in, and leading off, the central foyer, which I'd already seen. Though these are certainly worth a second view, I wondered if my money might have been better spent. But, after walking around Richard Serra's monumental The Matter of Time, I then came to a room that marked the beginning of a new collection. The first piece was Kutlug Atman's Küba, which contains 40 televisions of varying types and ages sat upon a variety of sideboards, tables and small chests of drawers with a single easy chair facing the television. On each television a person from Küba, a socially marginalized district of Istanbul tells a little bit about their lives. Apart from the light from the television screens, the room was dark. One could only hear the bubble of chatter from each of the forty people from the town. I sat in chair after chair, mesmerized by the atmosphere in the room and the sometimes moving, sometimes banal, stories being told.
And though, inevitably, some subsequent installations were hit, some miss, this was roughly my experience as I went round the rest of the collection. There was Thomas Hirchhorn's Cavemanman, a cave installation lined totally in packing tape with various detritus from every day life strewn around - a commentary on contemporary society; Paul McCarthy's Tomato Head, based around the old children's toy of Mr. Potato Head, except with the option to attach or insert sexual organs or, indeed, other items into the various available orifices - an allegory, perhaps, on how we adapt our personalities to suit the situation; and Rivane Neunschwander's Contingente, a film showing ants devouring a map of the world made of honey - obviously a statement upon man's similarly voracious consumption of the earth's natural resources.
I write about this here because of the musical trains of thought this exhibition provoked in me. As I went around I quickly realized that the four hours I had allocated to it were not nearly enough, and that other members of the public, of all ages, were being similarly gripped. And this likewise provoked feelings of artistic envy. I know I'm not the first person to say it, but it is striking how the most challenging of modern art is so easily enjoyed by the average person. The same people who will, at the same time, deride or ignore the best efforts of contemporary composers. As I thought of this I realized that I was, perhaps, guilty of the same fault. In a single day in Bilbao I had visited, including the Guggenheim, four visual arts museums. It had not even crossed my mind to try to find a concert hall.
One could easily say that visual art has an advantage over music in these days of quick fixes and short attention spans because, if one doesn't like a work of art, one shakes one's head sniffily and moves on to the next. Music has to be understood in time. But I don't think that this is the whole truth. Visual art has to be understood in time too. One has to engage with the work, think about the layers of meaning on offer, unravel its mysteries. The real difference is the way we present music: there is nothing worse than that sense of being trapped in one's chair in a concert hall listening to something that bores or offends our ears, with starched collars staring at you if you cough. The experience of the Guggenheim underlined to me the importance of the work of our most pioneering composers to get the work out there; in the street, café or nightclub, places where the public can listen in an environment that is more relaxed, or where one can listen for as little or as much time as one feels necessary. People should be allowed to walk away from music they don't like.
One other thing. Yes, it was a visual art exhibition at the Guggenheim, but many of the installations contained elements of sound. But they were unbelievably, almost laughably limited in scope. Do we collaborate enough with artists? Not only does this strike me as a potentially fertile and exciting area to work but, cynically put, might allow composers at last to participate in the modern art gold rush.
Since writing my review of Biophilia last week, I've thought a lot about what makes a good CD release. Not everyone is able to release an app or rely on a huge marketing effort to get them noticed. But if one follows the 'three Ps' - programming, performance and production - one can't go wrong.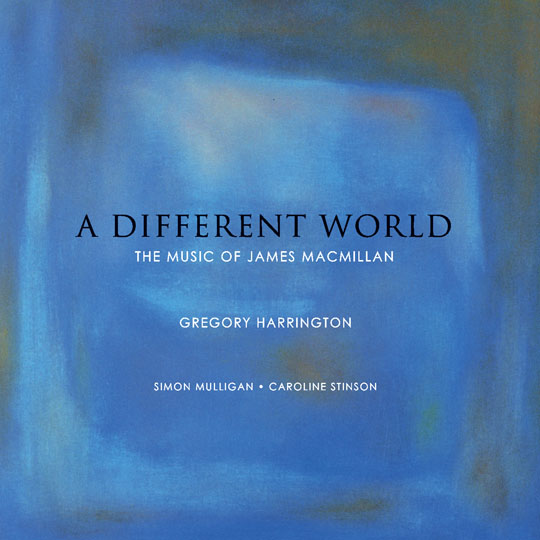 A new disk of music by James Macmillan featuring the brilliant young violinist Gregory Harrington and two equally gifted colleagues, pianist Simon Mulligan and cellist Caroline Stinson illustrates what I mean. The programme is organized in a way that subtly draws the listener in and then provides the changes of pace necessary to keep one interested. The opening trio of pieces for violin and piano, Kiss on Wood, After the Tryst and A Different World, whilst certainly not straightforward in their expressive intent, have an approachable harmonic idiom. This prepares the ground for what feels like the centre-piece of the disk: the challenging but superb Fourteen Little Pictures, featuring violin, cello and piano. A change of pace then takes us to a trio of pieces for piano solo. The first two, Walfrid, On His Arrival At the Gates of Paradise and 25th May 1967 (which derives from a set of two pieces by the same name), are both world première recordings and both inspired by football. I was particularly struck by the boyish gusto of the second, a celebration of the day Celtic won the European Cup. It also acts as the perfect palette cleanser for what follows: in anguistis... I, for solo piano and, the last piece on the disk, in angustis... II, for solo violin (also a world première recording). These last two pieces, written in response to the events of September 11th, form a dark and melancholic close to the programme. The performances from this young group of musicians are consistently first class. Harrington's playing is marked by its veiled richness in the lower register and incredible control into the sometimes stratospheric higher registers employed by Macmillan. Caroline Stinson only features in Fourteen Little Pieces, but proves very much to be Harrington's equal, whilst Simon Mulligan provides both sensitive accompaniment and soloistic virtuosity as required. Production too is excellent, with very immediate, warm and well-balanced recording. Talking of production, the disk is available on iTunes, Amazon and CD Baby as downloads. But if, like me, you are a lover of the physical product, it is worth purchasing this handsomely made CD in hard copy. Björk eat your heart out...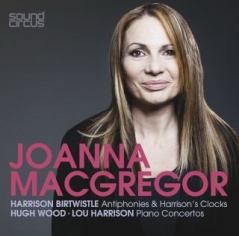 A slightly more curious piece of programming can be found on Joanna MacGregor's new disk of music by Harrison Birtwistle, Hugh Wood and Lou Harrison released on Warner Classics. The disk opens with Birtwistle's uncompromising Antiphonies for Piano and Orchestra, a work that, with its abrupt interactions between soloist and orchestra, seems to completely tear up the concerto rulebook. I found it intriguing, mysterious but impenetrable. Repeated listening required, I think. More immediately engaging were his virtuosic, and often urbane and witty, Harrison's Clocks. Though more obviously conceived as one entity (it has recurring material at the beginning of each movement, for example) it reminded me a little of Ligeti's Piano Etudes, probably because the evocation of clocks also fascinated the Hungarian composer. The third work, Hugh Wood's Piano Concerto, is jazzily appealing (especially in the third movement), but also quite hard-edged. Which makes the final work in the programme, Lou Harrison's luscious and tonal Piano Concerto, feel a bit out of place. Which is not to say I didn't like the piece; on the contrary I found its totally idiosyncratic East meets West style very infectious. Programming issues aside, however, MacGregor performs brilliantly, adapting herself to the wide range of styles on offer and she and Warner are to be congratulated for bringing us these new recordings.

Quick round-up

Naxos continues its tradition of strong support of contemporary composers with six new recordings this month: a recital of contemporary American repertoire for violin and piano, featuring music by Puts, Glass, Kernis, Zhurbin, Danielpour, Bolcom and Higdon; violin and saxophone concertos by James Aikman; Linguae Ignis, Vesalii Icones, Fantasia on a Ground and Two Pavans by Maxwell Davies; the opera Guru, by French composer Laurent Petitgirard; a disk of flute chamber music by Ned Rorem; and Year in the Catskills, Gardens, Dream Dances and Diversions by Peter Schickele.

Also worth checking out are three recording that will be released at the end of the month: ASM 35 on Deutsche Grammophon, a selection of mostly older repertoire played by Anne-Sophie Mutter that will, however, also include Lutoslawski's Partita for Violin and Orchestra; also featuring Sophie Mutter on DG, a new disk with world première recordings of Wolfgang Rihm's Lichtes Spiel and Dyade, Sebastian Currier's Time Machines and Krzysztof Penderecki's Duo Concertante; and a new disk on EMI that includes Schoenberg's transitional work par excellence, Chamber Symphony No.1, conducted by Simon Rattle.

Archive
1 | ... | 48 | 49 |

50

| 51 | 52 | ... | 59 |