Other Resources

News Archive
Last year I speculated as to why contemporary music and Christmas don't mix; as we enter the festive month performances of new music decline as caroling and yuletide cheer take over. This year is no different, though there are a few concerts in CT's concert diary worth noting.
At the beginning of December there is a mini Britten festival at Wigmore Hall as part of the Britten at 100 celebration. It includes a concert of song cycles on December 1st; the complete string quartets on December 3rd; and Les Illuminations, Lachrymae and Serenade on December 4th. In New York City the 28-year-old Composers Concordance Festival starts today, running for five concerts until 7th December. There are a large number of living composers represented: more details are on the festival's website. On 14th December at the Barbican Hall there is screening of Godfrey Reggio's time-lapse cinematic vision of American Cities, Koyaanisqatsi, set to a new arrangement of Philip Glass's film score. The website is reporting this as sold-out, though the old adage of turning-up on the night might pay dividends for the determined. Surprisingly deep into the festivities, on 20th December, Nonclassical, finally, is presenting a night of new music commissioned from six composers as part of the 'Freedom From Torture Presents' event, as well as Gyorgy Kurtag's masterpiece Kafka Fragments.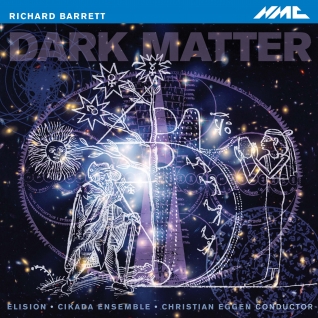 If you like your music cerebral and challenging then you should check-out Richard Barrett's bewitching new CD Dark Matter. It features the ensembles ELISION and CIKADA conducted by Christian Eggen with mezzo-soprano Deborah Kayser, Carl Rosman on clarinets and Dary Buckley on electric guitar. The work is a profound rumination on the nature of being, 'a response to the current state of scientific knowledge and speculation about the nature of the universe and of human consciousness'. It sets some of the oldest religious texts in existence, including the ancient Egyptian creation myth The Empire of Lights, whose striking opening eerily (or not, I suppose, since many creation myths share a common origin) evokes Genesis. There is, as the composer points out, no consolatory message in the work: no answers, only questions. In this way the work represents the nature of existence itself.
The musical language evokes Varese, Stockhausen and others, but also has a kind of paired down asceticism that reminded me of Britten's Curlew River. It is, as the composer admits in an interview with with Daryl Buckley, a 'rather forbidding landscape without signposts'. This is, however, part of its ruminatory message. For those interested in the interface between visual art and music, you'll also want to have a look at the performance of the work as an extraordinary installation with artist Per Inge Bjørlo, partly available (it is interspersed with interviews) on YouTube.
The rest of the month's releases
Naxos has released a five-disc set entitled American Spirit that focuses on some of the defining moments of its decade-long American Classics project. It includes music by Charles Ives, Peter Boyer, Hannibal Lokumbe, Virgil Thompson and many others. They have also released a disc of Asian Music played by the New Zealand String Quartet. It contains Long Zhou's Song of the Ch'in, Chinary Ung's Spiral III, Ping Gao's Bright Light and Cloud Shadows, Toru Takemitsu's A Way a Lone and Tan Dun's 8 Colors. There are three new discs featuring the major ballet music of Stravinsky, all performed by the Seattle Symphony Orchestra under Schwartz: The Firebird, Petrushka and The Rite of Spring; and a new recording of Wolfgang Rihm's complete music for violin and piano with Tianwa Yang (violin) and Nicholas Rimmer (piano). Finally on Naxos, the Maxwell Davies symphony project continues with the composer conducting a performance of Symphony No. 6, Time and the Raven and an Orkney Wedding with Sunrise, with the Royal Philharmonic Orchestra.
On Nonsuch there is a new Blu-ray and DVD release of John Adams' Nixon in China, featuring Peter Sellars' Metropolitan Opera production that was broadcast around the world in cinemas as part of The Met: Live in HD on February 12th, 2011. They have also released Jonny Greenwood's soundtrack for the film The Master. I became a Greenwood fan after hearing his fabulous score for There Will Be Blood. This one, though interspersed by performances by Ella Fitzgerald, Jo Stafford and Helen Forrest, is no less worth checking out.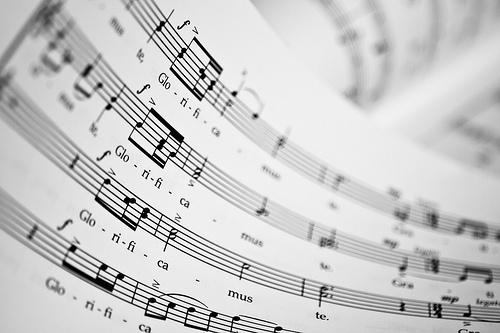 That the internet has revolutionized the consumption of recorded music is a truism. Artists can self-publish via their own websites or they may circumvent record labels by going directly to download services like iTunes, Amazon or Spotify. This is a trend that has long-since spread to more commercial forms of sheet music on websites such as musicnotes.com.
Composers of contemporary classical music, however, just don't have the profile to promote their music simply by putting it on their website. For this reason most would prefer to win a traditional publishing contract, leaving the sales and promotion to someone else. Failing this, however, the iTunes model does have much to recommend it; a composer may make his or her music available in a place that already receives 'footfall', without having to have it accepted by an intermediary. So what are the options for composers seeking to make their music available in this way?
Sheetmusicplus.com
Perhaps the biggest player to enter this field is Sheet Music Plus. They already have many thousands of sheet music buyers and recently opened their website to self-publishing composers. All the detail is laid out, here. The bottom line is that participating musicians earn royalties of 45% of the list price of their sheet music once their account reaches a $20 minimum. Composers retain the rights to their music; I spoke to a representative, who said: 'the composer has full control over his or her piece. They can choose to sell on our site and then work with any other organization and or publishers to sell it through them. And if for any reason they need to stop selling a title on our site, they just click 'delete' in the Manage Title section and the piece will be removed...within seven business days.'
Arcomis.com
I interviewed the director of Arcomis, Adrian Hull, on this website some time ago. They specialize in connecting the general public to the arts by helping with the commissioning process. They are particularly expert in the field of contemporary music, the director himself being a composer and director of the London Contemporary Music Group. They offer a similar self-publishing service as Sheet Music Plus. Whilst submission of scores is currently free there may, however, be a small submission charge in future. Composers earn a royalty of 50% of any profits they make once their account reaches £25. Like Sheet Music Plus, a composer retains complete control over his or her music. Whilst these terms are similar, it should also be noted that Arcomis scores are proofed by professional copyists before being published online. Arcomis also promote their catalogue to arts organizations and though their Arcomis Live concerts. Their International Flute Event, for example, attracted some of the world's best players, resulting in broadcasts on Radio 3 and a spin-off flute album.
Composers Edition
Composers Edition is a newer enterprise that will concentrate solely on providing editions of contemporary music. The store of composers' music is not, as yet, live. Composers will receive a profile and each work will be presented in its own web page with details such as forces, duration and programme notes. Like Arcomis and Sheet Music Plus the composer retains complete control of the music. The site will make versions of the works available in both print and downloadable versions, the terms being: 'The composer get [sic] a return of 20% of the UK retail price on printed document sales and 30% of the UK retail price on digital download sales.' Though this looks mean set alongside the other two services, especially considering that scores are not even proofread before being published on the site, I happen to know that the service has received some interest from composers. So it might still be one to watch.
Also worth considering
Score Exchange is the successor to the now defunct SibeliusMusic.com, which was a self-publishing site for composers solely using Sibelius software. For a limited time they are allowing users of the old site to transfer all their music to the new one. Publishing works on the site is free, whilst the composer receives 30% of the sale price, as well as retaining complete control over their works.
For composers looking for maximum exposure and who don't care at all about making money or promotional issues, IMSLP hosts a growing range of contemporary composers' works. The submission process is outlined in their FAQ.
Christian Morris talks to Harriet Mackenzie and Philippa Mo, who have just released their debut-disk 'English Violin Duos' on NMC.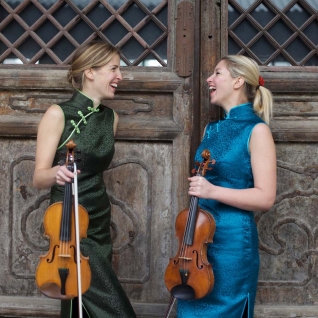 Retorica
Tell us a little about your background before you met each other.

Philippa: I started playing when I was 5. I had lessons and decided early on that I wanted to pursue the violin seriously and so that led me to the Royal Academy. I had a really good time there - I really enjoyed mixing with everybody and I think the best part of it was the chamber relationships that I built up. Probably one of the highlights was the fact that we were encouraged to study abroad for a year, so I spent my third year in China. That was a really wonderful experience. Then I returned to complete a masters course.

But presumably you'd met by the time of the trip to China?

Harriet: Yes, actually I think was slightly after then.

Philippa: We did coincide, but I'm a couple of years older than Harriet, so we started at different times at the Academy. I think on the music degree course everything is much more structured in the first two years, so you're quite entrenched in your year group. It was only when I was a postgrad that I was mixing with students of different year groups. That was probably when we really got to know each other.

>> Click here to read the rest of the interview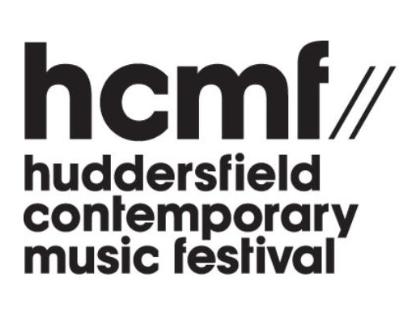 I've just updated CT's concert diary for November. A few things, however, deserve special mention.
The Huddersfield Contemporary Music Festival, the UK's largest specialising in this genre, runs from Friday 16th-Sunday 25th November. This year's composer in residence is Norwegian Maja S K Ratkje. You can find out more about her on her website, www.ratkje.com, via her Soundcloud feed or on Spotify. The full programme for the festival, which consists of more than fifty concerts and events, can be viewed here.
Oliver Knussen turned 60 in June and, by way of celebration, his music is to feature in a BBC Total Immersion day on 4th November at the Barbican. It starts at 1.15 and consists of three concerts: one to be given by Guildhall New Music Ensemble; another featuring Huw Watkins, Ryan Wigglesworth and Alexandra Wood; the last, at 8pm with BBC Symphony Orchestra. They will play a total of 17 works, including his Whitman Settings, Violin Concerto and Symphony No.3. The man himself will be there, including for a film and discussion about his music at 3pm. It promises to be a fascinating day.
Something that might also interest readers here is a musical retreat entitled 'The Sun Always Moves West', to be held at Dewsall Court, Herefordshire from Friday 9th November to Sunday 11th. It celebrates the lives of composers touched by the Great War - Elgar, Vaughan Williams, Holst and Bridge - and whose influence can still be felt today through their work as composers and teachers. There will be a concert given by tenor Stuart Jackson, violinist Ben Hancox and pianist Anna Tilbrook; an exploration of the poetry of the time; a debate entitled 'The Psychology of Song'; and an act of Remembrance on Armistice Day. More details can be found on their website or by emailing Samantha Vaughan.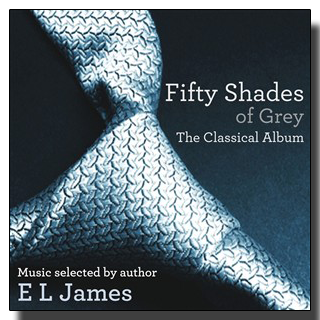 I noticed with a sense of both amusement and nausea yesterday that EMI, a label that I used to follow avidly, has stooped to releasing Fifty Shades of Grey, The Classical Album. The webpage, to which I'm not going to put a link – why promote this nonsense – contains a preamble from the author saying how 'thrilled' she is about it (I wonder what her cut is?) followed by some nonsensical spiel about the album 'setting a mysterious and alluring atmosphere with just a hint of danger.'
I suppose it is easy for musicians to sneer at this sort of thing. Many of us had a eureka moment when we realised that classical music moved us just as much as, if not more than, popular music. Mine came when a friend of the family bought me Dvorak's New World Symphony when I was seven or eight. Perhaps it is possible that someone will have a similar kind of road to Damascus experience when listening to this CD.
The most popular forms of classical music have long been taken advantage of by the marketing people. I noticed the other night, for example, Tchaikovsky's Waltz of the Flowers being used on the channel Dave to advertise their Redbull X Fighters. It was quite droll and made me smile. The same might be said of other adverts: Stella Artois (Verdi Forza Del Destino Overture), British Airways (Delibes Flower Duet from Lakme), Hovis Bread (New World Symphony!). Music used in this way can be a powerful tool for teachers when introducing children to classical music. Something 'boring' is made accessible. It is then for the teachers to add context, showing that there is more to the music than the thing to which it has become attached. Fifty Shades of Grey, however, is a book for adults. And, in my opinion, releasing such a compilation disk not only infantilises adults by assuming that they can't find these works for themselves, it also cheapens great works of art by association.
What might, however, be easier to defend, would be the use of such marketing ploys in order to make money as a means of pursuing worthier projects elsewhere – here I am, of course, thinking of new music. Naxos has done this with compilation disks of music from adverts. The big record labels are increasingly, however, a lost cause for living composers.
So it is with EMI this month. Whilst there's nothing else that plums the depths of Fifty Shades, their releases are wearyingly predictable. There's Bizet's Carmen, Nielson and Tchaikovsky Violin Concertos, some Vivaldi and Beethoven and several compilation disks: Great Cello Concertos, Rodgers and Hammerstein at the Movies and Maria Callas – The Studio Recordings. The one ray of light, but one that is still decidedly mainstream, is a disk of Brahms and Berg Violin Concertos with Renaud Capucon and the Vienna Philharmonic.
Naxos, on the other hand, completely outclasses the full price big boys. There is a new recording of Chen Gang's Yellow River Concerto and (written with He Zhanhao) The Butterfly Lovers Concerto with the New Zealand Symphony Orchestra; a programme of American trumpet music featuring works by Leo Eylar, Steve Rouse, Robert Starer and Stephen Sondheim; Gabriel Jackson's Requiem and other works with the Vasari Singers under Jeremy Backhouse; and Tan Sun's Concerto for Orchestra, Symphonic Poem of 3 Notes and Orchestral Theatre with the Hong Kong Philharmonic under the baton of the composer.
Elsewhere things are relatively quiet. There's a handy new page on NMC featuring all of the 20x12 composers. I've already written extensively on this project, but do pay a visit if you haven't already. I also very much enjoyed browsing NMC's annual review document, which is a great reminder of the excellent work done by the record label.
I will also mention a disk that I didn't notice when it first came out, but have since enjoyed a great deal: John McCabe's Rainforest I and II on the Dutton record label. McCabe is a composer well worth checking out; he seems to manage the uncanny trick of being adventurous, lucid and accessible all at the same time. It also features the violinists Harriet Mackenzie and Philippa Mo, who together make up Retorica, performing his Double Concerto Les Martinets Noirs. I reviewed their brilliant debut disk in September and their playing is no less engaging and assured here. Look out for an interview with them on CT, coming soon.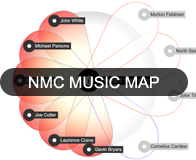 For a bit of Friday fun why not take a look at NMC's Music Map , an interactive application that explores links between composers? It launches with the composer you have chosen placed in the centre of the screen. Surrounding him or her like petals you will see others with whom the composer shares stylistic links. There is also a petal that shows who taught the composer and surrounding the 'flower', this time like orbiting planets, is a summary of the composer's style. In the bottom left is a panel to listen to musical extracts. Perhaps the most fun to be had, however, is by clicking on composers to make a 'musical map journey'. Rather like the six degrees of separation theory, it can provide some interesting links. It is possible, for example, to get from the lush tonal conservatism of Elgar to the integral serialism of Milton Babbitt, the composer who once wrote a paper entitled 'Who cares if you listen', in just four steps: via Anthony Payne, Elisabeth Lutyens and Robert Saxton. Inevitably there is a certain degree of subjectivity in the links but it makes for an interesting way of discovering new music.
Apart from individual concerts, just updated here, there are several important festivals this coming month. As ever, I've not included concerts from these festivals in the main round-up. Instead follow my links to festival websites below.

The Festival Internacional de Música Contemporánea de Tres Cantos takes place in Madrid from October 6th to 28th. The programme concentrates on the music of Spanish composers, though there are also performances of works by Alfred Schnittke, Elliott Carter, Maxwell Davies and Arvo Part.
Sound, which takes place in a number of venues in North East Scotland, has become, since inception in 2005, a vital and thriving place to experience new music. Among the highlights this year include a 4-day programme of opera, with performances taken out of the theatre and staged in more unusual venues; the finale of the Three Cities Project (linking Aberdeen, Bergen and St Petersburg); a Red Note Ensemble Noisy Night; a primary school project based on Edward Lear's poems led by Daniel's Beard; a sound map of Aberdeen; and Matthew Herbert's visceral One Pig. The 2012 sound Festival runs from 19th October to 18th November.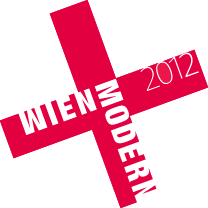 In contrast to the relative youth of Sound, Wien Modern, which runs from 22nd October to 16th November, this year celebrates its 25th anniversary. The birthday is being marked with a series of concerts chosen by Lothar Knessel, one of the festival's founders. Marking his centenary year, there will also be a special focus on the works of John Cage.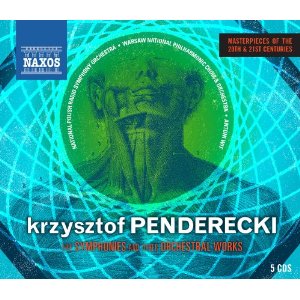 Apart from the excellent Retorica disk reviewed in my last post, there are a number of other new recordings worth checking out this month.
There are five releases on Naxos. The survey of the symphonies of Maxwell Davies under the baton of the composer continues with the issue of his classically proportioned Fourth and the single movement Fifth, played by the orchestras for which the works were originally written: the Scottish Chamber Orchestra and the Philharmonia respectively. In a similar vein, Antoni Wit and the Warsaw Philharmonic and Choir continue their increasingly impressive survey of the music of Penderecki with the release of the boxed set of Symphonies 1-5, 7 and 8 (No. 6, I believe, is still being written) and a disk of choral/orchestral music: Hymne an den heiligen Adalbert, Song of Cherubim, Canticum Canticorum Salomonis, Kosmogonia and Strophen.
In the American Classics series there is a recording of music by Claude Baker conducted by Leonard Slatkin and Hans Vonk with the Saint Louis Symphony Orchestra. The programme consists of The Glass Bead Game, Awakening the Winds, Shadows: 4 Dirges-Nocturnes and The Mystic Trumpeter. I don't know the composer but, having dipped into the disk on Spotify, I can say that the music is fascinatingly mercurial and atmospheric. Well worth a listen. Atmospheric, but in a different way, would also be a good description of Vivian Fung's Violin Concerto, Glimpses and Piano Concerto Dreamscapes with the Metropolis Ensemble. Here the effect is an intelligent mix of East meets West via Gamelan and John Cage prepared piano. Finally, there is a new disk of music for wind band that comprises Chen Yi's Dragon Rhyme, Kurt Weill's Violin Concerto and Jennifer Higdon's Soprano Saxophone Concerto. It is worth checking out even if you're not a fan of the genre, since the composers on the disk admirably exploit the range of which this type of instrumental group is capable.
Apart from Retorica, there are also two exciting new releases on NMC. The first is an all-Knussen programme consisting of Choral, Autumnal, the Whitman Settings, Secret Psalm and Prayer Bell with BCMG and the BBC Symphony Orchestra under the baton of the composer. The disk, sadly, doesn't seem to be on Spotify, so I've been unable to check it out properly. Little tasters are, however, available on the NMC website. The second is a disk of music by Tansy Davies entitled Spine, including the substantial works Iris, Falling Angel and the five movement Loopholes and Lynchpins for piano. Those who familiar with her music will know what to expect - urban but urbane: grungy but sophisticated - for those who don't, this is a good place to start, even if the disk Troubairitz on Nonclassical might be more immediately accessible. Also on Nonclassical, but this time only just released, is Cello Multitracks, featuring the music of Gabriel Prokofiev played by cellist Peter Gregson. Don't forget, finally, to check out the 20x12 page on NMC. Now the Olympics are over the project is drawing to an end, but it is perhaps even more compelling now the full range of works can be experienced.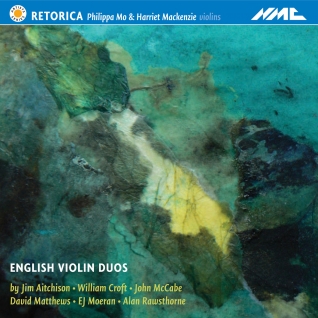 If a programme of music for two violins does not sound like a very appealing prospect, check out Retorica's debut disk, just released on NMC. Violinists Harriet Mackenzie and Philippa Mo have made it something of a mission to bring this little-known repertoire to a wider audience. Even the name of their duo - the Italian feminine form of the word rhetoric - is a reflection of this: just as rhetoric could be said to be artful persuasion in speech, they seek to do the same through their playing. They succeed here by the oratorical bucket-load.

The all-English programme consists of: Jim Aithison's Syruw: Five Kazakh Tableaux, John McCabe's Spielend, Moeran's Sonata for two violins, William Croft's Sonata IV Op. 3 No. 4, David Matthews' Eight Duos, and Alan Rawsthorne's Theme and Variations. It is a well thought-out programme; many of the pieces have a distinct feeling of place, especially by their link to the English pastoral tradition (or in some cases their reaction against it). The Croft, placed mid-programme, in itself a lovely piece, also acts as a clever amuse oreilles before we return to the twentieth-century for the last two works. It also ends with the same lilting rhythms with which the Matthews begins, providing a nice sense of connectivity.

There is a strong pictorial element in many of these works, none more than the first on the disk, Jim Aitchison's Syruw. The composer has long forged connections with the art world, and this piece was designed to be performed with an exhibition that explored Kazakh life and textiles. It consists of a series of delightful and expertly-realised vignettes, from the stillness of the opening, whose little disturbances presage the gentle breeze of the second movement through to 'an exaggerated tale', which seems capture a storyteller in the very act. The Matthews has a similarly visual feel. There is a sense of connectedness between some of the movements, especially in the emphasis on the pastoral and, in the sixth movement entitled 'Contra-Pastoral', its urban equivalent. The whole can also, however, be understood as a series of hors d'oeuvres-like 'moments', each element entire unto itself, but much more satisfying when consumed together.

The other three twentieth-century works on the disk use more abstract structures. In the case of the Rawsthorne this is a closely argued theme and variations, though the emphasis on short movements provides a not dissimilar feeling to the Aitchison and Matthews. There is no doubting the fact, however, that this was intended as a much more serious work, the theme of the opening being skilfully and inventively manipulated throughout, with the final movement recapitulating some of the early variations in order to bring the piece to a satisfyingly cogent close. Spielend, the German word for 'playing', by John McCabe is based upon the idea of the musicians 'playing their themes against each other and playing with the musical material.' The thirteen-minute, single-movement work, begins with exhilaratingly spirited hocketing interspersed with flourishes. It is followed by a long central section that explores two reminiscences of the Violin Sonata of Poulenc before returning to the vigour of the opening. Moeran's Sonata for Two Violins is the most traditional of the twentieth-century works on the disk. The influence of English folksong is everywhere imprinted on the music, though his frequent diversions into more adventurous harmonic territory avoids the 'cow-pat' element of which many of his contemporaries were guilty. This is especially evident in the final movement in which, after 12 straightforward passacaglia statements, the music is allowed to roam more freely.

What is especially striking about the pieces on this disk is that, perhaps because the limited resources force the composers to make every note count, each has a structural tautness that facilitates rapid engagement with the listener. This is not to say the composers give away everything too quickly; far from it, this is music that challenges and rewards repeated hearings. The other extraordinary quality of these works is the way in which each composer has made limited resources sound rich and even symphonic. In this they are aided by the brilliant performances of Mackenzie and Mo. It is clear that they not only understand the subtleties of the music they are playing but they want to 'wow' you into loving it as much as they do. In this they totally succeed. The recording too strikes an excellent balance: it is both intimate but with sufficient acoustic spaciousness for the music to feel full.

Archive
1 | ... | 32 | 33 |

34

| 35 | 36 | ... | 47 |