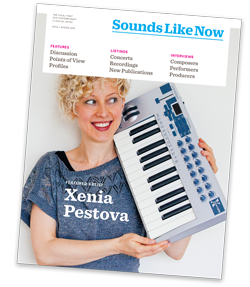 Sounds Like Now, the new magazine dedicated to contemporary music in the UK and Ireland, will, in the first instance at least, be a digital only publication. Dan Goren, the brains behind the new publication, recently emailed all backers of the the magazine:
You may well be wondering, given that we've not been in touch for some time, how we're getting on with Sounds Like Now and when you can expect the launch of this exciting new publication. I'd like to bring you up to date with progress and let you know about some key changes to the enterprise.
Launching a quality printed magazine is a major undertaking and towards the end of last year it became apparent that the uncertain economic climate was making it difficult to secure the business investment required to make our plans a reality. Determined to find a way to deliver we consulted with music and publishing associates and reviewed our plans, concluding that there were two possible routes forward to explore. The first was to go into partnership with an established magazine publisher, one with the facilities and finances to help bring a new magazine to market. We discussed the proposal with several publishers of both high profile and specialist music magazines who looked at it in depth. Sounds Like Now was considered a worthwhile and potentially viable proposition, however, given the highly uncertain current economic climate none of the publishers are able at the present time to commit to a partnership on a brand new publication.
The second route is to launch an online magazine in the first instance, looking to follow up with a print publication once established. Re-examining the business model and taking a closer look at existing online magazines we now have a revised plan which in several ways actually improves on the original, with the following advantages:
• Focussing initially on an online offering we can provide a far more sophisticated and useful promotional and community engagement service
• We can focus resources on much needed key content such as professional high quality journalism and a properly edited and maintained UK-&-Ireland-wide events listings
• We can create a technically more developed online service operating better on phones and tablets and across social media
• We can enhance the offer to other operators in the new music sector such as record labels, publishers and venues.
• We will be able to publish more frequently and more responsively, which is especially useful for delivering on our core objective of promoting contemporary music events
• The flexible marketing opportunities we can offer via the website, social media and email are more attractive than print both in terms of value for money and reach for performers, venues, agents, record labels, publishers and others.
• We will be able to offer much more promotion to the great number of smaller performing groups and venues who operate on very limited financial resources.
• Focussing online plays to our own strengths and experience, not least in the setting up and running of Composers Edition.
The expanded online offering will include the following:
Quality Independent Journalism - sets of articles on performers, composers, trends plus review and critique, issued on a monthly basis and available in full exclusively to subscribers.
Events guide - A fully edited guide to all thats going on in contemporary music across the UK and Ireland.
- Available free to all on the website, through email and social media
- Subscribers will be able to post events for free
- Promotional opportunities through premium listings and event feature articles, with special deals for subscribers
New Releases - We'll feature new recordings, sheet music, books, apps and more
Offers - Subscribers will be able to enter regular free sweepstakes for tickets to events and get special deals on products and services. These will not only be attractive to subscribers but also provide marketing for performers, venues and promotors. Our TicketSweep service will be particularly geared towards smaller operators who whilst cash-strapped may be able to offer tickets in return for publicity.
I would also like to take this opportunity to welcome our new editor Tim Rutherford-Johnson, Tim is author of Music after the Fall: Modern Composition since 1989 (University of California Press) and the acclaimed new music blog The Rambler. He has written widely on new music for publications in the UK, USA and Europe. Between 1999 and 2009 he worked for Grove Music Online, and was subsequently editor of the Oxford Dictionary of Music, sixth edition. Many of you will of course know Tim's work and share in my excitement at having him on board.
I realise that whilst a significant proportion of crowdfunders opted for a digital subscription, some might share our frustration at not being able to deliver a printed publication at this time. Overall, I believe we can serve our objective to celebrate and promote contemporary classical music very effectively through an online start to the life of Sounds Like Now. We are on course to publish by 1 May 2017 and will be in touch regarding listings in due course. I am very pleased to be able to share these plans with you and will be happy to answer any questions you may have.
Yours sincerely,
Dan Goren