Other Resources

News Archive
Christian Morris talks to composer Sadie Harrison, whose work has been performed internationally and widely recorded. She is also known for her cross-cultural collaborative projects.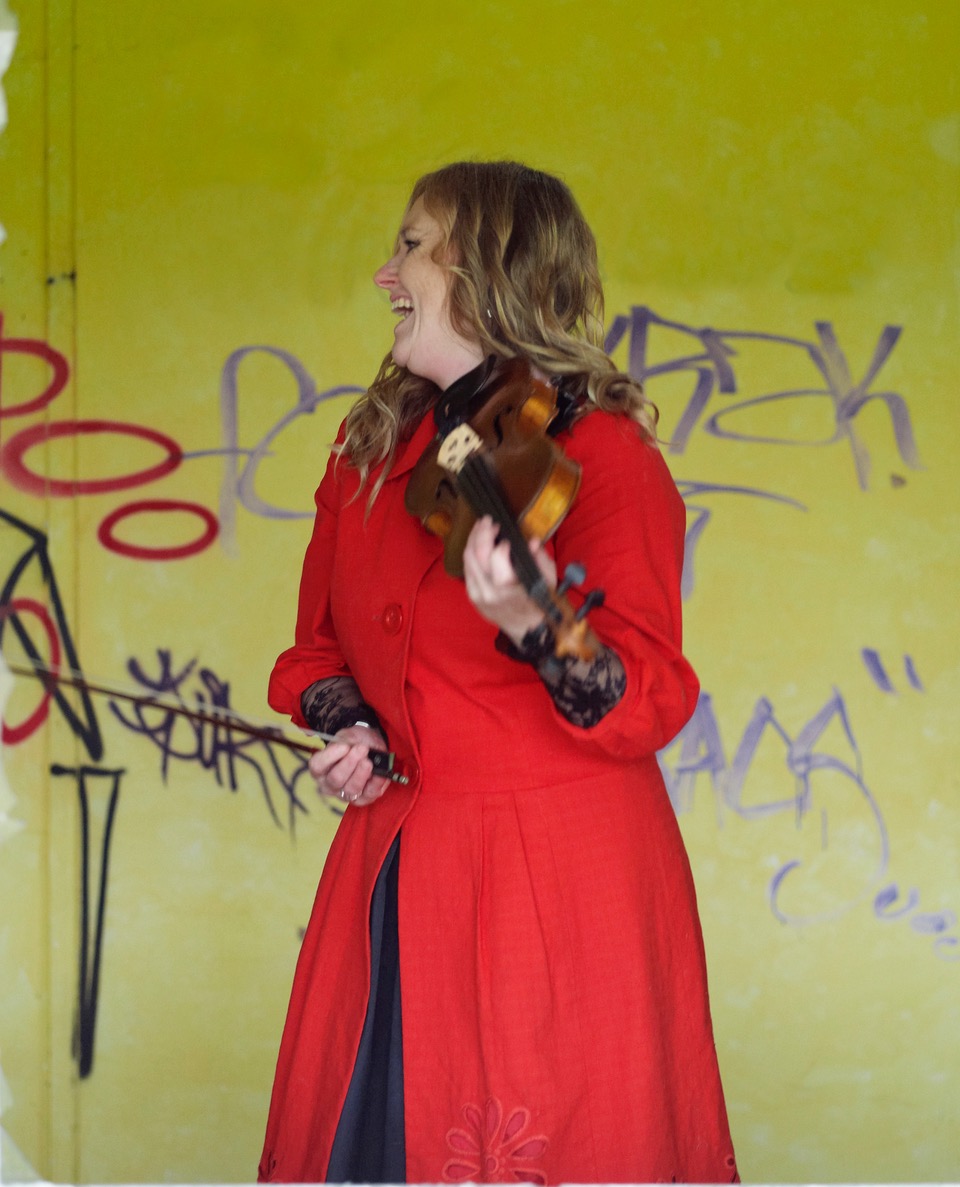 Sadie Harrison
Tell us a little about your background. How did you become a composer?

Firstly, thanks very much for asking me to contribute to Composition:Today. It's taken me quite a while to formulate answers to some of the questions - partly because I am lucky enough to have a couple of commissions on the boil at the moment but also because the opportunity has come at a time when I am thinking very hard about the path my composing has taken me on recently and, indeed, after 35 years of writing, where it might lead me next. And if I am to be honest, I do find it rather hard to discuss my work, though I am often called on to do so. My non-musician friends will tell you that composition is not something that I talk about (though they are always interested), and generally I choose not to tell people that I do it at all in order to avoid difficult questions that simply cannot be answered in a few words. I am also mindful of a comment made by Frederic Rzewski in a pre-concert talk (2012 Late Music York) when he was asked why he didn't like programme notes: 'they are vomit bags for composers!' Although I took offence at quite a lot of what Rzewski said that night, I did sympathise with his dislike of unhelpful verbosity. With this in mind, rather than contribute answers for every question I've suggested some sources for more information about specific projects as I'm going along. And there's a lot of information on my website
http://www.sadieharrisoncomposer.co.uk or publisher: http://www.uymp.co.uk

I can definitely say that I became a composer. I wasn't born one. Although music was a big part of my childhood (taking piano and violin lessons, being part of local youth orchestras), the urge to compose did not manifest itself until I went to Surrey University as an undergraduate in the early 1980s. I remember the exact moment when it happened, during a lecture about Schoenberg's Pierrot Lunaire, in particular Der Kranke Mond. I had an overwhelming visceral reaction to the piece. I immediately understood the language and wanted to write music like it. And I thought I could - something just clicked, a kind of coming home. This is a dramatic statement, but I have come to realise that I have always been searching for the right place for my music to inhabit since that moment. It's a complicated search with directions changing over time, but it has been governed by developing what I hope is a strong, flexible compositional technique and an acceptance of the style of the music I want to write. Perhaps most importantly it has been about understanding how my music can resonate usefully outside the confines of the contemporary music world, a world that I have often felt very at odds with.

A section from my current biography reads: 'For several years, Sadie also pursued a secondary career as an archaeologist and reflecting her interest in the past, many of her compositions have been inspired by the traditional musics of old and extant cultures with cycles of pieces based on the folk music of Afghanistan, Lithuania, the Isle of Skye, the Northern Caucasus and the UK. She is also well known for socio-political aspects of music-making with several works challenging stereotypes of marginalised peoples - refugees, Afghan women, the deaf, the homeless - celebrating their creativity and individuality with powerful expressions of musical solidarity.'

I think this sums up where I am now!
>> Read the rest of the interview here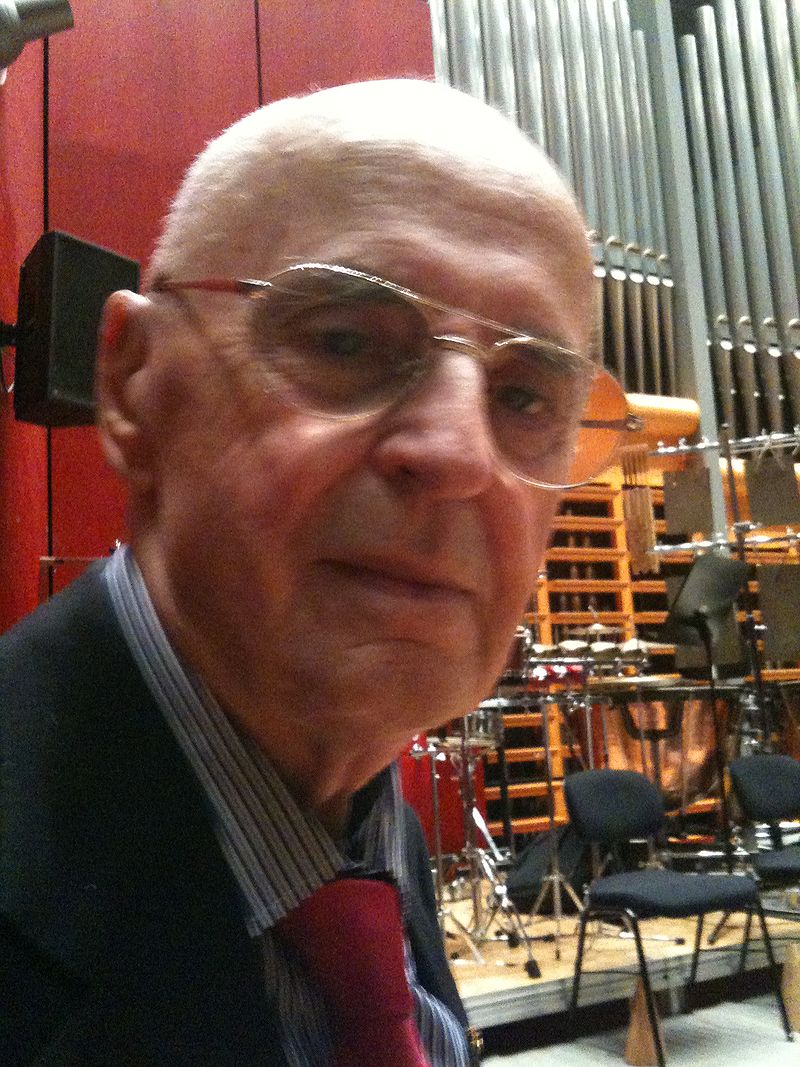 Milko Kelemen
Croatian composer, conductor and teacher Milko Kelemen died on 8th March in Stuttgart. He was 93.
Kelemen was a composition pupil of Stjepan Šulek, later studying in Paris with Messiaen and Tony Aubin and Freiburg with Wolfgang Fortner.
He held academic posts at Düsseldorf Conservatory and the Stuttgart Musikhochschule. He also founded the Zaghreb Biennale.
Rudolf Lück and Koraljka Kos divide the composer's style into three periods: 'an early corpus – Piano Sonata (1954) to Études contrapuntiques (1959) – written in a style influenced by folk music; an avant-garde period during which Kelemen experimented with musical structure; and, from Grand jeu (1982) onwards, a period marked by his discovery of a new, personal use of intervals and harmony. This last phase also assimilated earlier stylistic changes.' (New Grove Online)
Kelemen was the recipient of many awards, including a Humboldt Scholarship, the Beethoven Prize of Bonn, an ISCM prize, the Vladimier Zazor Prize and the French Chevalier des Art et des Lettres.
Milko Kelemen: Changeant (1968)
Sources: Grove Online, Wikipedia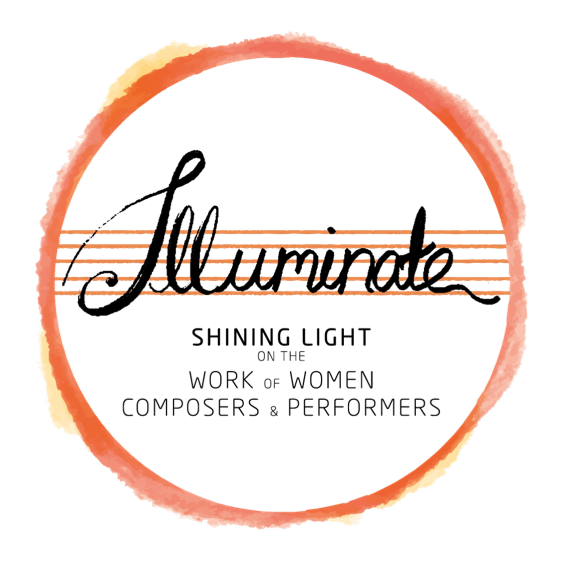 The classical music industry in notoriously unbalanced in its representation of women musicians in all areas: performing, conducting and composing. There are many unfortunate figures and statistics that highlight the underrepresentation of women composers as highlighted in articles by Susanna Eastburn such as We need more women composers… and Why are there so few female composers? Despite some changes, there is still a long way to go before reaching more equal representation, a point highlighted by Women in Music's 2017 BBC proms survey. It showed that the overall programming of women composers accounted for 7.5% of composers, 22% of living composers programmed, and 30.8% of BBC proms commissions. Female conductors also only accounted for 11% of conductors at the 2017 proms, a strikingly low figure. This is a familiar story from across the years and is a markedly more positive set of numbers than only a few years ago! Although there have been some wonderful strides forward in some areas, there is still a lot of work to be done before women truly have the same musical opportunities as their male counterparts.
There are a number of initiatives that have emerged over the last few years to begin to rectify this unjustifiable imbalance, including one of my own. Recently I have established the Illuminate project, which has been setup to highlight and celebrate the work and music of women composers and performers from the past and present. In 2018 Illuminate will be staging a concert series across the UK, programming new music from living women composers – Angela Elizabeth Slater, Gemma McGregor, Blair Boyd, Sarah Westwood and Carol J Jones. These women composers have written several pieces drawing on the instrumental forces of performers Késia Decoté (piano), Cassie Matthews (Classical guitar), Sabina Virtosu (violin) and Gemma McGregor (shakuhachi and flute).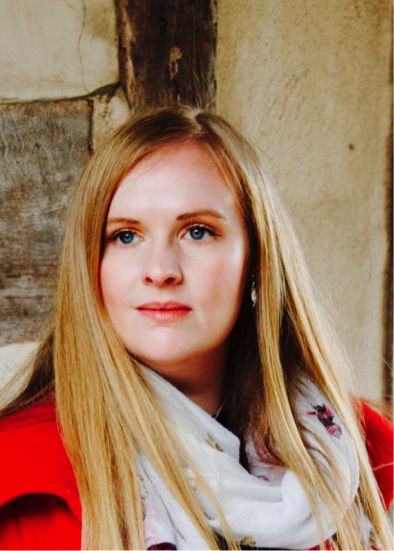 Angela Elizabeth Slater, Composer, Founder and Director of Illuminate
The concert series will start in London at Goldsmiths University of London on International Women's Day (Thursday 8th March) and continues across the weekend and beyond visiting Oxford, Stafford, Birmingham, Cardiff, Brighton, Liverpool, Nottingham and then returning to London. Illuminate will be programming and celebrating the music of women composers and bringing their music to wide range of audiences across the UK.
Illuminate is also passionate about celebrating the works of historical repertoire by women composers that has been all but forgotten and only programmed by a few dedicated performers. We will be programming works by Morfydd Owen (1891-1918), Lili Boulanger (1893-1918), Amy Beach (1867- 1944), Bacewicz Grazyna (1909-1969), Louise Marie Simon (aka Claude Arrieu) (1903-1990), Hilda Jerea (1916-1980) and the more well-known Clara Schumann (1819-1896). This wonderfully rich repertoire is rarely heard by the broad concert-going audience, a legacy of the historic and cultural suppression of women's music across the ages. This has led, in turn, to a lack of knowledge about these composers and also the music being more difficult to source than traditional repertoire from the canon. As a result, these composers tend not to be considered for programming and the cycle of reproduction continues, where audiences no nothing of these composers existence. Lack of a fair hearing leads to unjustifiable neglect.
There's a wealth of female composing talent out there just waiting to be heard, so I hope you will come and join Illuminate in some of our concerts this year to celebrate the music and work of women composers and performers!
© Dr Angela Elizabeth Slater
For more details about Illuminates upcoming concerts and blog series please visit: illuminatewomensmusic.co.uk
Here are the first five concerts that are taking place in March:
Illuminate London Concert Thursday 8th March 6.30pm at Goldsmiths, University of London
Illuminate Oxford Concert Friday 9th March 7.30pm at St Michael's near Northgate
Illuminate Stafford Concert Saturday 10th March 11.00am at St Mary's Church
Illuminate Birmingham Concert Saturday 10th March at 7.30pm at St George's in Edgebaston
Illuminate Cardiff Concert Sunday 11th March at 2.00pm at University of Cardiff Concert Hall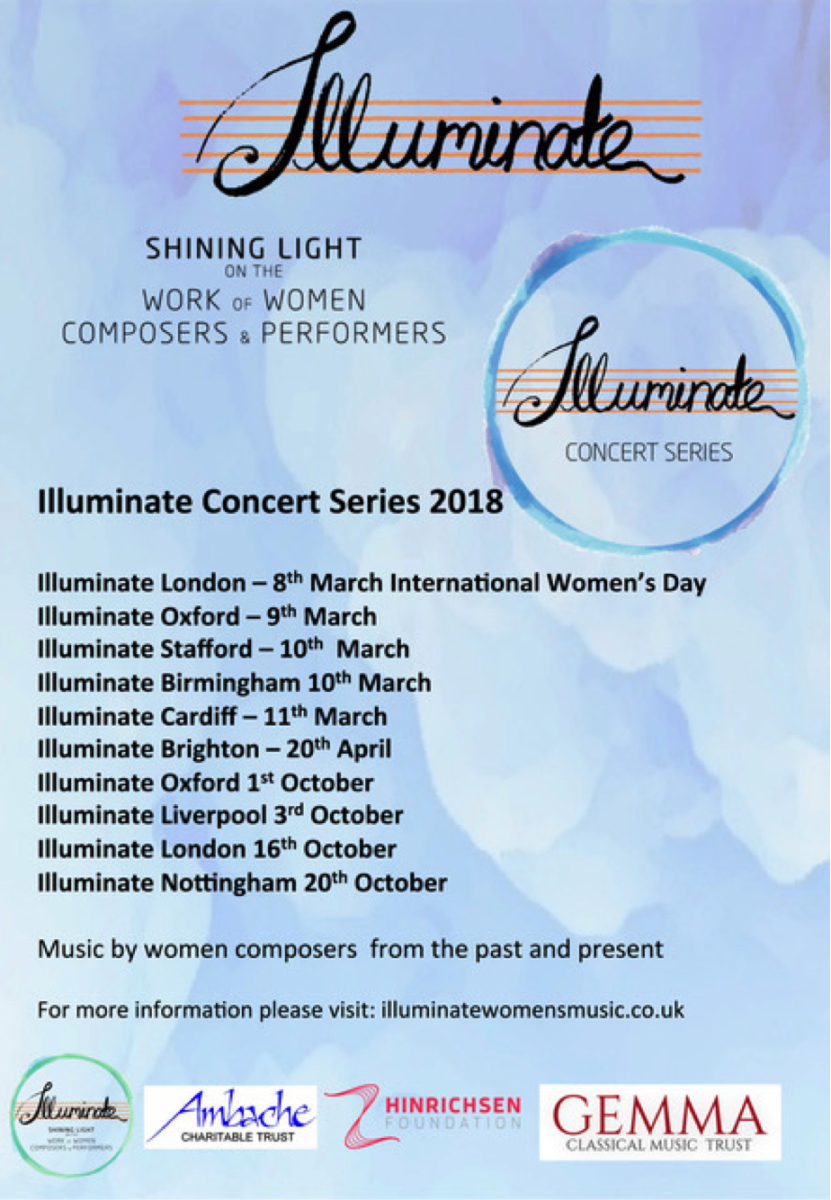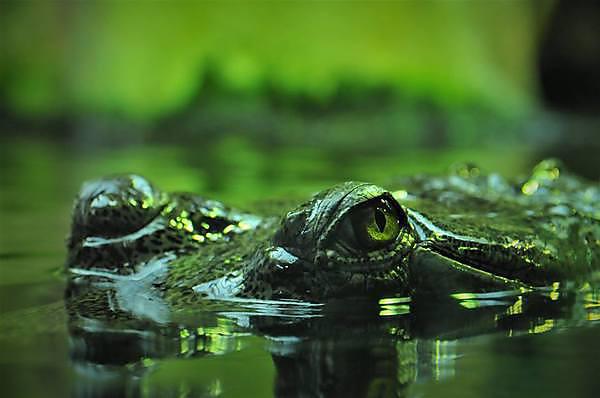 Plymouth University: Decoding Life
The interface between music, engineering and the life sciences is an ongoing area of research at Plymouth University's Interdisciplinary Centre for Computer Music Research (ICCMR). 'Decoding Life', the theme of this year's Contemporary Music Festival (2–4th March) is, then, a celebration of this research. Not all of the events involve music, but three are definitely worth checking out: on 4th Ensemble Bash premiere new works by ICCMR composers, Williams, Gimenes and Miranda, plus 2018's guest composer and music technology pioneer, Archer Endrich; on 4th there are works all inspired by life, both terrestrial and extra-terrestrial, by Richard Abbott, Alexis Kirke and Núria Bonet; and, on the same day, there is a cinematic piece of electronic music by ICCMR post-graduate research student Alan D Miles which attempts to capture and explore the experiences of epilepsy.
Zeit für Neue Musik in Bayreuth, Germany starts on the same day as Decoding Life but runs, albeit intermittently, until 11th. The emphasis is on mainstream continental (including Russian) composers, both alive and recently deceased. Highlights include a concert featuring piano compositions by Robert H.P. Platz, which will include the use of computer manipulated sound; pianist Olga Andryushchenko playing works from the former Soviet Union; and the world premiere of a new work by Leipzig-based composer Günter Neubert.
Archipel (15th–25th) in Geneva, Switzerland lists a total of thirteen intriguing festival themes, including Anagrams and Lipograms, Mechanical Shoes, Cursed Moloch, Machina Humana and Geek Music. They can all be explored here (click the flag top right for English). The festival includes many Swiss premieres and thirteen world premieres from composers Alexandre Babel, Gonzalo Bustos, Stefano Gervasoni, Céline Hänni, Wolfgang Heiniger, David Hudry, Mischa Käser, Masahiro Miwa, Javier Muñoz Bravo, Jean-Frédéric Neuburger, Michael Pelzel, Alberto Posadas and Martin Riches.
In contrast the London Ear Festival of Contemporary Music (21st–25th) has just three themes: Japanese music, composers from countries on the Baltic coastline, and the music of Luciano Berio. The first of these includes works by Toru Takemitsu, Yûta Bandoh, Misato Mochizuki, Kotoka Suzuki, Shintaro Imai and Toshio Hosokawa; the second by Dobromiła Jaskot, Dariusz Pryzbylski, Arturas Bumšteinas, Gailė Griciūtė and Martin Stauning and Erkki-Sven Tüür. The Berio thread is also a rich one, with 12 works on offer, including a number of his Sequenzas. There will also be the opportunity to hear Berio's widow, Talia Pecker Berio, in conversation with Andrew Kurowski and the Festival Directors. Aside from these themes there are a number of works from British composers and a total of 18 world premieres.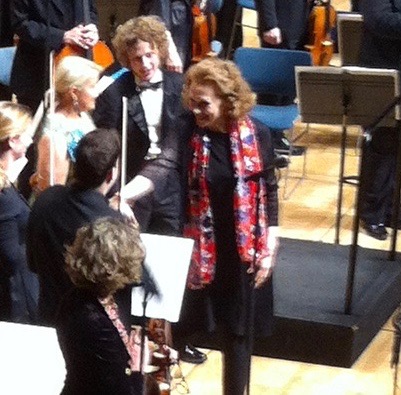 Kaija Saariaho
Kaija Saariaho has been announced as the winner of the 10th edition of the BBVA Foundation Contemporary Music Award. The prize is $500,000.
From the BBVA website:
The BBVA Foundation Frontiers of Knowledge Award in the Contemporary Music category goes, in this tenth edition, to Finnish composer Kaija Saariaho on the basis of "a contribution to contemporary music that is extraordinary in its individuality, breadth and scope." From her earliest works, the jury continues, Saariaho has exhibited "a seamless interweaving of the worlds of acoustic music and technology," a quality which the new laureate remarked, after hearing of the award, had come to her quite naturally. When she started studying music at the Sibelius Academy in Helsinki, she was frustrated at the acoustics of the venues she would attend to hear live performances. Wondering if it was possible to alter characteristics like the volume of the instruments, she began recording them and processing the sound for subsequent playback.
Meanwhile Ernst Von Siemens prizes of $40,000 each have been awarded to Clara Iannotta (Italy), Timothy McCormack (USA) and Oriol Saladrigues (Spain).
Source: Slipped Disc
Hungarian composer László Melis died on 12th February. He was 65.
Melis studied the violin at the Liszt Academy, Budapest, before performing extensively as a founding member of the contemporary music ensemble Group 180.
As a composer Melis was best known for his music for film, winning awards for the animated film A szél ("The Wind") and Gyurmatek ("Clay Play") and composing the music for László Nemes's directorial debut Son of Saul, a widely acclaimed film that follows a Hungarian Jew tasked with managing the disposal of bodies at the gas chambers in Auschwitz-Birkenau.
Minimalist in style, Melis's compositions can be found on BMC and Hungaroton record labels. Many are also available on YouTube.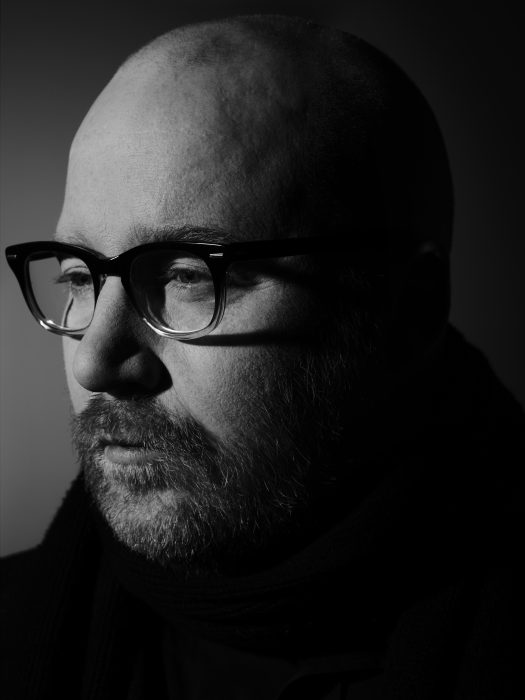 Icelandic composer Jóhann Gunnar Jóhannsson died suddenly at his apartment on 9th February. He was just 48. He is best known for his film scores, including Prisoners (2013), The Theory of Everything (2014) Sicario (2015), Arrival (2016) and The Mercy (2017). At his death he was working on the score for an animated film, Christopher Robin, based upon the Winnie the Pooh stories.
Jóhannsson also wrote music for theatre, dance and television and released a series of ten solo albums beginning in 2002. The last of these, Orphée (inspired by the Orpheus myth) was released by Deutsche Grammophon in 2016.
Born in Reykjavik, Iceland Jóhannsson learned piano and trombone before going on to study languages and literature. His composing life began as a guitarist in Indie bands using 'feedback-drenched guitar figures to create multi-layered soundscapes.' Later encounters with Brian Eno's Obscure Records albums led to a change of direction: 'I set the guitar aside and started writing music for strings, woodwinds and chamber ensemble, combining acoustic and electronic sounds.' His distinctive style, a fusion of traditional and electronic elements, was born.
It was a style that won many plaudits, including a Golden Globe for Best Original Film Score (The Theory of Everything) and Oscar nominations for Sicario and Arrival.
At the end of his life, Jóhannsson was living and working in Berlin. He is survived by his daughter Karolina Johannsdottir.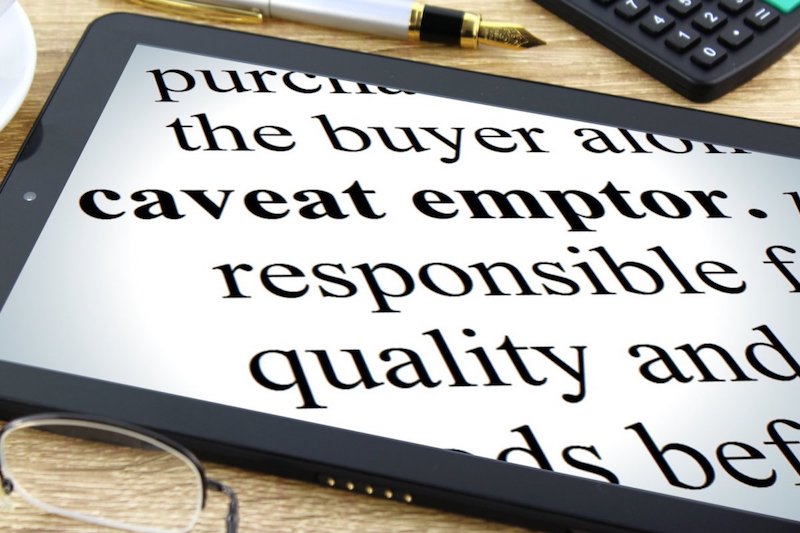 After updating C:T's opportunity page today, I came across this article by Norman Lebrecht over at Slipped Disk. It describes how this week's Singapore Violin Competition has effectively been rigged, since the grand finalists are all students of members of the jury. He goes as far as to suggest that the other violinists who entered 'should hire a lawyer and sue for the return of their expenses. They would be setting an important precedent.'
Whilst such extremes examples of nepotism are to be decried, we might as well admit to ourselves that blander, but no less pernicious, forms of favouritism have long existed in the musical world, including in composing. I certainly know of composers who have been awarded prizes or opportunities by teachers and, I might as well say it, I have probably benefited from this type of patronage myself. The phrase 'it's who you know' could not be more relevant in a career with so many practitioners chasing so few opportunities.
There are of course things that competitions can do to increase the chance that the competition will be fair, especially by asking that scores are submitted anonymously. Probably about half of all competitions I post month in, month out here at C:T do this. Whilst this is not a panacea—it's not difficult, after all, for a judge on a panel to recognise a score written by a student, even if it has no name on it—it does limit the chances of a Singapore-style stitch-up.
Beyond this I'm not sure how much more can be done. Music-making is a social activity, so it's perfectly natural that you are more likely to get musicians with whom you have a relationship to help you. Is that really nepotism? I don't think so. Unless you are a composer that doesn't mind being discovered after you're dead, you have to get out, meet people. There is nothing heroic about sitting in a lonely composing studio expecting the world to come genuflecting to your door.
A final thought on competitions, which arose from an email we received here at C:T a couple of weeks ago. It was from a composer who was worried that one of the composer opportunities posted on our opportunities page was a scam—it required money up front and in a currency different from where the website was based, the website itself was amateurish and the name of the competition organiser did not seem to appear elsewhere on the web. There was no definitive answer we could give since the competition did not differ greatly from many others posted here; many competitions ask for money up-front, some are from newcomers who may not be great at website design and even the currency problem may have had a simple explanation.
This doesn't stop me worrying about the veracity of the compositions we list here in good faith. In one competition last year, for example, entrants were not asked to pay a fee, but when the winner was selected he was asked for $19,000 towards the cost of performing the piece. You could argue that that does not matter, since he could simply refuse, but imagine his frustration if he'd written the piece specifically for the competition.
It is, then, incumbent upon us all to exercise caution and a healthy scepticism when entering composition competitions. Like the entrants in the Singapore Violin Competition, we can't protect ourselves from the nepotism of jury members, but we don't have to believe every promise we read or pay every exorbitant entry fee. The same approach, essentially, as when buying a used car. Buyer beware.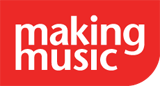 If you want to hear the best of emerging composer talent in the UK, take a look at Making Music's Adopt a Composer programme.
The scheme has run since 2000 and pairs the best of the UK's emerging composing talent with amateur choirs, orchestras and ensembles for a year. Together they produce a new composition of about ten minutes in length, which is then broadcast on Radio 3.
The pieces by the class of 2016/17 were premiered between 22nd and 26th January and will be available on BBC iPlayer for 30 days. More simply, you can hear all of the pieces, and those from previous years, here:
The 2017/18 scheme is well under way, the chosen composers and their groups being:
Anna Appleby with Merchant Sinfonia
Max Charles Davies with Côr Crymych a'r Cylch
Esmeralda Conde Ruiz with The Fretful Federation Mandolin Orchestra
Edmund Hunt with The Singers
Ben See with Stoneleigh Youth Orchestra
Peter Yarde Martin with Bellfolk Handbell Ringers
Gaynor Barradell with Edinburgh Concert Band
You can learn more about how they are getting on in blogs they are posting on the Making Music Website, the two most recent being by Anna Appelby and Max Charles Davies. It's also worth reading about the project from the perspective of the amateur groups—it's clear that they are finding the collaborations just as rewarding as the composers.
If you are interested in getting involved, the next round of applications for the scheme will open in March, for both composers and amateur groups.
Christian Morris talks to composer Nigel Osborne, who was recently been awarded the British Composer Award for Inspiration in recognition of his human rights work.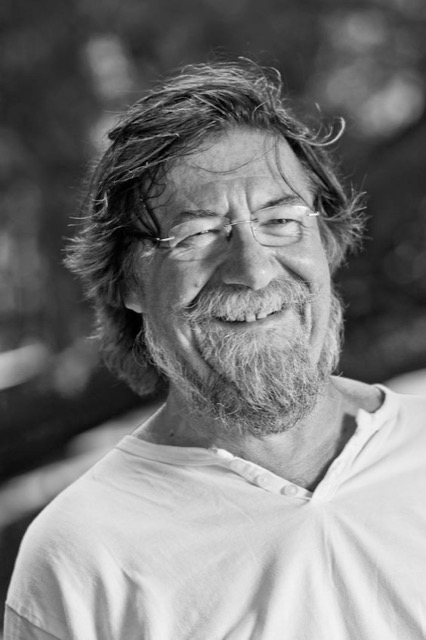 Nigel Osborne

Your early composing followed a well-established trajectory - study at Oxford and abroad, several prestigious prizes, and academic posts in Nottingham then Edinburgh. Then, in 1992, you travelled to Bosnia-Herzegovina following the outbreak of hostilities there. What motivated this decision?

In some ways I was simply getting on with what I had done before. At the point I began to work in Bosnia, I had been involved in human rights activities for over 20 years. I had of course been a member of the "'68 generation", and although I thought many of the student protest movements of the time lacked serious political purpose, I had taken part in demonstrations, particularly about the Vietnam war, and had become closely involved, for various reasons and in various ways, in the unfolding of events in both Northern Ireland and Czechoslovakia.

I had been influenced as a very young man by a lecture Sartre had given in the Club Maintenant in Paris in October 1945 - Existentialism and Humanism. Two things in the lecture had shaped the way I thought at the time. The first was the idea that we build what we become from what we are - in other words that we invent ourselves from the most raw of human materials and are responsible for the person we become and what we do; and that by understanding the nature of our own consciousness, we understand everyone else. This was the basis of a very young man's intellectual leftism.

>> Click here to read the full interview

Archive
1 | ... | 9 | 10 |

11

| 12 | 13 | ... | 57 |