Blog » Getting out of the concert hall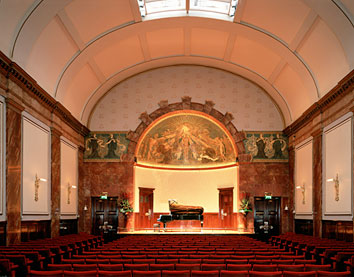 I was lucky enough to attend one of Interpol's Dublin gigs recently, the 2nd time I've seen this great American Indie band in the past few years. As I soaked up the atmosphere and enjoyed a sense of community with fans from around the island, I marvelled at what it must be like to play in a group of this calibre, with enough history to have quite a few sing-along hits, to be able to move such large numbers of people with your music. The experience is certainly not like listening to one of their CDs – the sound was too raw and, frankly, distorted for that, yet that didn't seem to be a big problem – we were there to hear the songs we knew, to watch these performers whose music we admire and enjoy so much.
Yet how different the classical world is – isn't it? I remember hearing Shura Cherkassky at the 1995 Cheltenham Festival in what must have been one of his final performances. His was a name I was barely familiar with but what a joy and a privilege to hear him perform – Berg was on the programme, I seem to remember, as well as some Berio, very unusual for this performer to play the latter, I think. The sound was perfect; the charisma of the man radiated off the stage every bit as strongly as at the Interpol gig; it remains a cherished experience.

There are obviously many differences between the two genres, but also, in my experience, enough similarities to underscore for me that a good live performance can stay in the mind forever no matter what the genre. This is clearly mostly to do with the music, but also I think something to do with the sharing of an experience with others: it becomes a communal thing, stronger than something experienced in solitude. In both cases mentioned above, there was a definite sense of anticipation and of expectation; Indie or Classical, the audiences had come into special environments – music temples, if you will – to focus just on the performers and the music.

Much has been made in recent years of "getting out of the concert hall", a certain view propounded that it is somehow too stuffy, too old-fashioned and out of date. While I'm all for experiencing art of all kinds in different environments I don't believe for a moment that the concert hall has had its day – rather, I believe it's still the place where the strongest memories can be forged.

COMMENTS