Blog » Psappha Ensemble supporting more composers than ever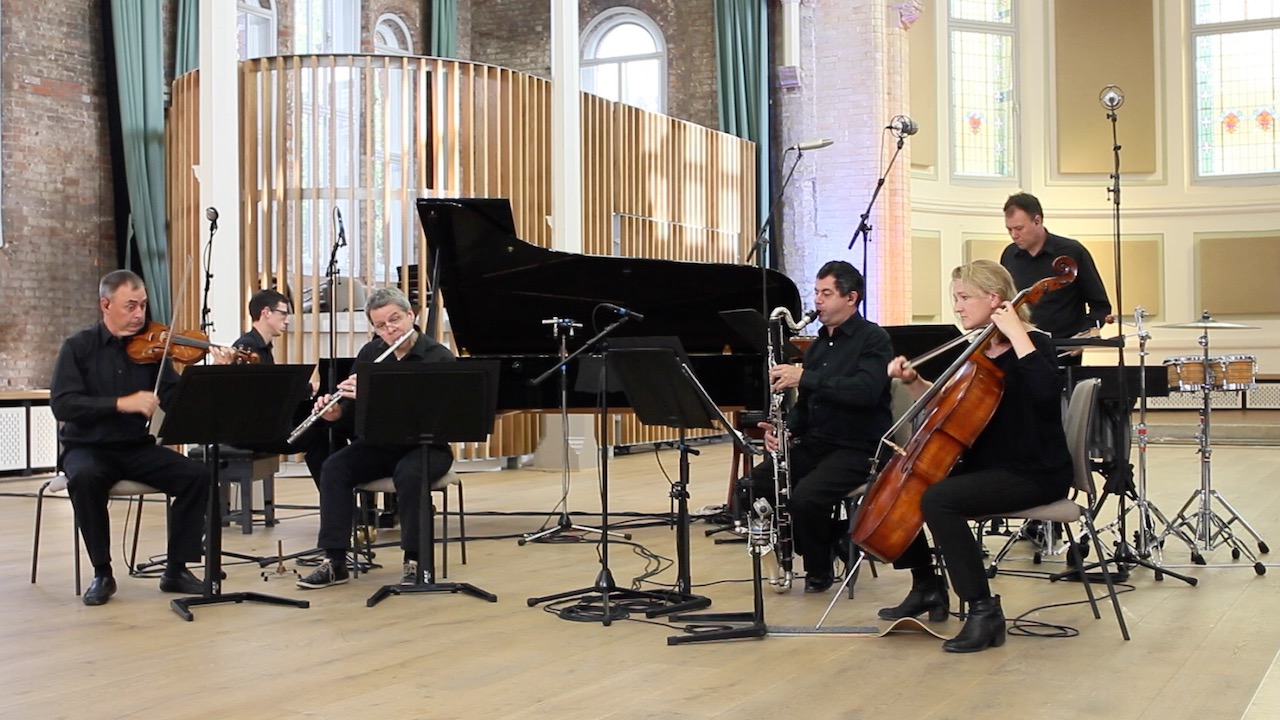 Photo: Psappha Ensemble
The Psappha Ensemble is supporting a record number of up-and-coming composers this season, making the group's Ancoats base in Manchester a prime destination for talented young composers from across the UK.
Psappha is currently working with 24 composers through its "Composing For…" talent development schemes plus a further 12 composers from the RNCM and The University of Manchester, making an exceptional 36 in all.
Each of Psappha's Composing For… schemes focus on a different instrument or instruments, with guzheng (Chinese harp), French horn, violin & cello, and flute & clarinet featured this year. The composers work with a Psappha musicians over a period of six months, leading to the creation of 24 new works. The schemes culminate in a series of filming days where Psappha makes multi-camera HD films of each new piece. Psappha's workshops at The University of Manchester and at the RNCM support advanced students of composition to write for small ensemble in various instrument combinations.
Psappha's Artistic Director selects works from the various schemes to be performed as part of Psappha's Manchester season, meaning that places are much in demand. On 15 February 2018 Psappha will give performances of six works from the ensemble's 2016-17 talent development schemes and Radio 3 will also record the concert.
Tim Williams, Psappha's Artistic Director, says: "Last year our Composing For… schemes focused on writing for flute, piano, trombone and percussion and the composers found the support we provided really beneficial….It's really exciting to be able to discover new voices and to continue the relationship for the longer-term by recommending the composers to other organizations and by performing their work."
A participant in Psappha's 2016-17 Composing For Flute scheme said: "This was an excellent composition scheme to have taken part in. Having the time to develop a piece over several months, attend workshops, and develop a working relationship with the performer is the ideal composition scenario. Receiving a professional film and recording is hugely valuable to have as evidence of my work."
Four composers from last year's Composing For… schemes have gone on to be selected to write works based on pieces of art from the Whitworth collection, supported by a Grants for the Arts Award from Arts Council England as part of the Here and Now wellbeing project. The pieces will be premièred on 17 May 2018 as Psappha invites audiences on a musical adventure through the Whitworth Art Gallery.
Psappha is also currently supporting jazz musicians Mike Walker (guitar) and Iain Dixon (reeds) to write a new work for the ensemble through a series of development workshops which began in July 2017. The premiere of this work will take place on 20 April 2018 at the Stoller Hall in Manchester.
COMMENTS