Blog » London Accordion Orchestra



C:T talks to Ian Watson of London Accordion Orchestra, ahead of their new CD release, featuring new works for Accordion Orchestra by British composers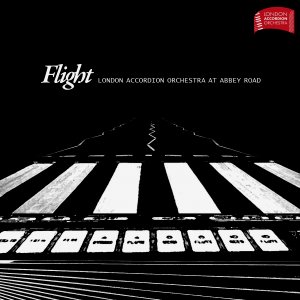 London Accordion Orchestra new CD release
Tell us something about your background.

Hi everyone. I studied accordion at the Royal Academy of Music, London and am now working with many different ensembles, orchestras and bands. I also write music, mainly for accordion orchestra.

Tell us about the London Accordion Orchestra, how it started, the idea behind it

We started in 1999. I was still at the RAM and a friend persuaded me to start up an accordion club at Morley College in South London. The club was a performance space for soloists and groups. Quickly we began to play larger ensemble pieces and eventually we outgrew our rehearsal space at Morley College, so moved to Pimlico and took the name London Accordion Orchestra. Now we 50 players across 2 orchestras and use professional percussionists for concerts. We've toured in Europe, played at great London venues like the National Theatre and St. John's Smith Square and have now recorded our new album 'Flight' at Abbey Road Studios.

Tell us about the specially commissioned pieces on your new recording

There are 6 pieces on the album. 'Flight',which I wrote for the orchestra in 2014, is the title piece. It's a 3 movement piece taking the long distance migration of birds as inspiration. It's proved popular with several orchestra in France and Germany performing it. We commissioned Jason Carr to write us a piece in 2013 to play at the World Music Festival in Austria that year. His piece 'Europa' is a 4 movement piece which went down a storm at the Festival. Matthew Scott from the National Theatre wrote us a piece called 'Karneval' to play in the same festival in 2016. It's a fun piece, quite minimalist, where you hear snippets and fragments of melodies competing with each other just like a carnival passing you by. We also commissioned Stuart Hancock to write us a piece for the 2016 World Music Festival and his piece 'Rhapsody' is beautiful. Stuart writes mostly for film and tv and accordingly the piece has quite an epic sound, really using the 40 players in the main orchestra to create a wonderful sound. My piece 'Clowns' is also on there. It was commissioned by the Nuremberg Accordion Orchestra for their conductors 50th birthday concert. The theme of the concert was humour, there are humorous elements to the piece but as I was writing my slight fear of Clowns must have shone through as some of it is a bit dark! The other piece is another of mine called '2012' - a three movement piece inspired by the London Olympics.
>> Click here to read the rest of the interview

COMMENTS