Blog » Homecoming Festival in Russia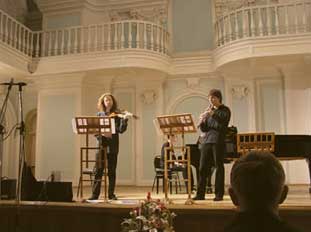 I would like to update you on a festival in Moscow called Homecoming - a series of chamber music concerts. The idea was that the young top classical musicians who where educated at Moscow's best music schools and subsequently settled in Europe return to Moscow every winter to play together. The festival, which started as a small group of friends making music to their pleasure, gradually grew into a major event on Moscow's classical scene. Newspapers, programmes on national TV and Radio extensively cover it every season. The festival has its own devoted audience; when the house is full, people stand through the concerts or sit on window sills – in Russia they are not as conscious of safety rules!
Each year the Homecoming Festival commissions a new piece from a young contemporary composer –Dobrinka Tobakova, Ed Bennet and Brian Irvine are among the names you might know. Sometimes, European musicians are invited to join - this winter they have a British soprano Anna Dennis, who is going to sing Ades' Life Story, Stravinsky's songs and my own Two Cat Songs. Whatever new music Homecoming features, it is cleverly put in a context which allows a quite traditionally-minded Russian audience to digest it.
As well as premiers, the Homecoming musicians perform varied and eclectic programmes consisting of music of all possible epochs and styles. Each concert has a unifying theme. This season, for example, two themes are 'Counterpoint', with music by Guillaume Dufay, Webern, Schostakovich, Glinka, Reger, Schnittke and Beethoven, and 'In Nature' featuring works by Coelestin Harst (1698-1776), George Crumb, Stravinsky, Giacino Scelsi, Latvian minimal composer George Pelecis.
The concept of mixing contemporary music with other music is obviously not new. Still, I believe it is one of the best ways to create an exciting programme. Besides the programming, I think the success of the new music within the festival is due to the prodigious musicality of the performers, who bring exactly the same level of precision and interpretative refinement to their renditions of contemporary pieces as they would to a Schubert song or Beethoven string quartet.
For more information, visit the Homecoming Festival page on its Artistic Director's website: www.romanmints.com
COMMENTS